"I participated in an Influencer Activation on behalf of Influence Central forRubbermaid. I received product samples to facilitate my review as well as a promotional item to thank me for my participation."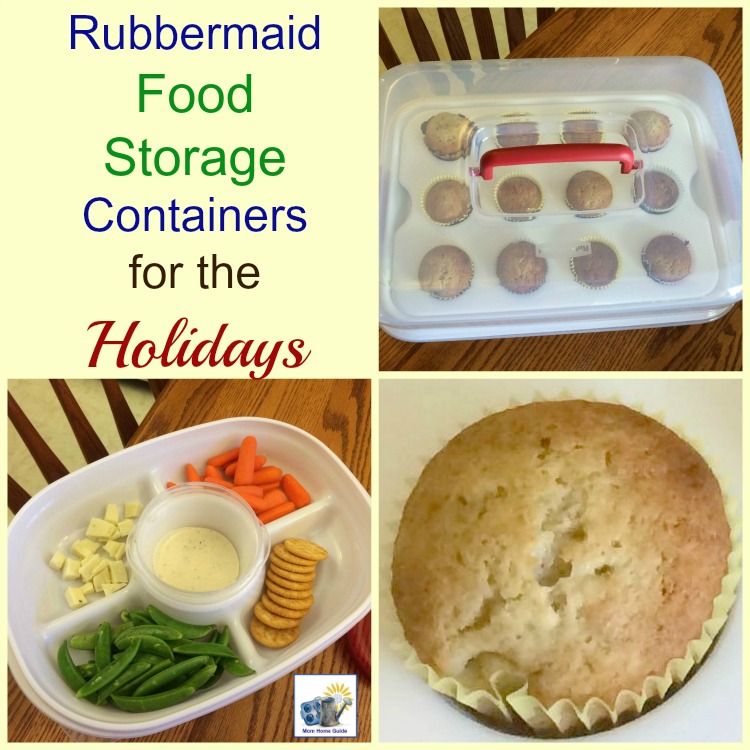 Hi, everyone! Hope you survived the food-fest this past Thanksgiving weekend! If your family is like mine, you crammed in several visits with family and friends over the holiday weekend! For us, the Christmas holiday also means lots of parties and get-togethers!
For Thanksgiving, my family and I got together with really good friends (friends that are like family) in Philadelphia — we had a blast! My friends baked the turkey, and I contributed things like the stuffing, salad, drinks and dessert!
My New Rubbermaid Party Serving Kit
Later in the weekend, I had some banana muffins I needed to transport for a get-together. Luckily, I had just gotten my Rubbermaid Party Serving Kit — the kit is perfect for transporting all sorts of good food over the holiday season.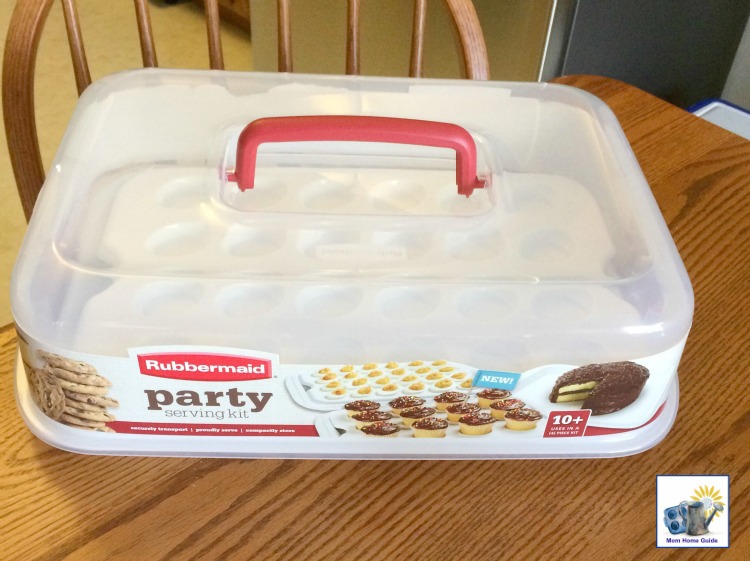 The all-in-one-kit includes a base and two inserts: a standard-size cupcake insert (what I used to hold my banana muffins), a mini cupcake/deviled egg insert, and a flat base for cakes, pies and cookies, etc.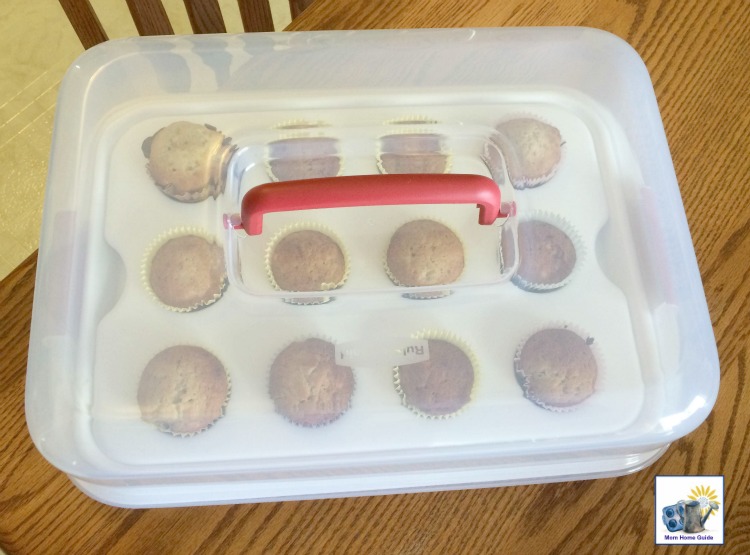 I love how the Rubbermaid Serving Kit closes securely and has a handle to easily get your party food where you need it to be!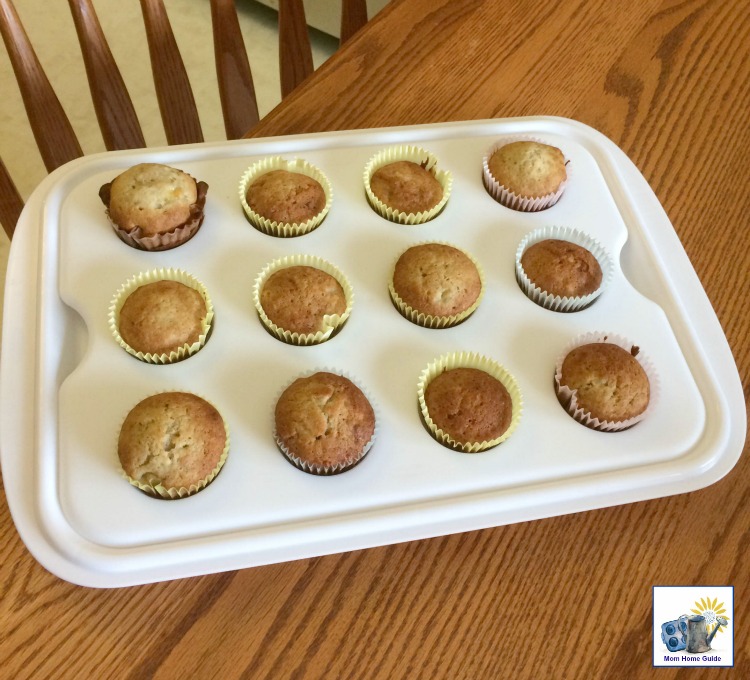 The Rubbermaid Party Serving Kit is also BPA free and dishwasher safe. I am sure that I will be using my Rubbermaid Party Serving Kit many more times during the holiday season!
My banana muffins were quick and easy to make — my kids loved them! (My recipe for the muffins are at the bottom of this post.)
Rubbermaid Party Platter
I was also lucky enough to have received a Rubbermaid Party Platter! My family and I are trying to watch what we eat during the holiday season, so this Rubbermaid Party Platter will really come in handy!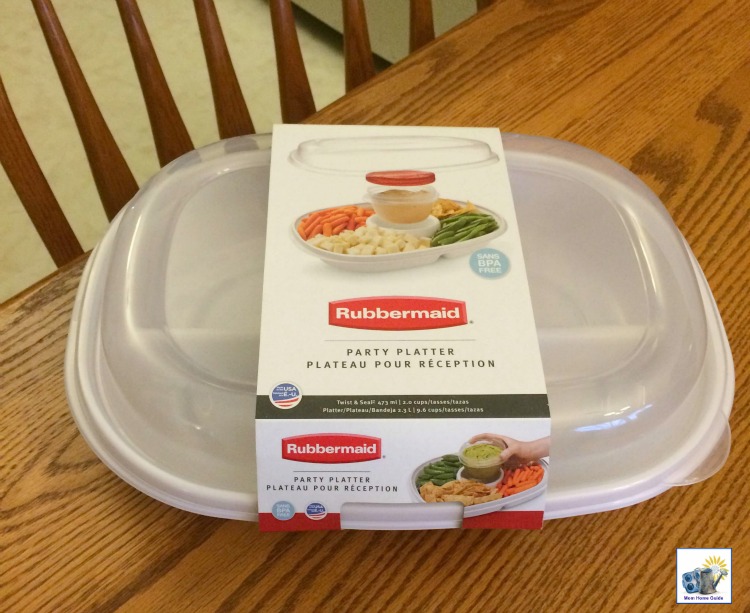 The BPA-free, microwave-, freezer- and dishwasher-safe platter has four separate compartments to keep foods and snacks separated.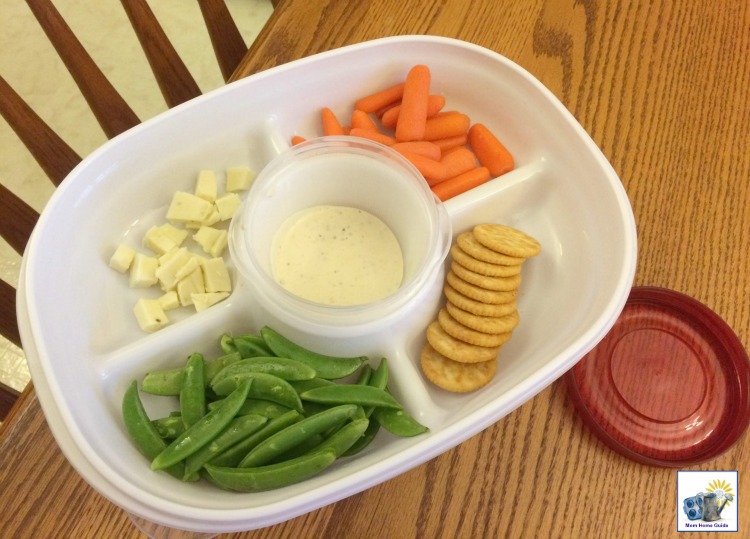 There is also a Twist & Seal™ lid to hold dip and prevent spills. The platter also has an outer lid with a handle that snaps on securely to keep your food protected. This platter is perfect for the holidays — my family is trying to eat healthier foods these days, and this platter is wonderful for transporting fresh veggies and dip!

Banana Muffin Recipe
Banana Muffins
2015-11-28 18:50:17
Quick and easy banana muffins
Ingredients
2/3 cup sugar
2 eggs
2/3 cup mashed ripe bananas (about 2 bananas)
1/2 cup vegetable oil
1 teaspoon vanilla
1 2/3 cups all-purpose flour
1 teaspoon baking soda
½ teaspoon salt
½ teaspoon ground cinnamon
Instructions
Heat oven to 375°F.
Line regular-sized muffin cups with paper baking cups.
Stir together the sugar, oil and eggs in a bowl. Mix in the bananas and the vanilla. Stir in flour, baking soda, salt and cinnamon. Pour batter into muffin cups.
Bake for about 16 minutes or until toothpick inserted into a muffin comes out clean. Remove muffins from baking tin and cool muffins on a cooling rack.
Enjoy the muffins while they are still warm!
momhomeguide.com http://momhomeguide.com/
Additional Resources
Rubbermaid Website:
https://www.rubbermaid.com/en-US
Rubbermaid Facebook Page:
https://www.facebook.com/RUBBERMAID
Rubbermaid Twitter Page:
https://twitter.com/rubbermaid
Rubbermaid Pinterest Page:
https://www.pinterest.com/rubbermaid/
Hashtag: #GobbleAgain