Full Disclosure: This is a sponsored post. I received item(s) that were either gifted to me in exchange for this post and/or I was compensated for my participation. All opinions are 100% mine.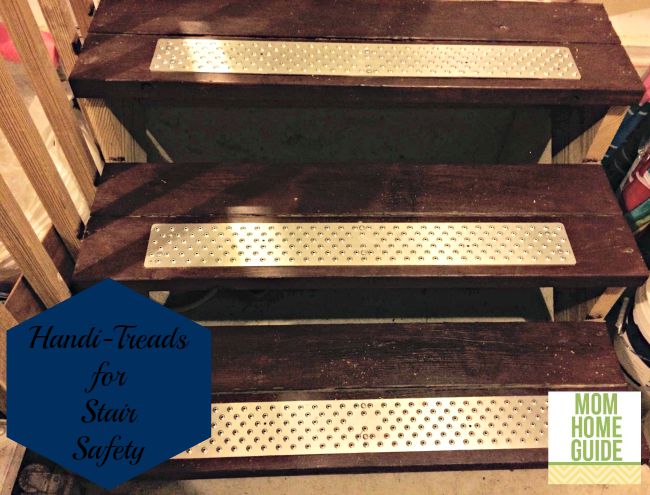 I never used to worry about falling at my home until I slipped on my icy driveway in 2014 and broke my wrist! A metal plate was put in my wrist to repair the damage. Winter 2015 was a LONG cold winter, so I was worried about falling again! When Handi-Treads gave me the chance to try out their non-slip stair treads, I said yes!
Handi-Treads, which come in a variety of colors, have a raised-button surface that grips to your foot or shoe for instant traction. The treads are more durable than non-slip tape and won't corrode or rust.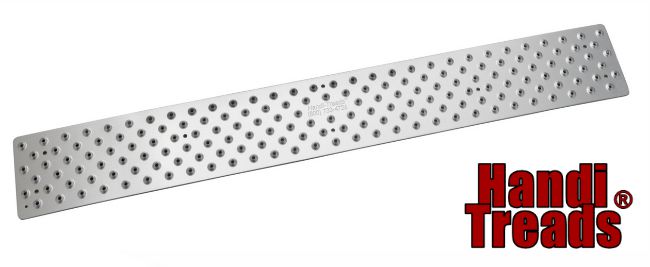 Non Slip Garage Stairs
I decided to install the Hand-Treads on the stairs between my home's garage and laundry room. Because my home is on a slope, there are three stairs leading from the garage to the laundry room.
I really wish there weren't stairs there, because I haven't figured out how to navigate stairs with crutches since my recent foot surgery. I have only left my home once since my surgery! I left the house Tuesday because there was a gas leak on my block, and a fireman told me I had to leave my house ASAP!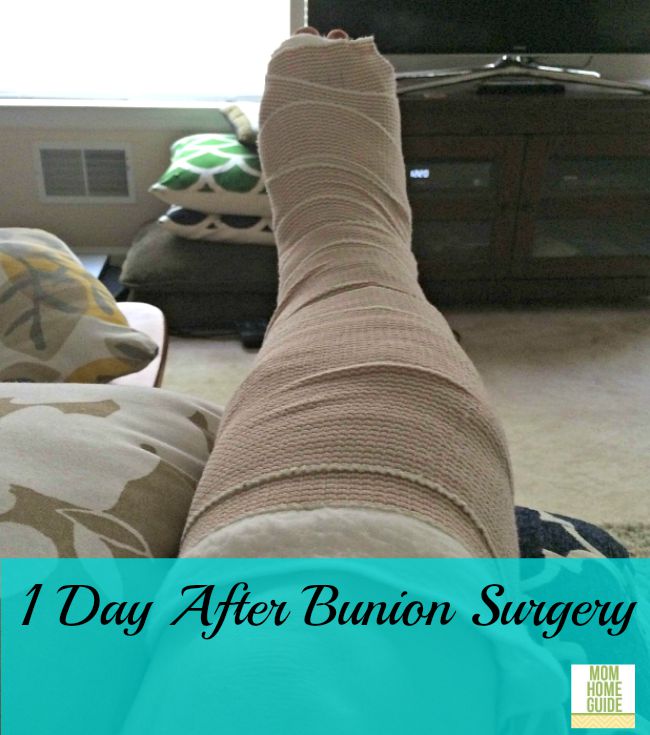 I use the garage often as my workshop — I am often painting or working on DIY furniture projects in the garage. I completed my DIY console table (that I stained and painted with chalk paint), Sunny Outdoor Patio Table and my DIY beverage cart (which I painted with black chalk paint) in the garage! It's a great space to work in!
I go in through the garage's side entrance when I am landscaping or gardening, so my shoes can be wet and slippery when I go up the stairs!
Easy Install for Safety
I had my Handi-Treads installed for me in June, right before my sister's bridal shower. I had a handyman come over to help me get all the projects I needed to get done before my sister's party. If I wasn't so pressed for time, I could have installed the treads myself — they only require a few screws. (As you can see in the photo, I haven't even cleaned the treads off fully yet. I had foot surgery right after my sister's wedding, and am not allowed on my feet!)
Once my foot is healed, I will also have to finish staining those garage stairs!
Handi-Treads can be used on decks, wood and cement ramps, interior wood steps, exterior wood and cement steps and on docks and piers.
I'm not accident prone — slips and falls are more common than you think:
Slips and falls account for over 20,000 deaths per year (Source: Center for Disease Control)
Injuries from falls are the most common cause of emergency room visits (Source: National Safety Council)
59% of general liability claims are from slip, trip and fall accidents (Source: CNA Insurance)
Slips and falls are the 7th leading cause of death in the U.S. (Source: National Safety Council)
Slips and falls kill 5 times as many people as the flu each year (Source: Bureau of Labor Statistics).
Coupon Code and Contest
Could you use Handi-Treads in your home? Use the coupon code BLOG2015 for 10% off your order!
Have you slipped, tripped or fallen in a public area? "Stop the slip" is a contest where HandiRamp will fix a problematic public access area for free. HandiRamp will pick a problem location 4 times a year out of a pool of contestants and fix it for free!
To Enter:  http://stoptheslip.com/submit-your-video/
Related articles across the web
If you would like to read more about Handi-Treads, read a Handi-Treads review by my friend, Carrie, of Curly Crafty Mom!