This post was sponsored by Sunshine Sweet Corn as part of an Influencer Activation for Influence Central and all opinions expressed in my post are my own.
Every Mother's Day and Thanksgiving, my family gets together with some wonderful family friends. One of our friends has a great spoon bread recipe that my kids adore! We look forward to her scrumptious spoon bread every year. In case you don't know what spoon bread is, spoon bread is a Southern cornmeal-based pudding type dish that includes fresh corn. I recently made my own corn spoon bread with Sunshine Sweet Corn from Florida. My kids loved it!

Sunshine Sweet Corn from Florida
Since corn is the most important part of any really good spoon bread, it's important to get the freshest corn possible. I was surprised to find that fresh Florida Sunshine Sweet Corn is in season now and is available at my local supermarket. What's great is that the corn is non-GMO and very tender. Yum!

Corn Spoon Bread Recipe
I found my spoonbread recipe at Sunshine Sweet Corn from Florida. The site has plenty of delicious recipes that can be prepared with Sunshine Sweet Corn from Florida. I am looking forward to enjoying more recipes made from Sunshine Sweet Corn from Florida this spring.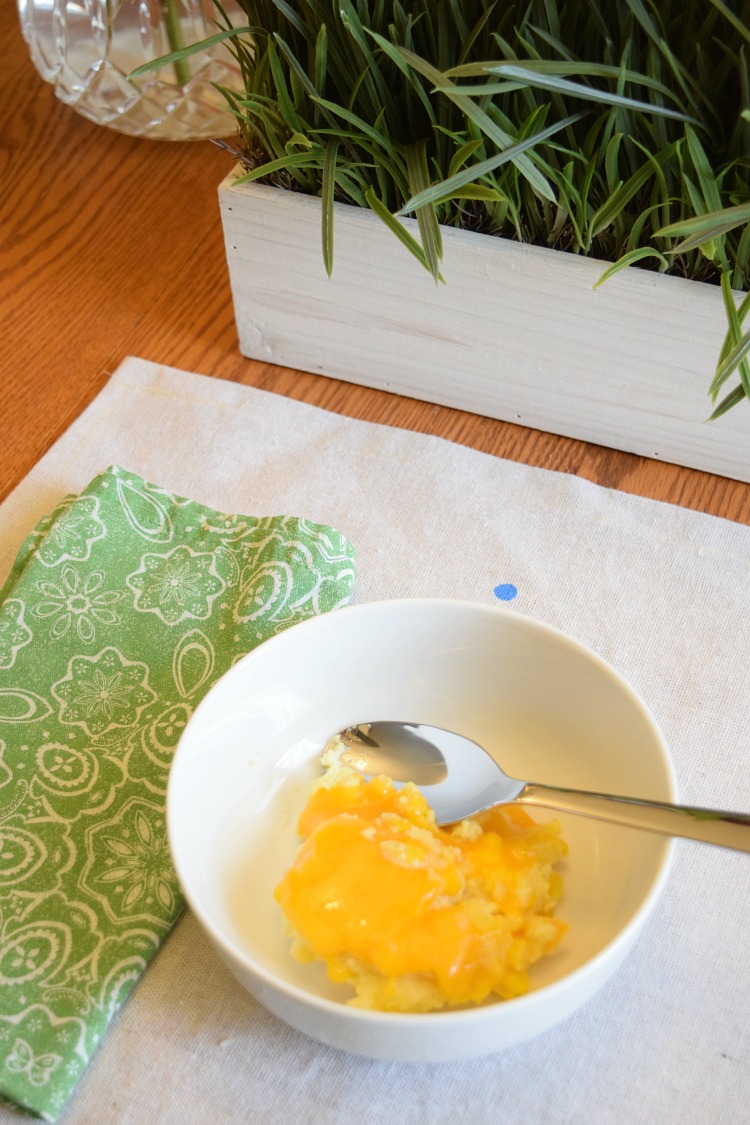 I made some corn spoon bread last week and served it for dinner with a fresh main dish salad. The spoon bread was my kids' favorite part of the meal.
Ingredients
(Recipe from sunshinesweetcorn.com)
1 tablespoon butter
1 cup cornmeal, plus more for dusting
2 cups milk
1 cup heavy cream
2 tablespoons sugar
1 tablespoon Kosher salt
1/4 teaspoon cayenne pepper
1 cup grated corn
1 cup corn kernels
1/2 cup grated cheddar cheese
1/2 cup sour cream
1/2 cup thinly sliced scallions
3 eggs, separated
Number of servings (yield): 8
Instructions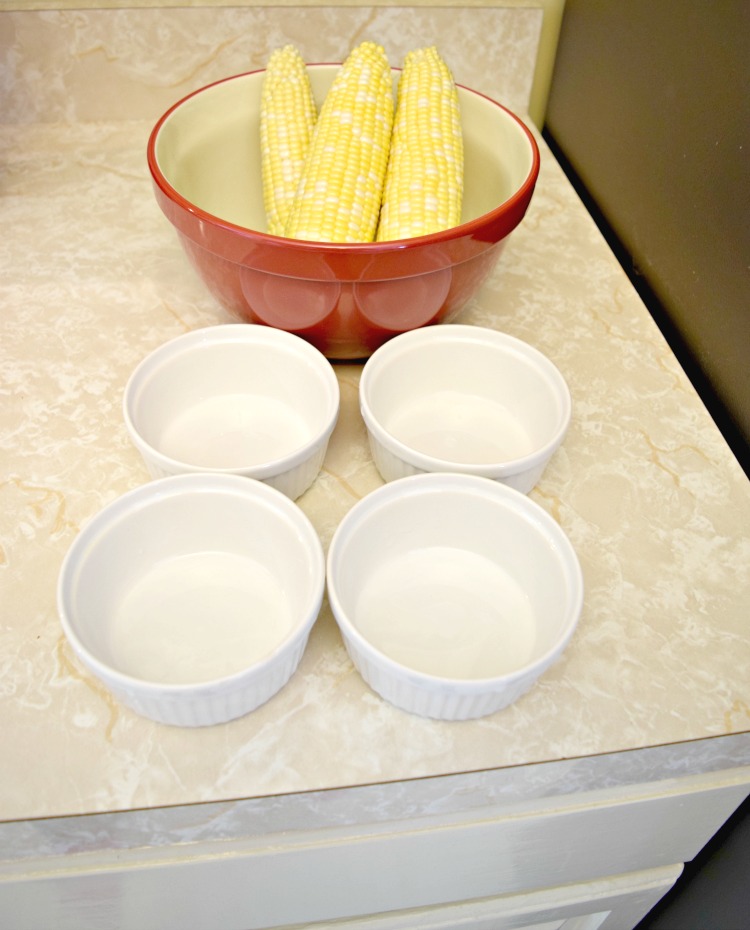 Butter eight 4-to-8-ounce ramekins or custard cups; coat with cornmeal. Tap out excess. In a saucepot over medium-high heat, bring milk, cream, sugar, salt and cayenne pepper to a simmer. Stir in grated corn and corn kernels. Reduce heat to medium. Add cornmeal, cook stirring constantly to prevent sticking, about 5 minutes. Reduce heat to medium-low. Cook until mixture is thickened like grits, 10 minutes more. If mixture is too thick stir in a little water. Remove from heat; let cool to room temperature.
Heat oven to 350?F. When corn mixture is cool, stir in cheese, sour cream, scallions and egg yolks. In a small bowl beat egg whites until soft peaks form. Fold into cornmeal mixture. Spoon mixture into ramekins filling each 4/5 full. Place ramekins in a baking pan large enough to fit them all comfortably.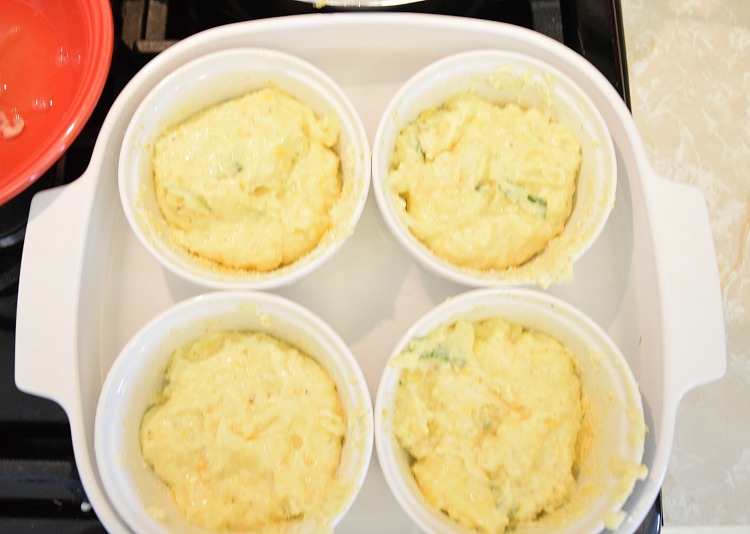 Fill the pan with enough hot water to come halfway up the sides of the ramekins. Cover the pan with foil. Bake 10 minutes. Remove foil. Bake until the breads are set and lightly browned, 10 to 15 minutes longer.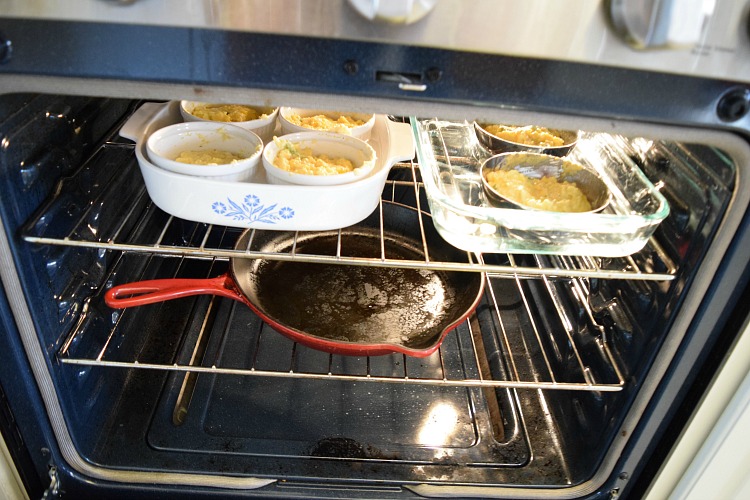 The breads should still be a little jiggly in the middle like a soufflé. Remove from oven. Using tongs remove ramekins from the water bath. Let cool 5 minutes. Run a small knife around the cup to loosen the edge of the bread. Gently turn out the bread upside down on plate and then flip right side up. Serve hot.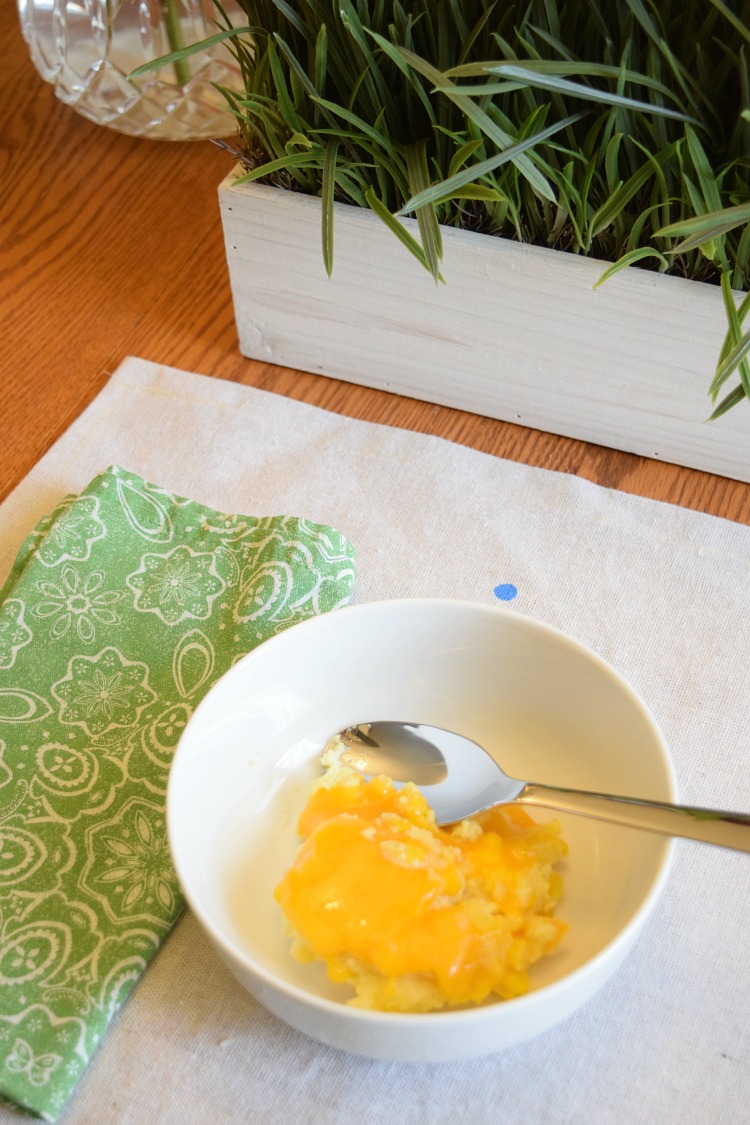 This spoon bread was so good that we all had seconds! I'll have to make more spoon bread this week.