*This post contains Amazon affiliate links. If you click on a link and make a purchase, I earn a small commission that helps fund this blog. Thanks!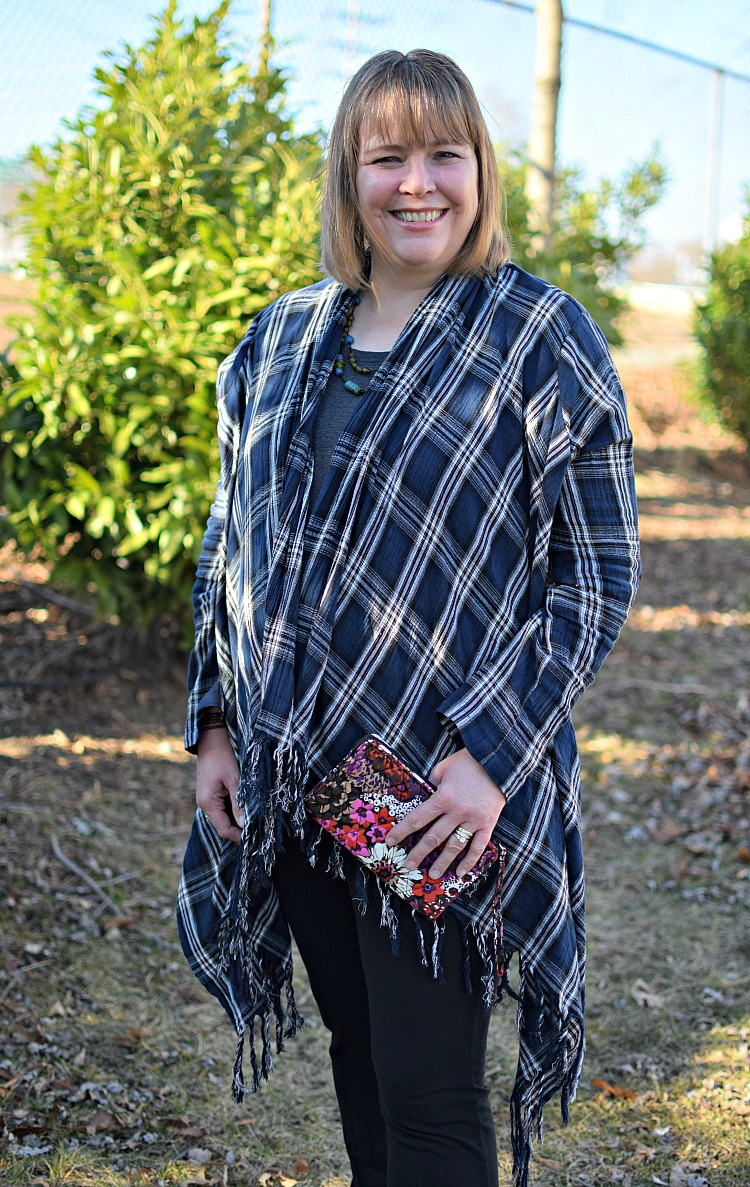 Hello! Today I am co-hosting at Thursday Fashion Files, which is co-hosted by my blogging friends, Carrie of Curly Crafty Mom, and Jill of Doused in Pink. Thursday Fashion Files is a fun linky party and a space to share and get inspiration for outfits and fashion.
Welcome to Thursday Fashion Files!
Welcome to Thursday Fashion Files with Jill at Doused in Pink and Carrie at Curly Crafty Mom! We are excited to have you here and would love to have you link up one of your latest outfits with us.
We are always looking for Co-Hosts for Thursday Fashion Files. If you haven't signed up to Co-Host, but are interested, sign up by clicking HERE.
We now have a Thursday Fashion Files Pinterest board. We will be pinning our top two picks along with our own outfits for that week. Be sure to click HERE to join our new Pinterest board!
Now it's time to share my outfit for this week's Thursday Fashion Files!
Fringed Flannel Shawl
I don't normally consider myself a fashionable person. But after I picked up an adorable fringed flannel shawl in Princeton, NJ, one of my favorite places to shop, I texted my friend, Carrie, and offered to co-host her Thursday Fashion Files!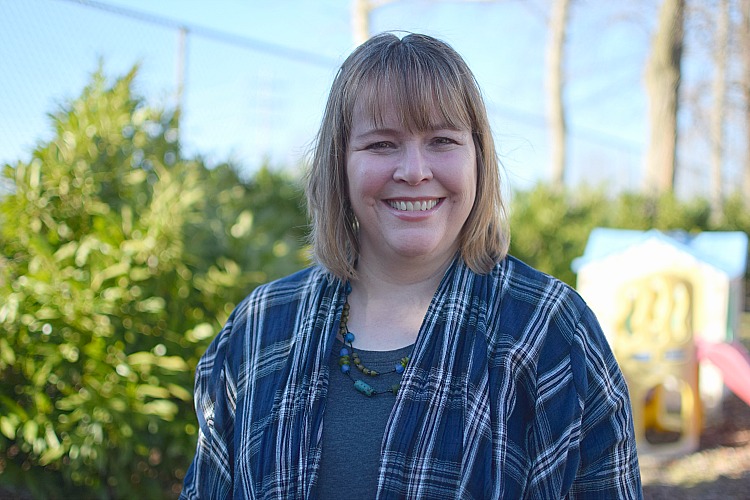 I remember the day well when I found my shawl. I had taken my twin teen daughters into Princeton, NJ, for some bubble teas at one of our favorite spots in Princeton, Fruity Yogurt. (We especially love their bubble teas.) Before getting our bubble teas, we stopped in next door at Greene Street, an upscale consignment store on Nassau Street in Princeton. One of my daughters found this cute flannel cardi within minutes for me. I tried the cardi on and was instantly in love — the cardi looks both like a flannel shirt, a trend I loved this past fall, and the kimono-style shirts that have been popular. Plus, this flannel shawl was only $10, so I had to get it! It is now one of my favorite fashion items.
My other daughter took photos of me in this outfit on Saturday, when we had a beautiful and sunny 70° weather. I think my daughter got some nice photos for me! I wore the shawl with a green and blue beaded necklace — I love the color green.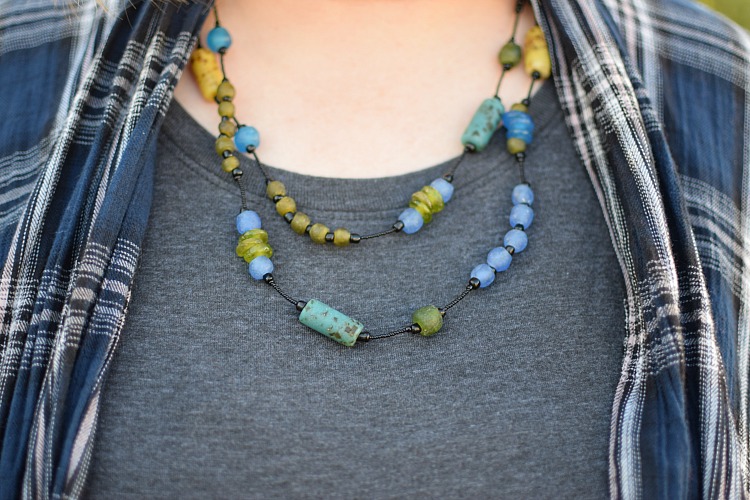 On my wrist you can see my new Silver/Plum Fitbit Alta Fitness Tracker
that I love — my husband gave it to me for my birthday in January. I also paired the shawl with a Vera Bradley Front Zip Wristlet
that features shades of pink brown and purple and simple Wood Beads Bracelets (like these on Amazon)
.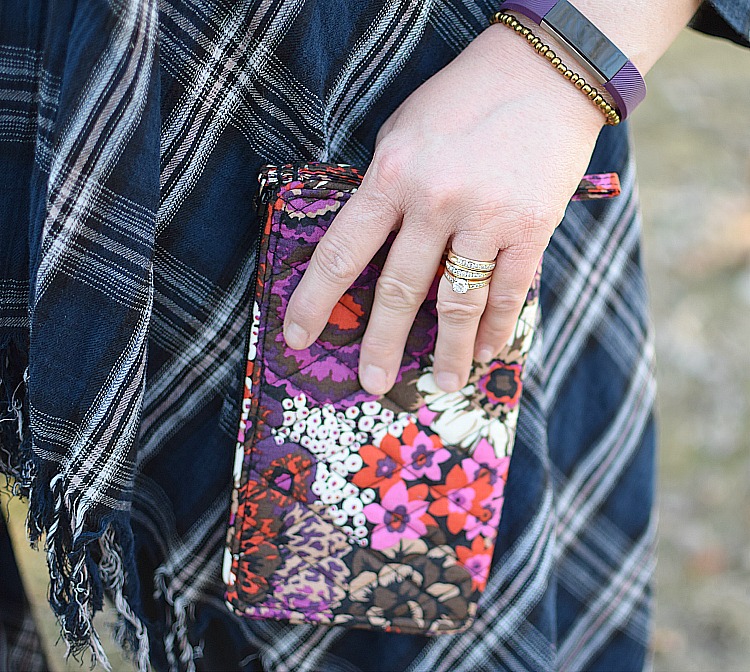 With my shawl I'm just wearing a simple Short Sleeve Gray T-Shirt (like this one on Amazon)
and black yoga pants (similar to these on Yoga Pants on Amazon
).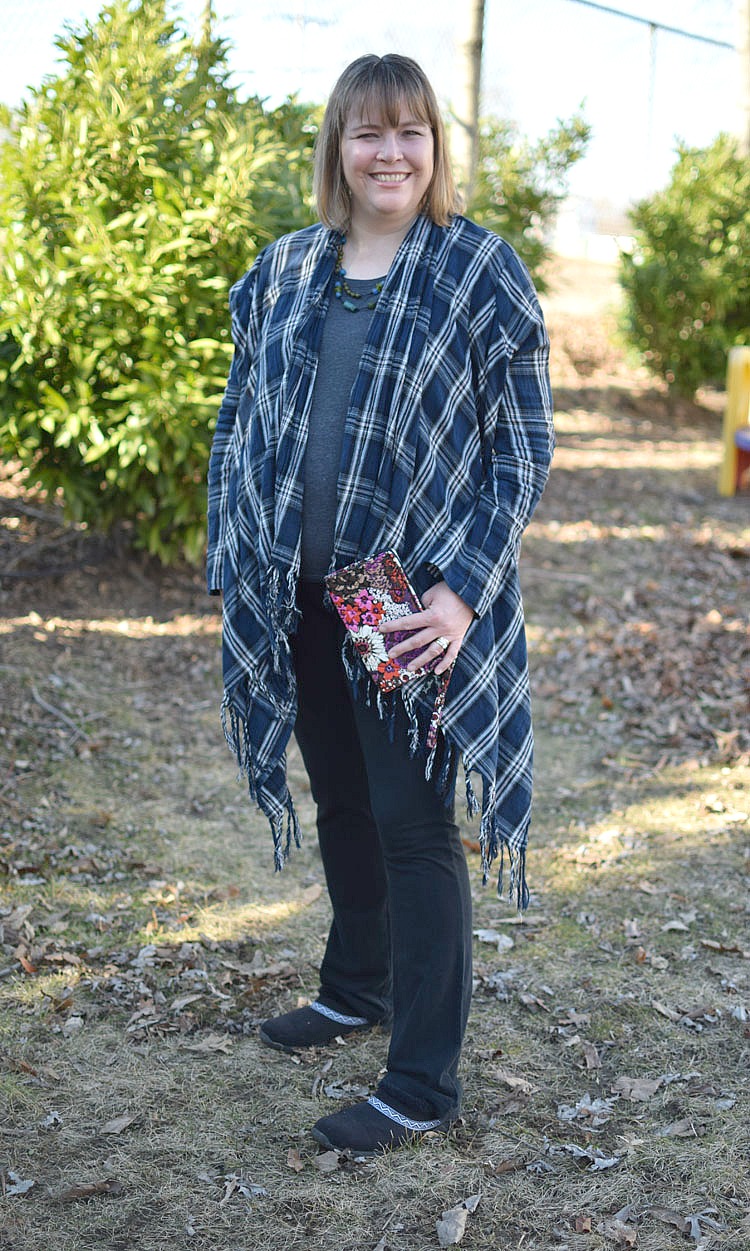 With the outfit I also wore a pair of Black Suede Mules (like these on Amazon)
. I love these shoes!
Link Up Guidelines:
1. Feel free to grab our button to display on your blog sidebar. Help spread the word and share about our link up community.
2. Follow your hosts. Leave a comment letting us know you are a new follower and we will be sure to follow back.
3. Share the love by visiting and commenting to at least three other blogs in the link up.
Don't miss out, sign up for an email reminder about our party:
Guest Co-Host:
This post has been shared at On Mondays We Link Up! , WIWT Link Up, A Labour of Life, Thursday Moda and Link Up on the Edge