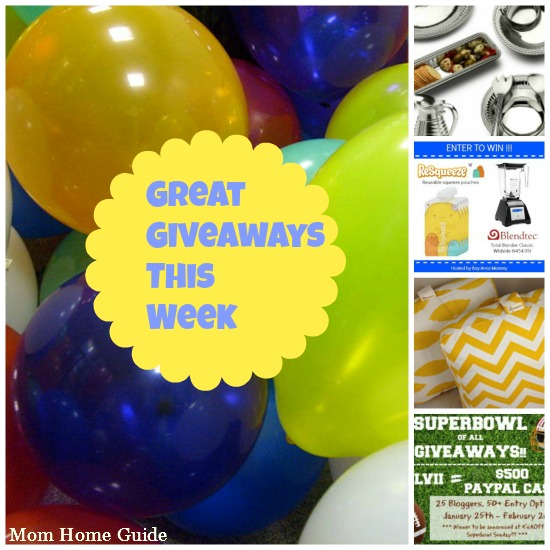 Last week was a doozy. Thanks to an icy snowfall Tuesday, I now have a broken wrist filled with surgeon-inserted metal. Sniff! You may have noticed that I haven't been posting much lately – it's hard to get projects done with one hand! But, I figure the least I can do is let you know about some great giveaways happening on other great blogs this week! I am a big fan of blog giveaways!
$500 Paypal Cash Giveaway
Kristi of the blog, I Should be Mopping the Floor, is running a huge $500 cash Paypal giveaway with 24 other bloggers. The winner, who will be announced at kickoff on Super Bowl Sunday, will win $500 in Paypal cash. Kristi and her friends also have a bunch of yummy dip recipes that you can check out and make before the game. The cheddar and sour cream queso looks good to me!
$454 BlendTec Giveaway
Jenn's Blah Blah Blog is giving a BlendTec blender package away that is worth more than $454. The giveaway ends February 14, 2014 at 11:59pm EST. I would love to win this, since my blender isn't very good! I bet this blender would be great for whipping up some smoothies for the kids.
Wilton Armetale Giveaway
Kristi of the blog, I Should be Mopping the Floor, is also giving away a Wilton Armetale server set with several of her blogging friends. Valued at more than $371, the set includes a chip and dip tray, a cracker tray, a pitcher and an oval tray. This set would be perfect for entertaining! The contest runs through Saturday, January 26.
$100 Henhat Floor Pillow Giveaway
Happy Kids, Inc. is hosting a super fun giveaway – the winner will receive a $100 gift certificate to the Henhat Etsy Shop. If you remember, I shared my ideas for a West Elm-style living room a little while ago.  The beautiful  chevron and modern bold prints of Henhat's throw and floor pillows would work beautifully in my design!
Good luck! I also want to take the time now to thank all the friends and family who have helped me since my little accident … it is times like these that you really appreciate all the great people in one's life. THANKS!
 You Might Also Like