As some of you may know, I am a big fan of Mom Blogs! I love to read them and enjoy all the tips that other moms share! So for today, I'd like to share great recipes, DIYs and how-tos that I've been reading on other great mom blogs from across the Web.
Colorful Candy Popcorn
One of my daughters just LOVES popcorn, and I am sure she would love this Cookie Butter Popcorn recipe from Iheartnaptime. I'll be sure to be making this for my kids over spring break — it reminds me of an Easter basket! I love the pretty colors, and I am sure it tastes great, too!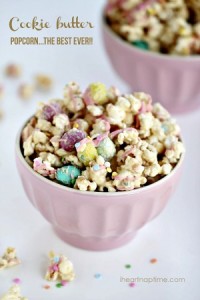 Peeps Table Centerpiece
I just stumbled across Our Pinteresting Family blog, and I am a new fan! The blog features a cute Peeps spring centerpiece featuring Peeps candy, a wooden crate from Michaels and washi tape. I think it's so adorable! My kids love Peeps, but never eat them, so this way, my Peeps purchase won't go to waste!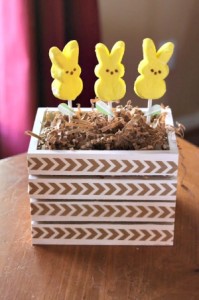 Framed Monogram Letter
I adore the framed monogram letter from Sometimes-Homemade. It is such an easy project, and I think a framed monogram letter would look beautiful in my newly remodeled powder room. (I've been adding touches of brown to the yellow bathroom to add a modern, more grown-up look to it.)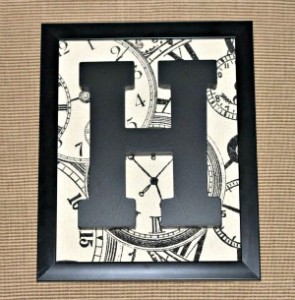 Please Share Your Tips
I am always looking for great DIY and craft tutorials, so if you have any you'd like to share, please feel free to mention them in the comments! And, if any of you are enjoying spring break with the kids this week, enjoy!
You Might Also Like