I'd really like to thank Ginger of Ginger Snap Crafts for inviting me to co-host her anniversary Wow Me Wednesday Linky Party! It's been so much fun, and I've been enjoying meeting some of the other bloggers!
I've been having a great time reading all the great DIY ideas, crafts and recipes that the other bloggers have submitted. I thought it would be fun to share some of my favorites links!
DIY Chalk Paint Chest
I really like the Chalk Paint Chest from Rain on a Tin Roof. To make her chest, Jenna took a in-need-of-TLC dark brown dresser and sanded off the paint. She painted the chest with DIY chalk paint (she includes the recipe in her post), printed numbers for each drawer on her computer's printer, and adhered the numbers with Mod Podge. (Oh, the things you can do with Mod Podge!) She then topped it all off with a topcoat of Minwax Polycrylic. Amazing job! Great job, Jenna!
Linen Closet Organization
I've been looking for ways to reorganize my home's linen closets, so I am loving what Tara at Suburble did to reorganize her home's linen closet. I love how she cut up some left-over wire shelving to create her own linen closet shelf dividers and attached them with zap straps. (I've never heard of zap straps– but they look like zip ties to me.) That Tara is a smart one! I l also like how her brightly colored and labeled bins add decoration and organization.
How to Cover a Thermostat
I really like what Jenn of Clean and Scentsible did with her home's wall-mounted thermostat – I would never have thought of covering mine up, but it's such a great idea! Thermostats aren't pretty – so why not keep them hidden?
To hide her home's thermostat from sight, Jenn put up display shelves and put photo canvases on the shelf in front of her home's thermostat and alarm system. So smart! I might have to get some canvas prints made up of my kids and some display shelves, so I can try out this project!
Jenna, Tara and Jenn: If you like, please feel free to place Mom Home Guide's "I've Been Featured" Button on your websites!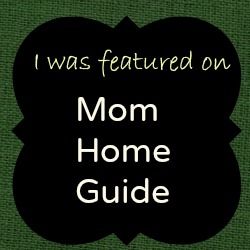 Wow Me Wednesday Linky Party
For more inspiration, check out the Wow Me Wednesday Linky Party!