Thanks to Progresso for sponsoring this post.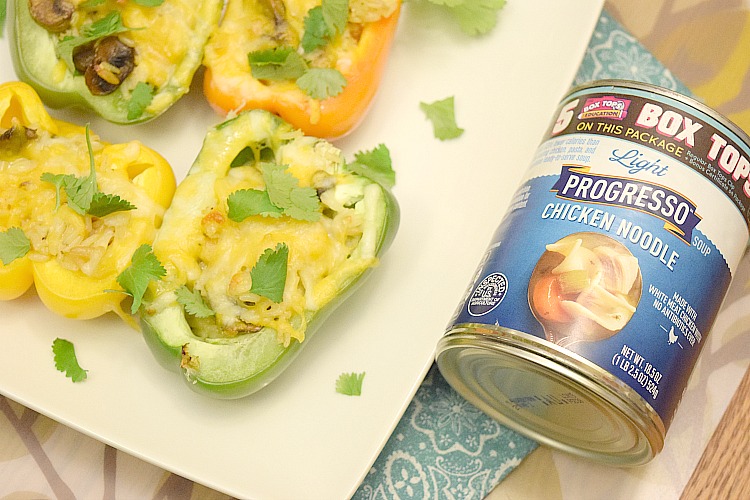 For the New Year, my husband and I have pledged to lead a healthier lifestyle. A lot of that plan includes eating healthier. This year, I'm hoping to add more vegetables to our meals, and my husband is planning to eat a low-carb diet. This new recipe for stuffed peppers that I have found works perfectly for the both of us. Plus, it tastes great!
I like to pair these stuffed peppers with Progresso Light Chicken Noodle Soup. I love serving soup in the winter — soup is so comforting. I like that the Progresso Light Chicken Noodle Soup has antibiotic-free, all white-meat chicken. I think soup is a great option when trying to cut calories. I find that soup fills me up quicker without consuming too much food.
I picked up my Progresso soup at my local Walmart — I found the soup in the soup aisle. My Walmart carries several varieties of Progresso soup, so I can always pick up my favorites there.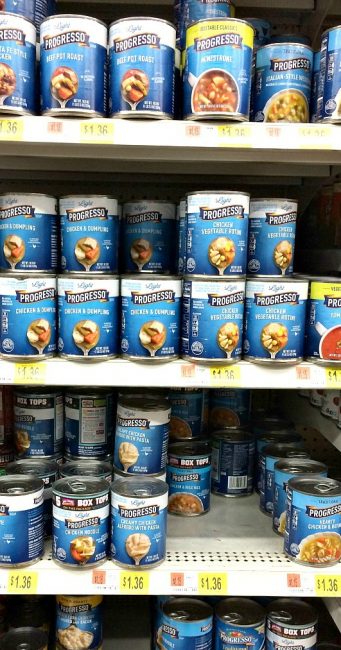 My Walmart carries several varieties of Progresso Soup, so it's easy to find a good soup to pair with whatever I have planned for dinner.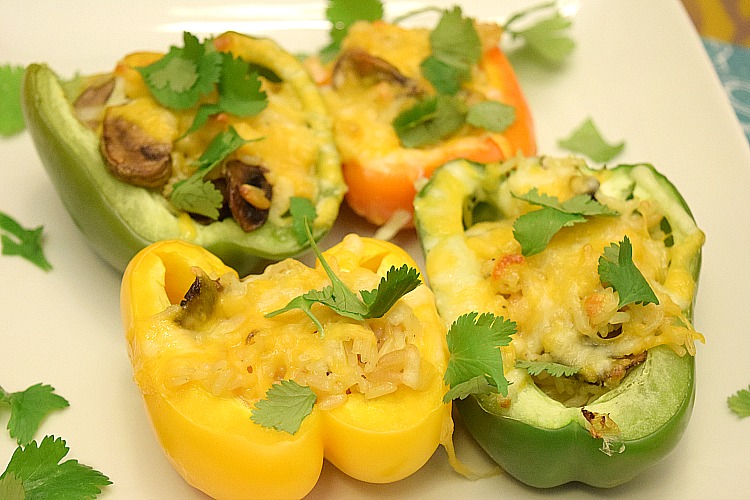 Stuffed Pepper Recipe (Serves 4-6)
Ingredients
4-6 bell peppers (I used green, orange and yellow peppers)
16 ounces button mushrooms
1/2 small chopped yellow onion
4 cloves diced garlic

2

cups rice (I used boxed rice pilaf that I cooked.)
1 cup chopped fresh cilantro
2 cups Colby Jack cheese
1-2 tablespoons olive oil
1-2 teaspoons salt and pepper.
Directions
Preheat the oven to 400 degrees.
Cook the rice according to the package's directions.
Slice the mushrooms. Season the mushrooms with salt and pepper and saute them in a little bit of olive oil with the garlic and onion.
Drain the mushroom mixture.
Cut the peppers in half and take out the seeds.
Mix the rice/mushroom mixture and 1 cup of the cheese into the cooked rice.
Fill the peppers with the rice/mushroom mixture.
Put the stuffed peppers in a baking dish and sprinkle them with the rest of the cheese.
Bake the peppers uncovered for about 15 min or until cheese is melted. Before serving, sprinkle the stuffed peppers with some fresh cilantro.
Once the peppers are cooked, simply serve each on a plate with a warm bowl of Progresso Light Chicken Noodle Soup.
This stuffed pepper and Progresso Light Chicken Noodle Soup combination is a delicious and healthy weeknight meal. My family loves it!