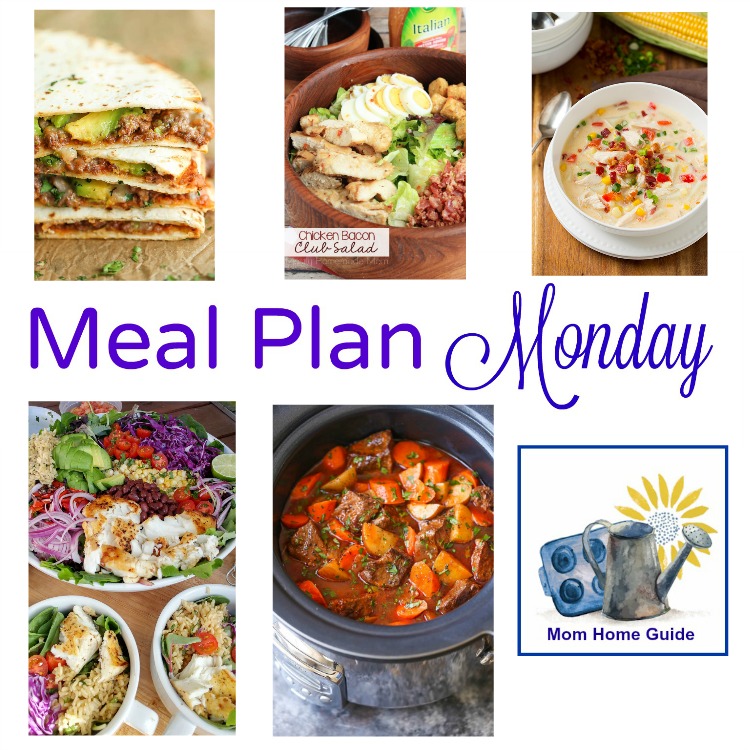 When it comes to grocery shopping, I usually fly blind. I plan meals on the haphazardly, neglect to cut coupons and spend too much money on food. I've made the resolution to plan out my family's weeknight meals and start saving some dough.
I'm always amazed at the creativity and skill of my fellow bloggers, so for many of my family's meals, I'll be sharing and using recipes from some of my favorite bloggers.
Monday – Cheesy Avocado Quesadillas
My family and I love quesadillas, so I know my family and I will love the Cheesy Avocado Quesadillas by Chungah of Damn Delicious. The recipe requires only a few ingredients and looks really easy to make!
Tuesday – Fish Taco Bowls
I like to cook at least one non-meat dish a week. This Fish Taco Bowl recipe from Clean Food Crush looks both healthy and delicious, and is loaded with fish, corn, avocado and cilantro, all things my family loves.
Wednesday – Slow Cooker Beef Stew
This recipe is also from Damn Delicious – I really like her recipes! I like that I can start this Slow Cooker Beef Stew in the morning and have a delicious dinner ready in the evening!
Thursday – Chicken Bacon Club Salad
I love main-dish salad dinners. Mostly Homemade Mom's Chicken Bacon Club Salad, made with with lots of healthy greens, can be made with any pre-cooked chicken from the grocery store. (I will probably use a rotisserie chicken.)
Friday — Creamy Chicken & Corn Chowder
I always have lots of chicken leftover when I cook a rotisserie chicken, so on Friday, I could cook up a recipe that will use up the rotisserie chicken that I bought. Cooking Classy's Creamy Chicken & Corn Chowder — with bacon, chicken and corn — looks like it'd be a great meal to serve with my easy cheese herb bread recipe.

Mens Wood Watches