Thanks to Premier Prints for providing me with the fabric that I will be using in my kitchen update. Thanks also to DecoArt for providing me with the beautiful chalky finish paints and stencil that I will be using in this project. This post contains Amazon affiliate links.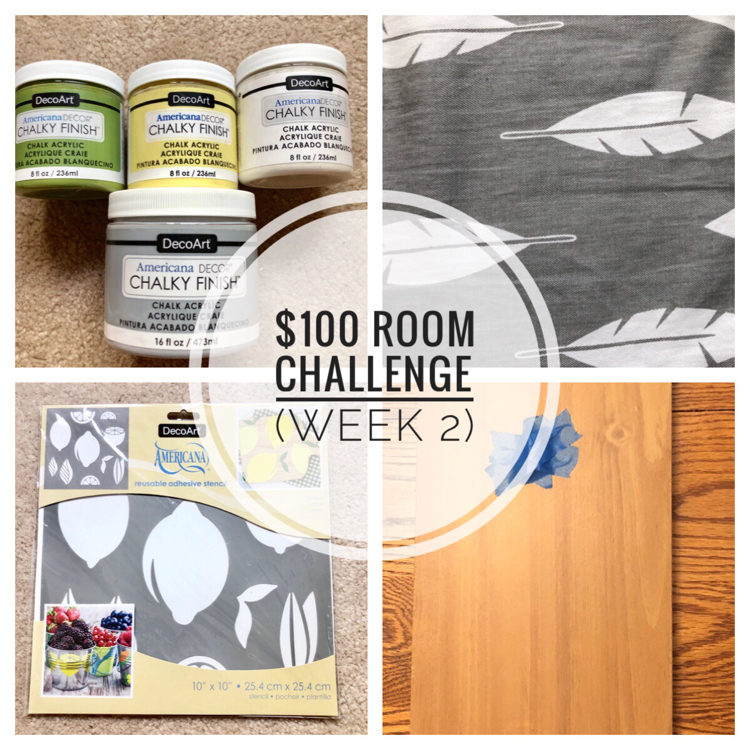 Welcome to the second week of the $100 Room Challenge! The challenge, held twice a year and hosted by Erin of Lemons, Lavender and Laundry, encourages bloggers to update a room for just $100 in a month. I've followed the challenge for a while now. I've learned that it's possible to make big changes to a room without a lot of money!
I was hoping to get more done this week. But my daughters are hosting a dinner party for their friends this coming weekend. I've been working hard on a fun DIY project for our backyard patio for the get-together. I'll be sharing my project here on the blog next Tuesday! (For the Pinterest Challenge blog hop.)

Week 2 — DIY Kitchen Update
I did get some things done for my kitchen project, however! I found some cushions at Walmart for $5 each for my kitchen chairs. The color of the cushions, green, don't match the gray curtains in the kitchen.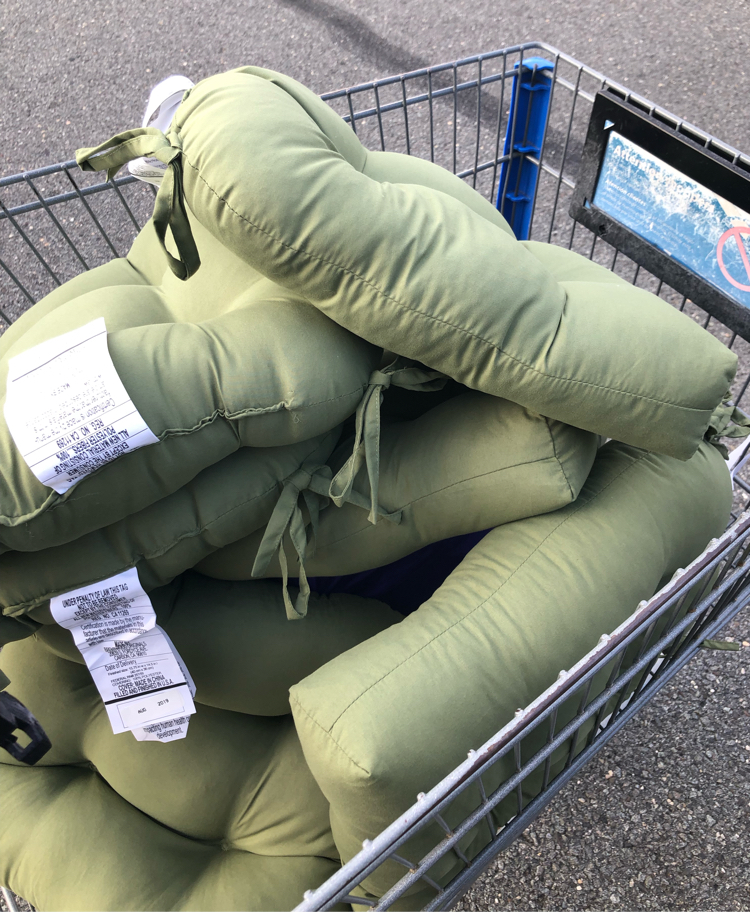 I plan to make DIY covers for the cushions. I have some of the beautiful Premier Prints Feather Silhouette Twill, Storm fabric left over from the cushion with DIY piping that I recently made for my home's bay window. I plan to use that fabric to cover the cushions. The gray in the cushions will go well with the gray and yellow curtains that I already have up in my home's kitchen.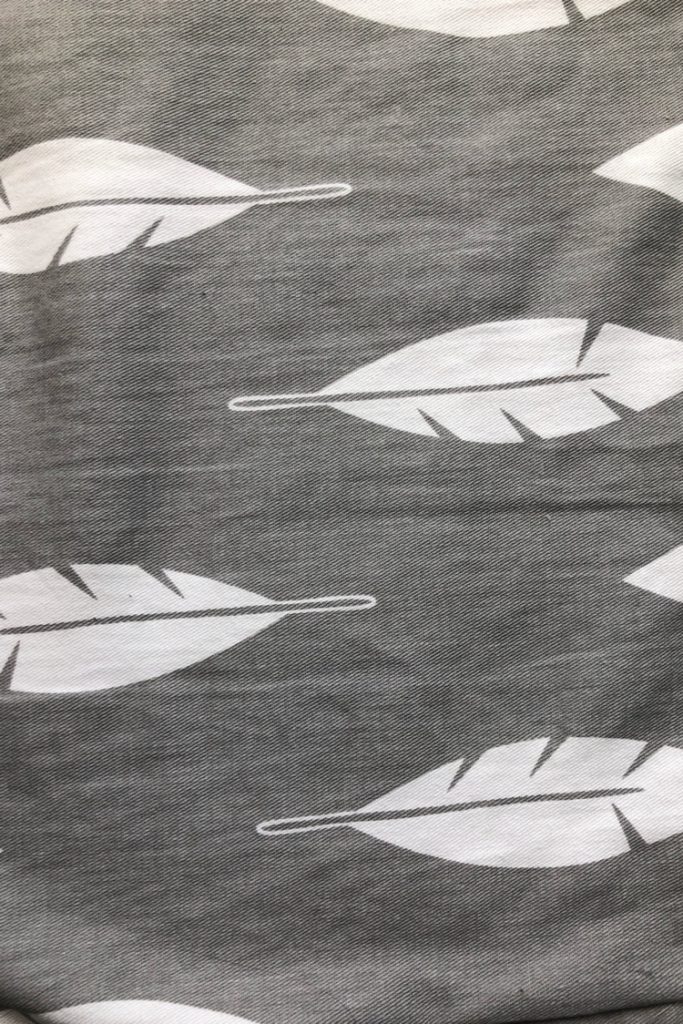 I also got some of the materials that I will need for my DIY wooden table runner for my kitchen table. I have a wood farmhouse-style table, and I often worry that water stains and heated plates will damage the wood. The wooden table runner will not only look nice, but will provide a place to put down serving plates, etc.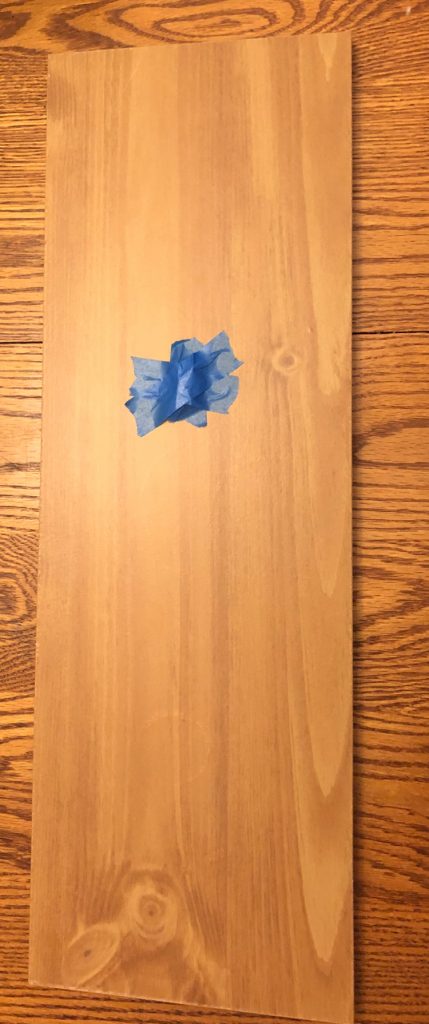 I already have the piece of wood that I will use for the runner — the wood used to be a shelf in my daughters' bathroom. I took that shelf down last spring when I updated the bathroom for my daughters.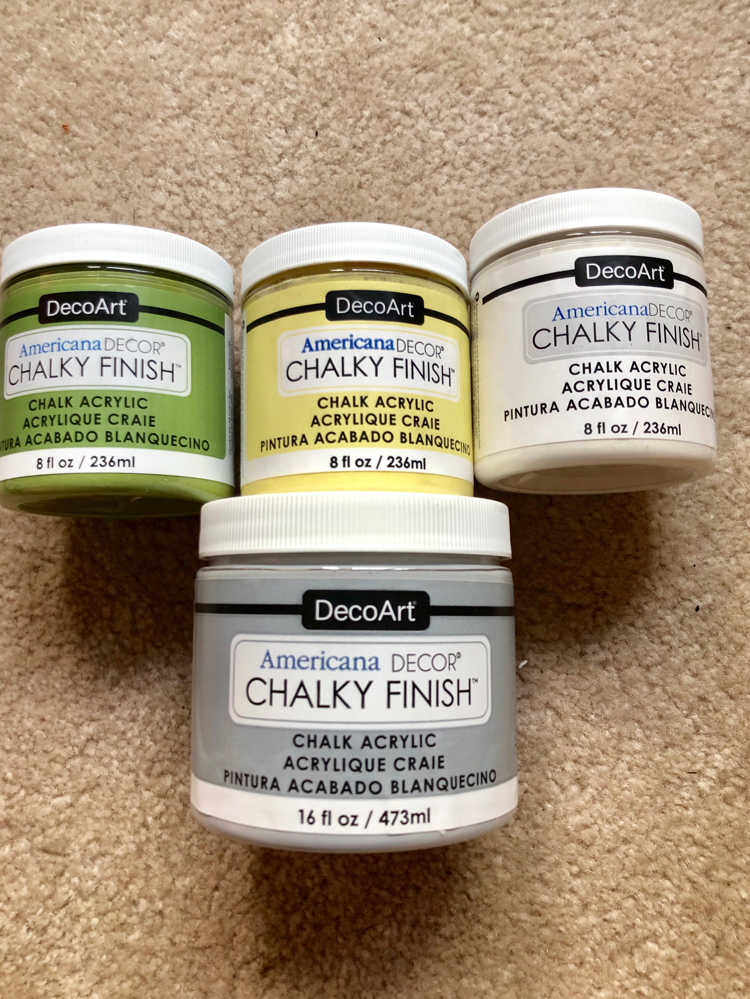 I plan to paint the length of wood gray with DecoArt Americana Chalky Finish Paint, Yesteryear
. I'll stencil lemons onto the wood with DecoArt Americana Chalky Finish Paint, Delicate
and DecoArt Americana Chalky Finish Paint, New Life
. I also got some Americana Décor Acrylic Chalky Finish Paint: Everlasting White
so I have the option of lightening up any of the colors if I like. I love the really cute stencil, Decoart Stencil 10×10 Lemon,
that I plan to use.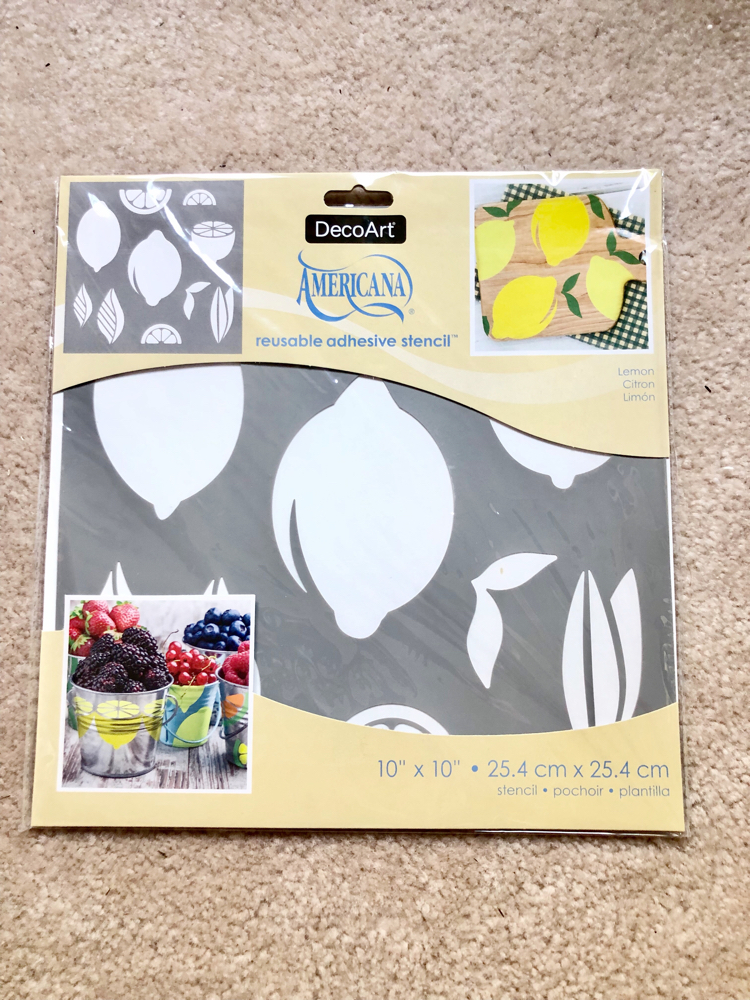 Kitchen Update Fail
For my kitchen update, I had planned to use black cabinet knobs that I had purchased before I painted my kitchen's oak cabinets white. The photo below shows my kitchen before I painted the cabinets.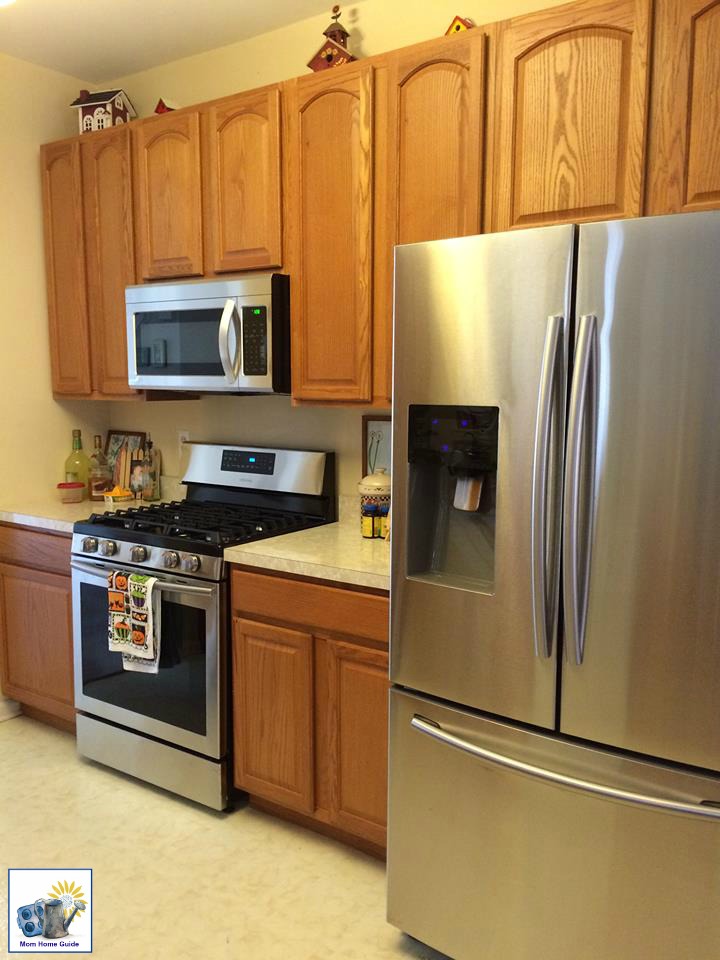 The next photo shows my kitchen's cabinets after I painted them white. (Check out my post for more information on the process and materials I used to paint the oak kitchen cabinets white.)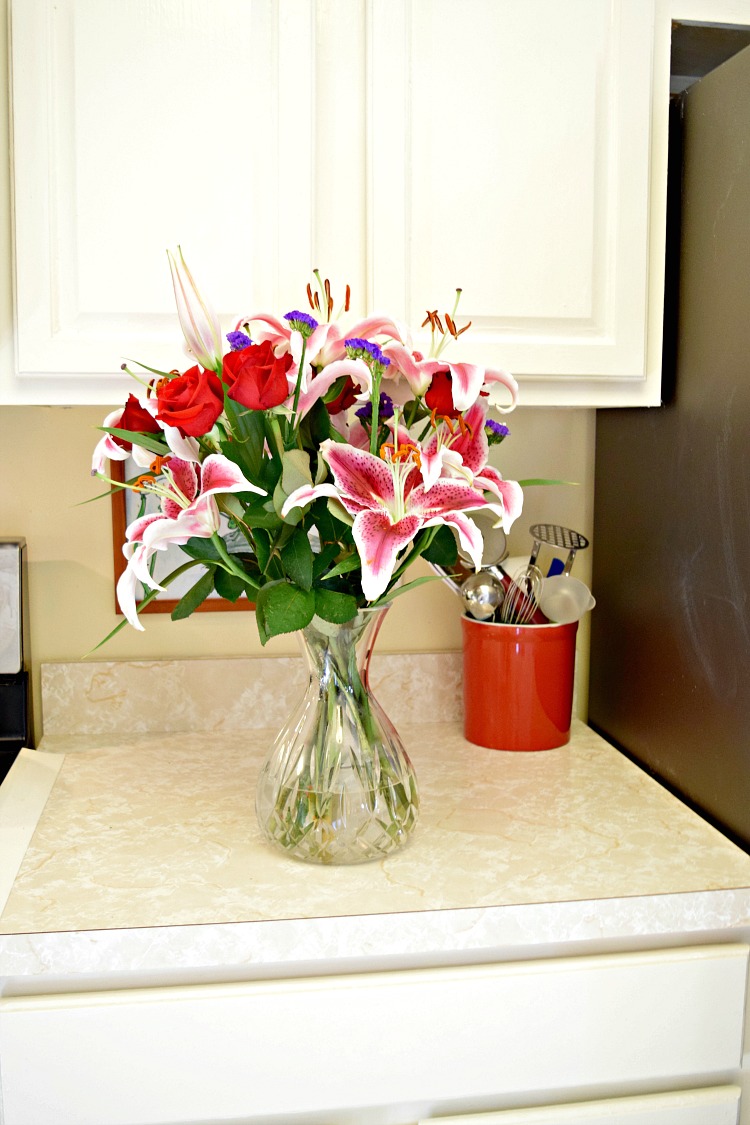 This week I sanded the black cabinet knobs, primed them with spray-on primer and spray painted them a polished nickel color. But after much spray painting, I decided that I didn't like the sprayed on finish.
The finish looked a little rough. (I was hoping for a more polished look.) I think the knobs might come in handy for a future project, though. We'll see! I thought I would have more luck with the knobs because I had spray painted the knobs on an old jewelry chest silver with much luck. I used a different brand of spray paint for my other project, so maybe that's the difference.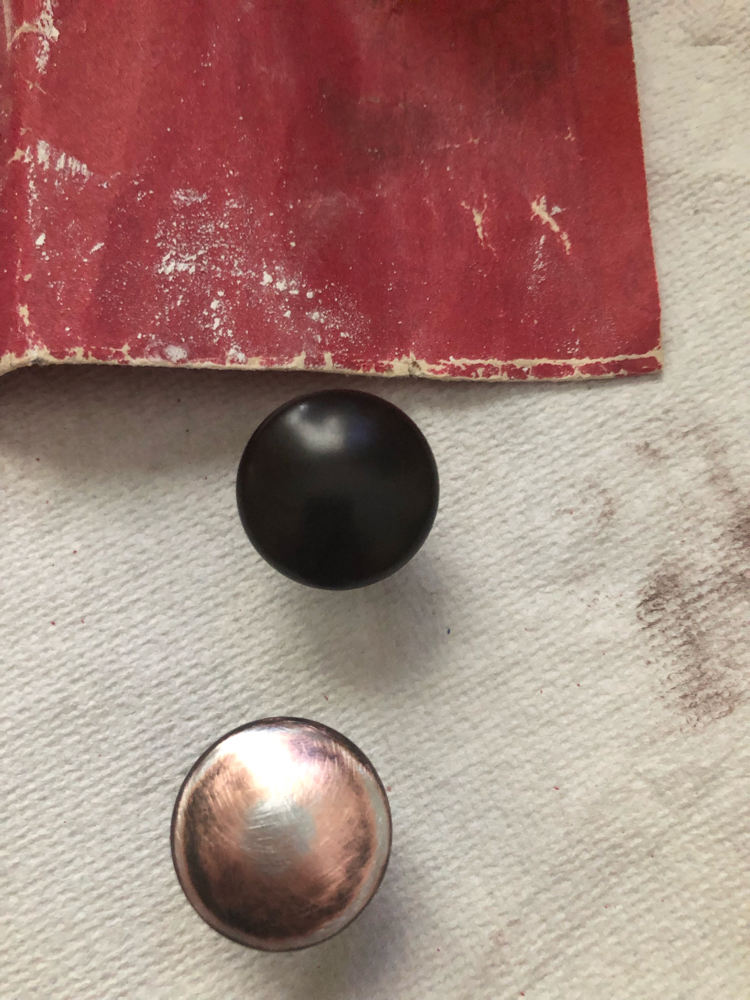 I am a little bummed that I sanded the black finish off the knobs. But there are 4 knobs left that I didn't touch. (Hooray!) I found a 20-pack of Satin Nickel Cabinet Knobs
knobs from Amazon for less than $20 that I think I will work. I ordered them yesterday, and they should arrive later this week.
I'll have to scale back my project a little to keep under the $100 budget. I'm limiting my new items for the kitchen update to the cabinet knobs, the new kitchen chair cushions and the DIY stenciled wood table runner. I have plenty of decor I can bring in to decorate an autumn dining table, so I am sure I'l be fine.
Be sure to check back here next Wednesday to see what I accomplish in the next week! Also, take a look at my friends' $100 Room Challenge projects below! (Click on the blue link button below to see what the other bloggers are doing with their $100!)