* Thank you to Chalk Paint® decorative paint by Annie Sloan for sponsoring this project! I totally love their Chalk Paint®! This post contains affiliate links.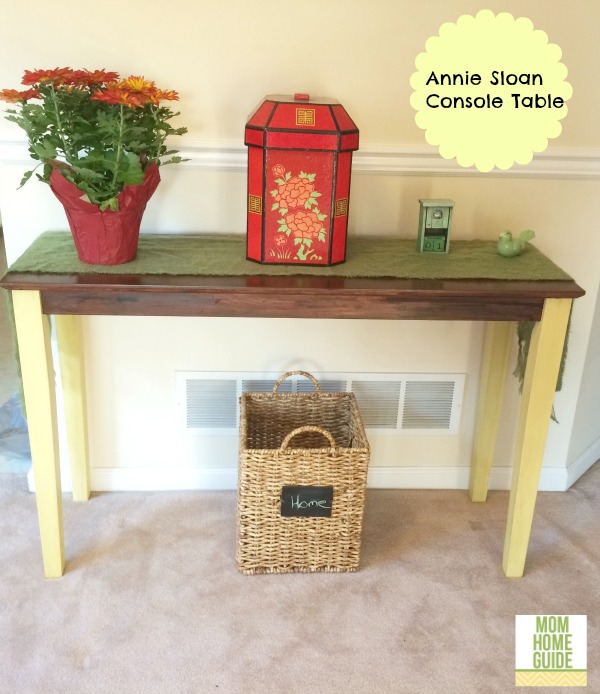 For a while now, I have been eyeing all the beautiful Chalk Paint decorative paint by Annie Sloan projects on Pinterest. I love all the beautiful colors the paint comes in, and how furniture painted with Chalk Paint decorative paint by Annie Sloan adds tons of character to a room! So, I decided to paint an unfinished console / sofa table for my home's living room! The console table is situated so it is one of the first things you see when you enter my home! Before I started my product, I read the guide, Quick and Easy Paint Transformations, which taught me a lot about using Chalk Paint® and included a lot of inspiring ideas!
I have recently redecorated my home's living room (adding a new chevron rug and a lovely sofa), and thought an Annie Sloan-painted piece of furniture would be just want my space needed! I decided to paint my console table in a mixture of "Chalk Paint® Decorative Paint by Annie Sloan in "English Yellow" and "Old White" to give the living room a fun and happy pop of yellow!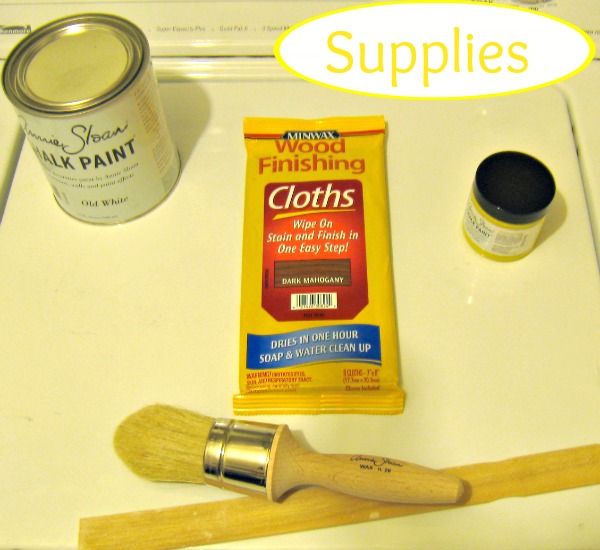 Supplies
Old White Chalk Paint® (I used 12 fluid ounces)
English Yellow Chalk Paint® (4 fluid ounces)
Annie Sloan Clear Soft Wax (I used only a little bit from a 500 ml tin of wax)
Annie Sloan Dark Soft Wax (again, I only used a little but from a 500 ml tin of wax)
Paint brush
Clean white rags (for wiping off excess wax and buffing your finished piece)
Unfinished Shaker Sofa Table
Minwax Wood Finishing Cloths
(2 packages)
Annie Sloan Wax Brush
Full Size Paint Tarp
Instructions
For my living room console table, I got an Unfinished Shaker Sofa Table
. Since the table came unfinished, I didn't have to sand the tabletop before I began staining my piece. All I did was wipe down the tabletop with a wet, clean cloth to remove any dust, and then dried it off with dry clean cloth.
Myy table came in pieces (the legs came unattached to the table). The fact that my table was shipped unassembled made painting my furniture quite simple — I didn't have to worry about getting the stain that I was using on the tabletop on the table's legs. I also didn't have to worry about accidentally getting chalk paint on my tabletop!
Staining and Waxing the Tabletop
For my stain, I used Minwax Wood Finishing Cloths
in dark mahogany. I used the cloths because I had used the cloths for another project (my Instagram display board) and found that the cloths work perfectly for a small project.
I ended up using two packages of Minwax Wood Finishing Cloths
to get the stain color that I liked. After applying the stain, I let the stain dry at least overnight before beginning my next step. I then applied some Annie Sloan dark wax to my tabletop to get a rich shine. To apply the wax, I applied a small amount of wax with a cloth and then wiped the table with a clean cloth to remove any excess wax. I used this method several times until my tabletop had the sheen that I liked!
Painting and Waxing the Legs
For the table legs, I used one part of "English Yellow" Chalk Paint® to three parts "Old White" Chalk Paint® . English Yellow is a very bright yellow paint! The yellow color I ended up with is still quite lively, but I was looking to jazz up my living room and add some fun color to the space! I simply poured my entire 4 fluid-ounce jar of English yellow Chalk Paint® into a clean plastic container, and then used that same jar to measure and pour in three parts of the Old White Chalk Paint® into my plastic container. I mixed the paint with a regular wood paint stirrer.
I actually used a Minwax Brush
that I had on hand to apply the chalk paint to the table legs. I found that the chalk paint went on quite easily, and came off my paint brush quickly when I washed my paint brush with soap and water. Once I painted the console table's legs, I let them dry overnight. I applied a coat of Clear Soft Wax with my wax brush the next day to the table legs, applying the wax, and wiping off the excess with a clean white cloth like I had done with the wax on the tabletop.
About two days later, I applied a mixture of dark Annie Sloan wax mixed with some clear wax with a wax brush to the table legs. (I wiped off the excess wax with a clean white rag). I found that the dark wax (mixed with some clear wax, since I didn't want to darken the table legs too much!) gave the table's legs a deeper and much more sophisticated look!
Once all the parts of my new console table were ready to go, I simply screwed on all the legs with the table's supplied screws and Allen wrench. It couldn't be easier! The table was light enough for me to carry and place in my living room on my own. I decorated the table with some pieces that I already owned — I just LOVE how my table came out!!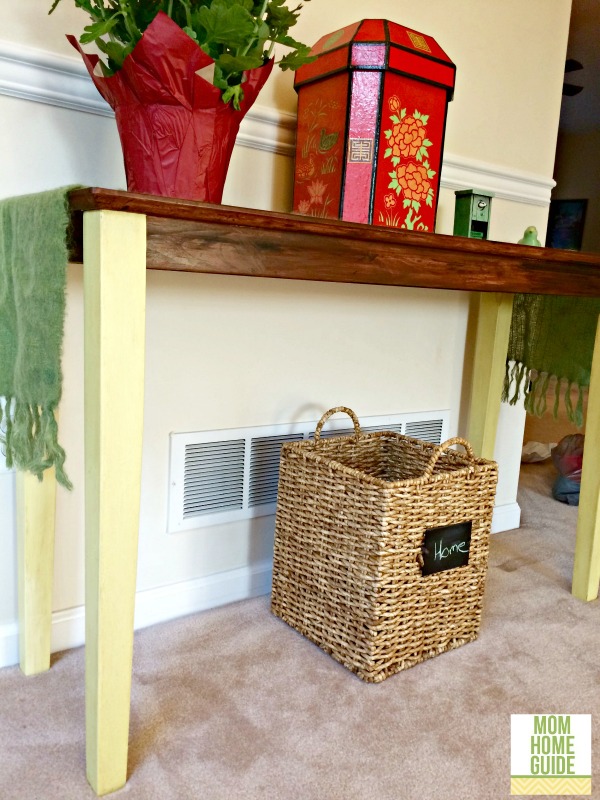 My kids and I can't wait to dress the table up for Christmas — I will be posting about that soon!
More Chalk Paint Projects to Come
I just adored working with the Chalk Paint®! The color is so beautiful, and the paint is so easy to work with! I would love to do more Chalk Paint® projects in the future – I have a used piece of furniture in my home's garage that is just waiting for some Annie Sloan love!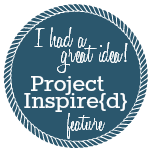 This project was shared at: Get Your DIY On