Years ago, when my husband and I moved into our home, there was plenty of storage in our new kitchen.
But since then, I've acquired new cooking tools, small appliances and servingware, and now, there is not enough room to store all of our kitchen stuff in our tiny kitchen. Add to that all the plastic cups and plates for outdoor dining, and lunch box supplies for my kids, and we really have a problem!
Despite the lack of plentiful cupboard space in my home's kitchen, I've recently found extra storage space in the kitchen. How did I do that? I created extra space on top of my home's refrigerator, and on top of the china cabinet that sits behind the kitchen table.
Storage Space On Top of the Fridge
I managed to create extra storage space on top of my home's refrigerator by adding two cute wicker baskets on top of the fridge that I found on discount at a local shop. Each basket is lined with a cute gingham pattern. I think the move was genius! Just think about it — all that usually collects on top of a fridge is dust. Why not put that space to work by adding some baskets or perhaps some bins?
I love the pop of color that the baskets give to my home's kitchen. Plus, in that new storage space, I can now store things like water bottles, thermos and bags of chips that I occasionally buy for my kids or for get togethers. (I've also been known to hide things like Halloween and Easter candy up there before those holidays roll around.)
Basket Storage
The basket that now sits on top of my kitchen's china cabinet is a basket that I already had, but hadn't yet put to use. I've found that the basket is a great place to store coupons, notices about promotions and sales at local stores, and grocery store circulars. Before, I never knew what to do with all that stuff, and it tended to collect on my kitchen's counters. Now, when I see that the basket is getting full, all I do it quickly go through it and throw out expired coupons and circulars.
More Storage Needed
Now, I just have to figure out how to find more storage for pots and pans in my home. I've been debating about getting a pot rack to hang from the ceiling, or whether to add some pegboard storage to my home's kitchen. I'll have to let you know what I figure out! If you have any great storage ideas for pots and pans (which I now tend to store in the oven), let me know!
Share Your Links and Ideas!
If you have any ideas or links on kitchen organization you'd like to share, please feel free to share them in the comments. I'd love to feature them in a future post!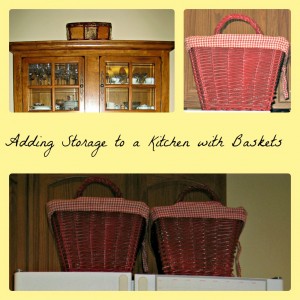 Other Posts You Might Like
Kitchen Wine Glass Organization
Keurig K-Cup Coffee Makers for the Whole Family
Kitchen Organizing Tips for Busy Moms