*This post contains affiliate links for the Building a Framework ebook. I will earn a commission if you purchase this book, and you will be happy you got the book!

Hi, everyone! Being a blogger is sometimes like wandering through a forest in the dark, not knowing where to go or how to get there. At least, that's how I felt when I first started blogging! That's why I am so excited to share the blogging ebook, Building a Framebook, by Abby Lawson of Just a Girl and Her Blog.
Even though I have been blogging for more than two years, I purchased the blogging ebook a few months ago, and Abby's advice helped me with a few problems I had been facing with my blog!
Abby's blog, Just a Girl and her Blog, is a wonderful and quite popular blog, and in her blogging ebook, she shares EVERYTHING she knows about blogging! (And that's quite a bit!)
Everything You Need to Know About Blogging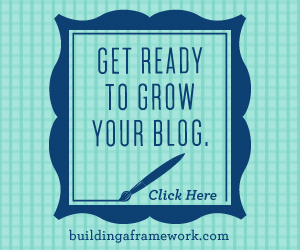 When I downloaded Abby's book, it was so helpful that I read it in just one night! I met sweet Abby at the Haven conference last summer, and now that we have gotten to know each other, she is letting me offer her blogging how-to to my readers! Her ebook includes everything you need to get a blog up and running (or to fine-tune one that's already running, like mine). Her book includes:
Getting  a domain, hosting your blog and choosing a design for your blog
How to create compelling blog content and photography
Earning money through your blog through Adsense, affiliate advertising, sponsored posts and working with brands
Link party strategies and how to get more clicks
Growing your blog through social media and through growing your subscriber base.
How Abby' s Book Helped Me
The section of Abby's ebook that was especially helpful to me was Abby's chapter on blog plugins. Plugins are tools that make it easy for bloggers to add helpful functions to their blog. For instance, I've always wanted to have Pin It buttons on my photos, so Mom Home Guide's readers can pin the photos they like to Pinterest. I've tried adding Pin It buttons to my blog before, but with no luck. But after reading Abby's book and using the plugin she recommended (JQuery Pin It Button for Images), I now have Pin It buttons on my photos. Thanks, Abby!
I also took Abby's suggestion and added the Related Posts by Zemanta plugin. The Related Posts by Zemanta plugin automatically adds thumbnail photos and related links at the end of a post to other posts on Mom Home Guide – which is a great help, since it makes it easy for readers to find other posts on Mom Home Guide that they might like. If I don't like which related posts the plugin chooses automatically for me, I can easily drag the posts I don't want out and drag over the posts I want to have included! Easy peasy!
Get the Ebook
To get the ebook, just visit Abby's blog. For $24, you can download the Building a Framework ebook today, start reading it, and get started on your blog today! The ebook also includes pages of free printables for managing and organizing your blog. Good luck!