Thanks to The Anxious Pet for sponsoring this post. This post contains affiliate links.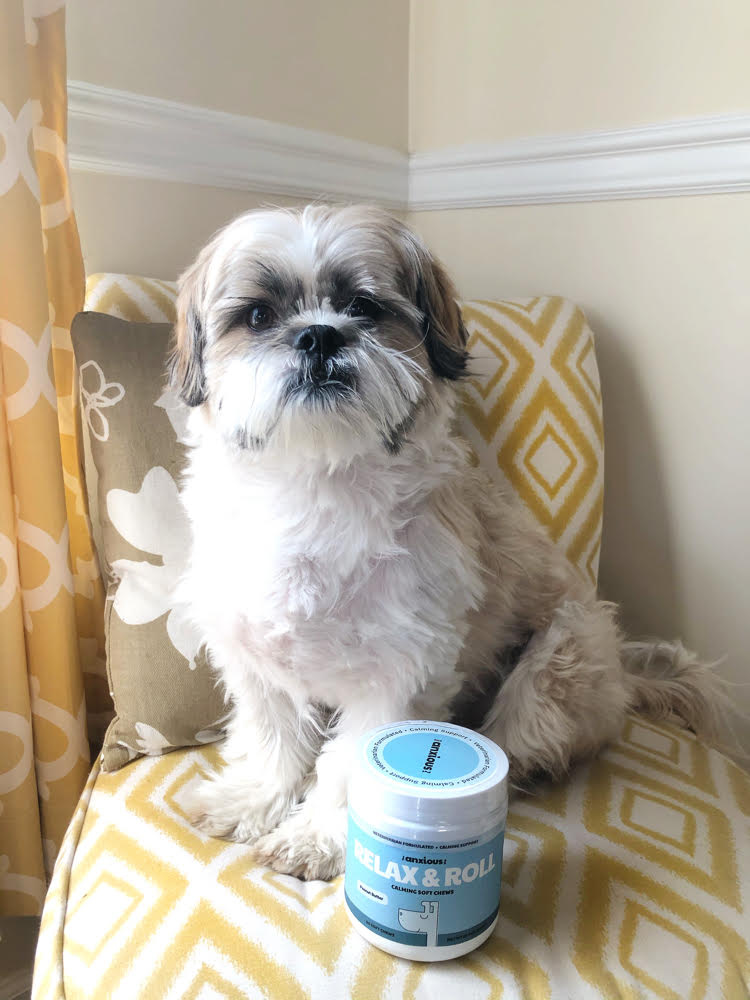 While you might find the holidays to be joyful and happy, your family's dog might not. All those visitors, the change in routine and those bright lights and packages might spook him a little. All these changes to your pup's routine might make the holidays an anxious time for your pooch. But there are ways to soothe your pet's anxiety this Christmas and holiday season.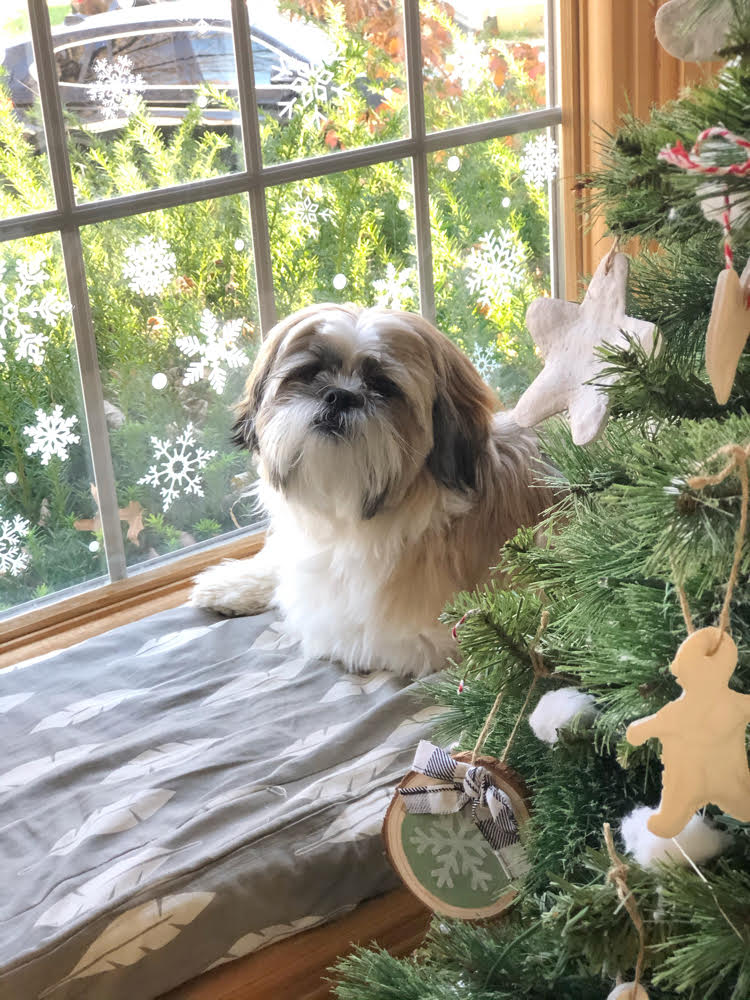 How to Keep Your Pet Calm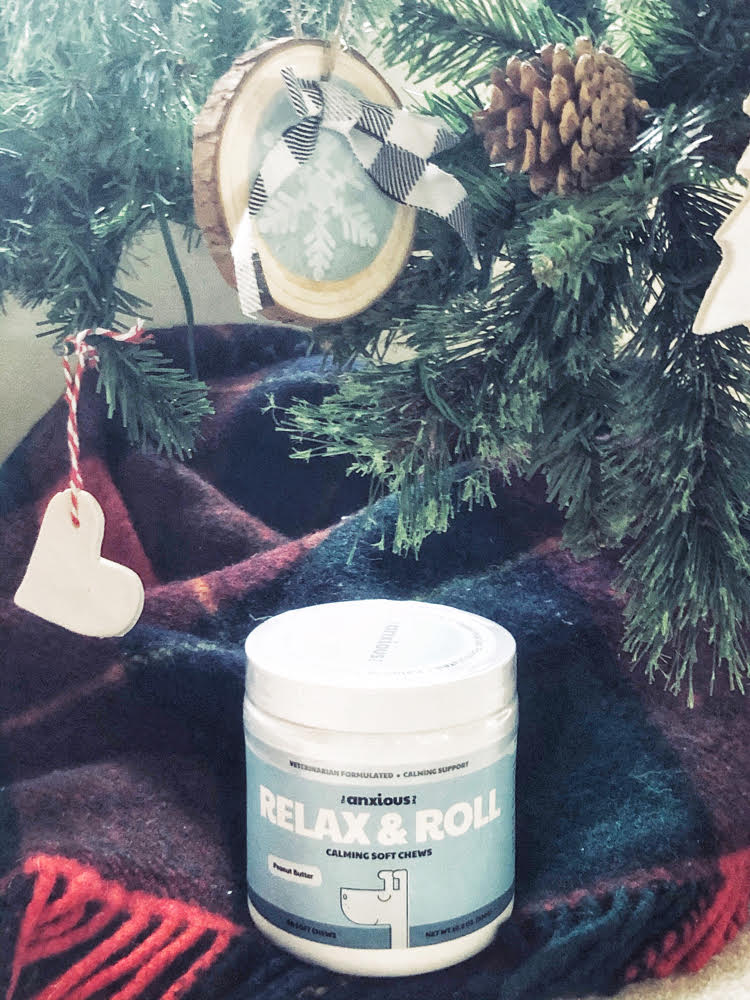 Luckily, there are several things you can do to keep your pup happy and calm this holiday season.
The Anxious Pet has several veterinarian formulated, lab tested, and organic products that can help your pup (and kitty) feel less stressed this holiday season. One of these products is Relax & Roll, Calming Soft Chews from The Anxious Pet. The Anxious Pet also offers pet Relax & Roll supplement bars, calming hemp products and hip and joint pain relief and mobility supplements.
Each 5 gram Relax & Roll, Calming Soft Chews from The Anxious Pet contains 1600mg active ingredients like acetyl-L carnitine, ginger root, chamomile and melatonin to help your pup feel calm and relaxed and enjoy restful sleep without drowsiness.
I like that the The Anxious Pet Relax & Roll Calming Soft Chews
are approved by vets and that they contain all natural ingredients – my pup is my buddy, and I want the best for him.
My pup (Mochi) tends to be a calm dog generally, but he does seem to get somewhat anxious at nighttime, when he tends to man the bay window in our living room and bark at neighbors returning to their homes, or cars driving past our house.
Mochi can also get overexcited when guests visit – a half chew (recommended for his weight) could help him to not overwhelm guests who aren't as enthralled with our puppy as we are.
Other Ways to Calm Your Pet's Anxiety this Holiday Season
Stimulate his brain with dog puzzles or brain games – Another way to keep your dog calm this holiday season is to keep his mind occupied with fun and stimulating puzzles. The puzzles can keep your dog occupied, while the mental energy he needs to expend to solve the puzzle (to earn a treat), will keep him calm and relaxed. My pup is getting a stimulating dog puzzle
for Christmas.
Work Out His Fears – Before a possibly anxious situation for your pup, try taking him for a walk, or get him some exercise, suggests website Proud Dog Mom. A walk around the block or a game of fetch can stimulate the production of serotonin, a feel-good brain chemical, and can use up some of your pup's pent-up energy.
Let Your Visitors Offer Your Dog A Treat – I've found one way to get my pup to calmly greet visitors to my home is by allowing the visitor to give my dog a treat. This method has helped my pup react calmly to both friends and to home professionals who visit our house. This technique might not help with all dogs, however. My pup just happens to get focused and calm when he waits for a treat.
Create a Safe Space – Reserving a safe space where your pet can retreat to when he's anxious can help calm him. That safe space for my pup is sometimes his crate in an upstairs bedroom that he sleeps in at night.
Cuddle and Massage – A calming touch can also soothe an anxious pet. Try cuddling your pet or holding him. You can also try giving your pup a massage. One of my daughters has mastered the art of soothing our dog with a mini face massage.
Do you have an anxious pup or kitty? What do you do to soothe your pet? Please share in the comments!
You Might Also Like