Thanks to Febreze for providing me with a Febreze Air Purifier for this post. All opinions expressed in this post are 100% my own. This post contains Amazon affiliate links.
Did you know that today is National Clean Up Your Room Day? How do you plan to celebrate? I hope to put in some time cleaning and organizing my home's kitchen!
I've been hard at work cleaning and organizing my home this year so far! I've created and organized a new pantry for my kitchen, and I've started organizing one of the closets in my home's master bedroom. The pantry has helped to make my kitchen more organized, but I still have more organizing to do — I have way too many things stored in my kitchen, and not enough storage space!
Springtime is a HUGE allergy season for me and my husband, so for us, it's important to also focus on eliminating allergens when cleaning. So I was happy to receive a beautiful, new tower Febreze Air Purifier!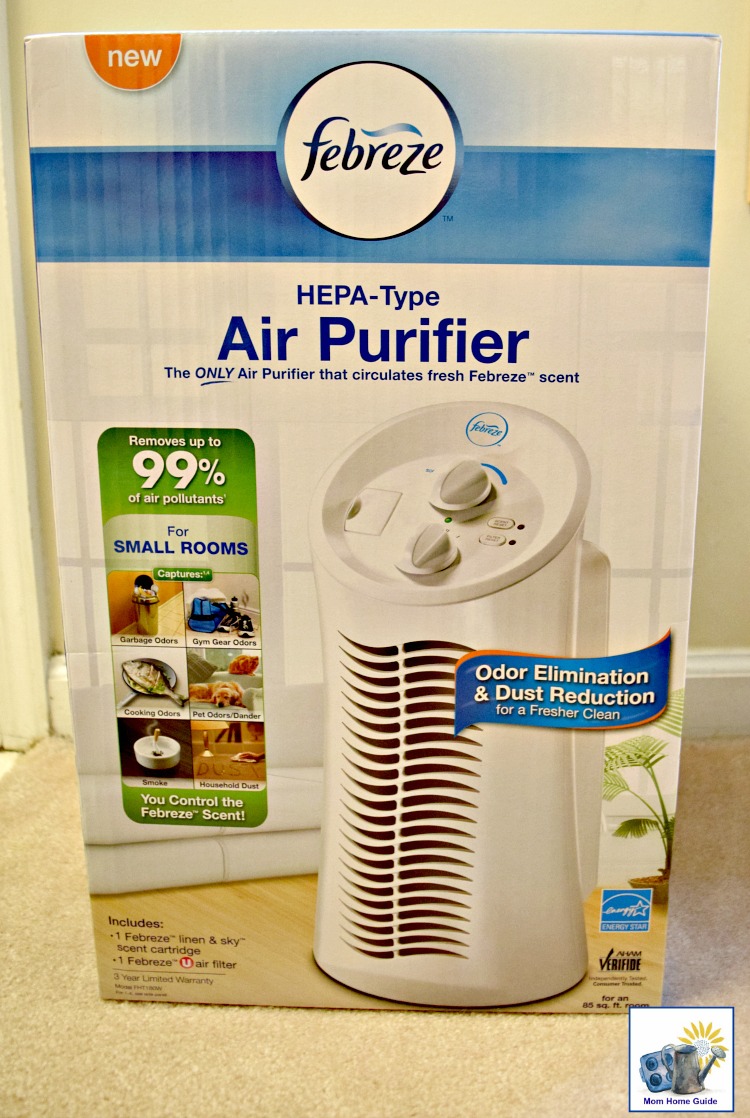 My Febreze Air Purifier
My kitchen is the center of the home, so I placed my new Febreze Air Purifier in the kitchen. The purifier has a replaceable HEPA-type filter that traps up to 99% of airborne particles like dust, pollen, and pet dander. The purifier might also help to minimize the dust bunnies in my home — something that my husband and I are also allergic to!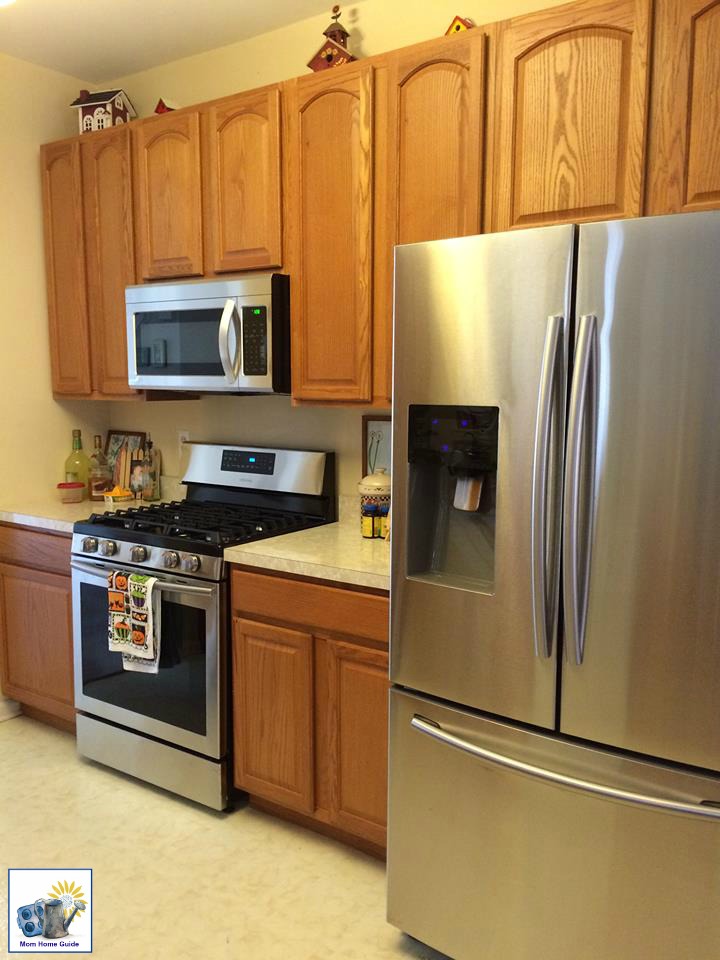 I plugged in my new air purifer as soon as I got it out of the box — since last week, I have been sneezing and coughing a bit from my allergies, so I am eager to clean the air of any allergens in my home!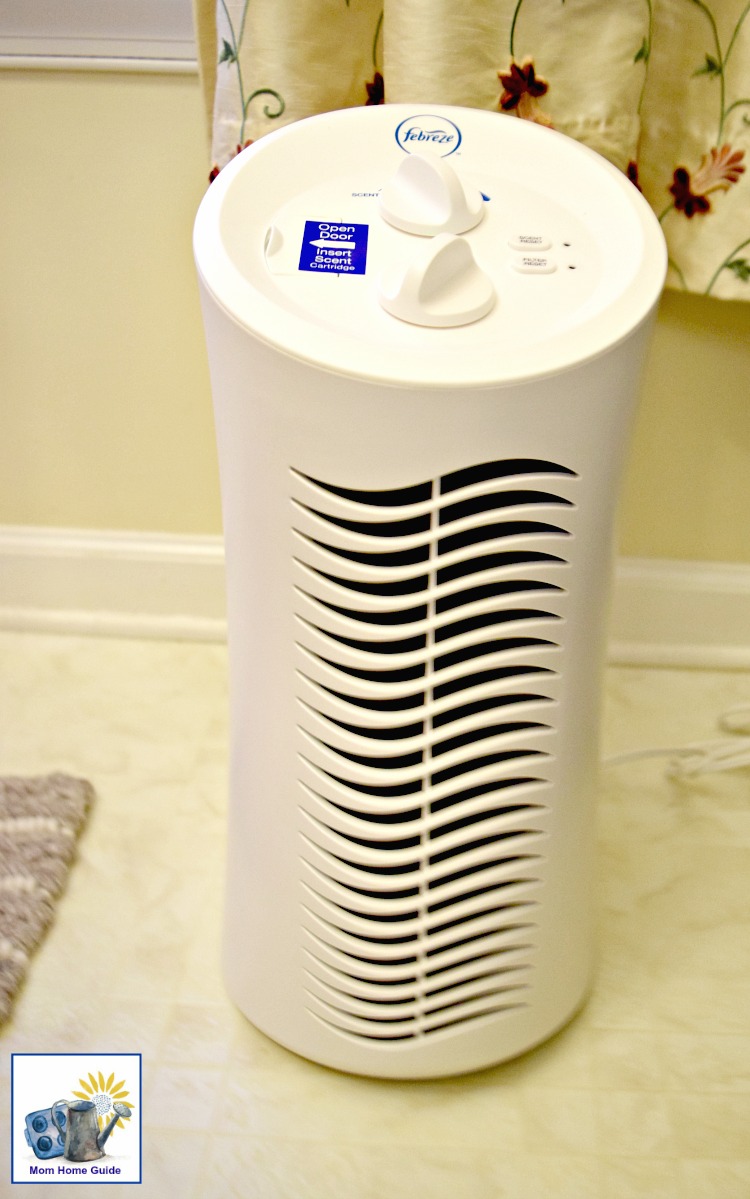 My new Febreze HEPA-Type Tower Air Purifier
is really handy to use because the electronic filter can be set to three air purifier levels, so I can set it according to my home's needs. I can also use a Febreze scent cartridge in my air purifier to give my home a clean and fresh scent! I can set the purifier to emit just a little bit of the Febreze scent, or a lot.
After running the purifier for a bit, I noticed that the Febreze air purifer also helps my kitchen smell fresher after I've cooked up a big meal! I've started using the purifier for a few minutes before company arrives — just to make sure the air smells fresh and clean!
I was already a fan of Febreze before receiving my new Febreze Tower Air Purifier, so I love that the purifier releases a fresh scent into my home! Additional pluses are that my Febreze Tower Air Purifier is ENERGY STAR® qualified and will automatically remind me when I need to replace the air filters and scent cartridges. I think my tower is perfect for my kitchen, but if I wanted to get one for our bedrooms, I would consider getting either a tabletop tower or a mini tower — the Febreze Air Purifiers
are available nationwide (and at Amazon.com) at a suggested retail price of $59.99-$89.99. I would love to put a Febreze purifier on our dresser or on one of the nightstands in the master bedroom, since for my husband and me, our allergies sometimes get worse at night.
To keep allergens to a minimum in our home, my husband and I rarely open the windows, since we both have year-round allergies. Ideally, there wouldn't be carpeting in our house, since carpeting is notorious for trapping dirt and allergens, but my house is filled with wall-to-wall carpeting! I would love to get hardwood floors someday. (I like the look of these scraped wood floors from Shaw Floors.) I don't think that hardwood floors are in the cards.
So, instead, I am doing what I can do to reduce the amount of allergens in my home. I am so happy with my new Febreze air purifier, and I think it will be a great help this allergy season!