The Christmas season officially began in my house on Saturday – just two short days after Thanksgiving.
My family has never decorated so early for Christmas, but since one of my daughters just LOVES Christmas, and couldn't wait to get the Christmas tree up, I just had to oblige the very first day we had some time. My daughter is so looking forward to Christmas that the minute we came home from our Thanksgiving celebration, she donned her felt Santa Christmas hat.
Christmas Organization
Thanks to some organizing I did just after last Christmas, I was able to get the Christmas tree up fairly quickly this year. Our Christmas ornaments, tree, etc., are usually stored haphazardly here and there in the basement without any apparent rhyme or reason, but luckily, I took time last year to organize our Christmas decorations.
My dad had given me two large divided Christmas ornament boxes last year (thanks, Dad!), which were a great help this year. Because of those Christmas ornament boxes, I was able to fit all of my Christmas ornaments into just two boxes, instead of packing them with wads of newspaper into several storage boxes.
Last year I also assembled two sets of plastic storage shelves in the basement, and on those shelves, I stored the rest of our Christmas holiday decorations in labeled boxes, making everything easy to find. And since we use a fake Christmas tree (because of a family member's allergies), finding the tree only meant going into the basement, locating the Christmas tree stand and branches, and putting the tree together. Easy peasy! (Well… if you don't count a few branches I accidentally put up in the wrong places and a string of lights that didn't work, causing me to retrieve another string of lights from the basement.) My kids took over the Christmas tree decorating once the tree and the lights were up, and I think they did a great job!
I am happy to say that we are the first family on our block to put our Christmas tree up this year (nearly everyone puts their tree in view of their front picture window), and we are normally the last ones to have our tree up – my daughters are so excited!
A Few Days Until December
Now, my girls are counting down the days until December, which is the day they can start counting down the days on our Christmas advent calendar. I've added velcro to buttons that my daughters use to count down the days until Christmas on the felt advent calendar. We have all different buttons in various shapes and sizes – green fabric Christmas trees, brightly colored buttons and gold stars – and my daughters have already decided who gets to put up which buttons this year.
More Christmas Decorating
While we have our Christmas tree and advent Calendar up, I still have to get a Christmas wreath on the door and add some more decorations to our kitchen, which at the moment, only sports Santa chair covers on our kitchen chairs. My daughters and I will have to plan some more holiday decorations!
I would also like to update our mantel. The below is what our fireplace mantel looked like last Christmas, with our traditional mantel decorations. But after checking out Sarah's Magnolia Christmas Mantel at Thrifty Decor Chick, I'd love to have a more classy look this season!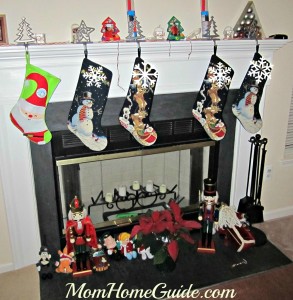 This post has been shared at Not Just a Housewife's Holiday Traditions Linky Party! Check out her website for wonderful holiday ideas and traditions to share with your family.
Check out this post at the Deck the Walls: Holiday Organizing & Decorating Pinning Party!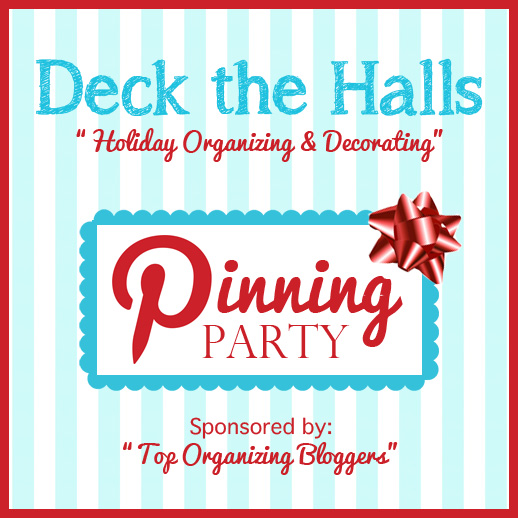 This post was shared at the Bowl Full of Lemons' One Project at a Time Link Pary!