This shop has been compensated by Collective Bias, Inc. and its advertiser. All opinions are mine alone. #FreeToBe #CollectiveBias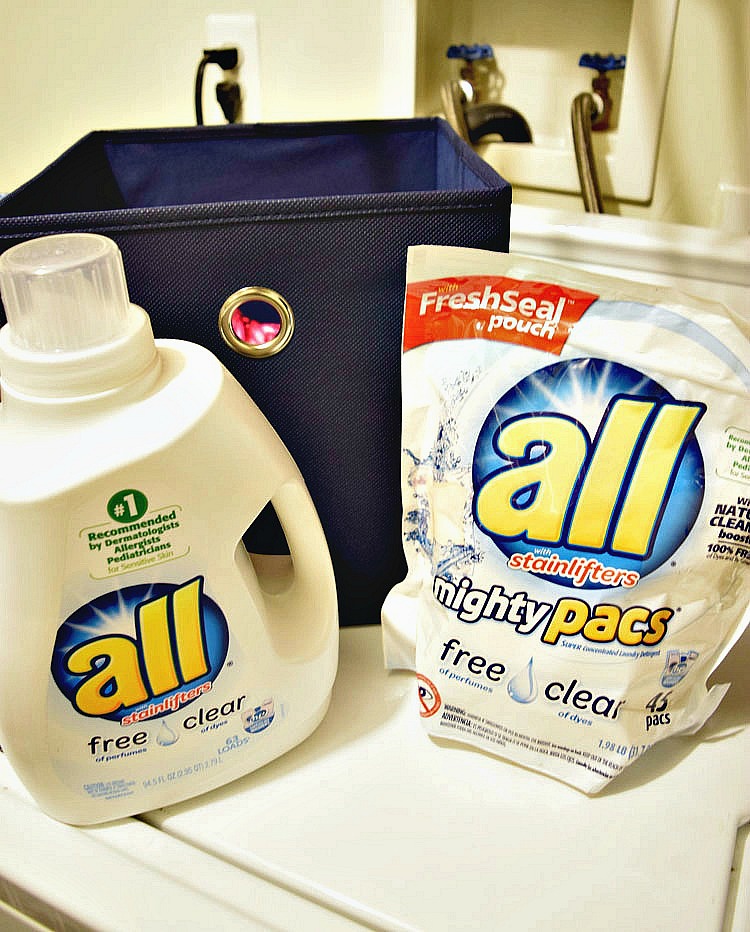 My husband, kids and I all have allergies. We also have a clothing storage problem. When left out in laundry baskets and not properly folded and put away, clothing can collect dust, resulting in extra sneezes and sniffles!
I've decided to think outside the box this fall and tackle my family's clothing storage issue. Our closets are full, despite the bags of clothing I donate to charities. Yet, in my home's upstairs hallway, my family has a wall of bookcases that begs to be sorted and emptied out. I'm determined to convert some of that bookcase space into storage for off-season or little used clothing. I've discovered that clothing storage space needn't just be in closets or dresser drawers – storage for clothing can be carved out throughout the home.
Turn a Bookcase into "Closet" Space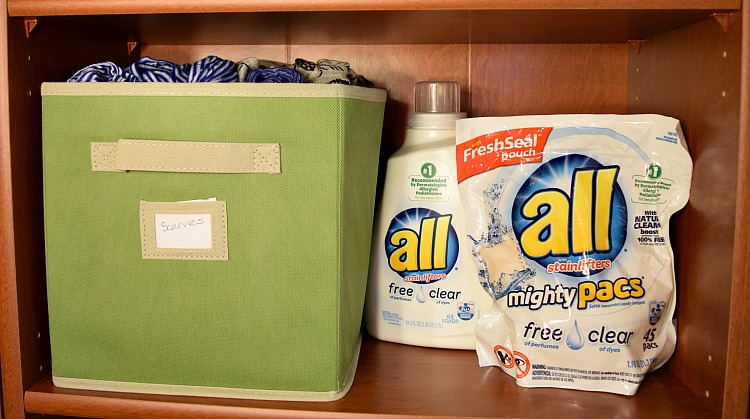 Materials Needed
Cloth fabric bins
Bookcase
To create more clothing storage space for my family, the first thing I did was wash my off-season clothing with all® free clear detergent or all® free clear mighty pacs®.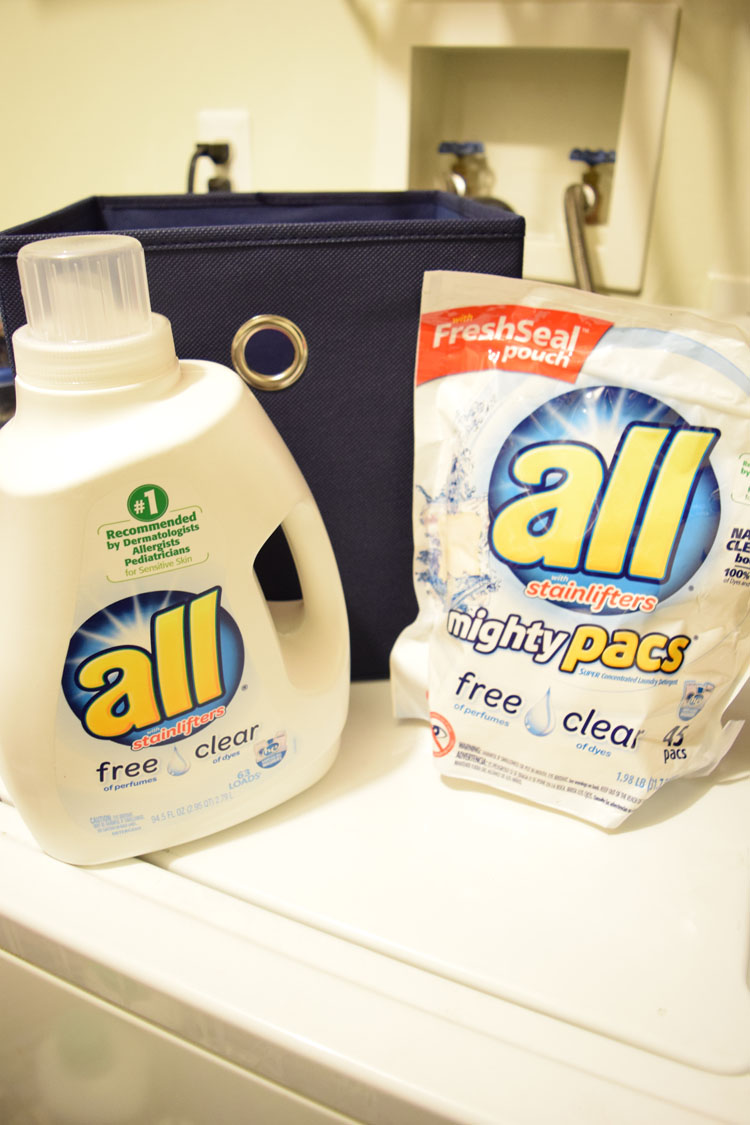 I was able to pick up all® free clear detergent and all® free clear mighty pacs® at my local Target store in the laundry detergent area.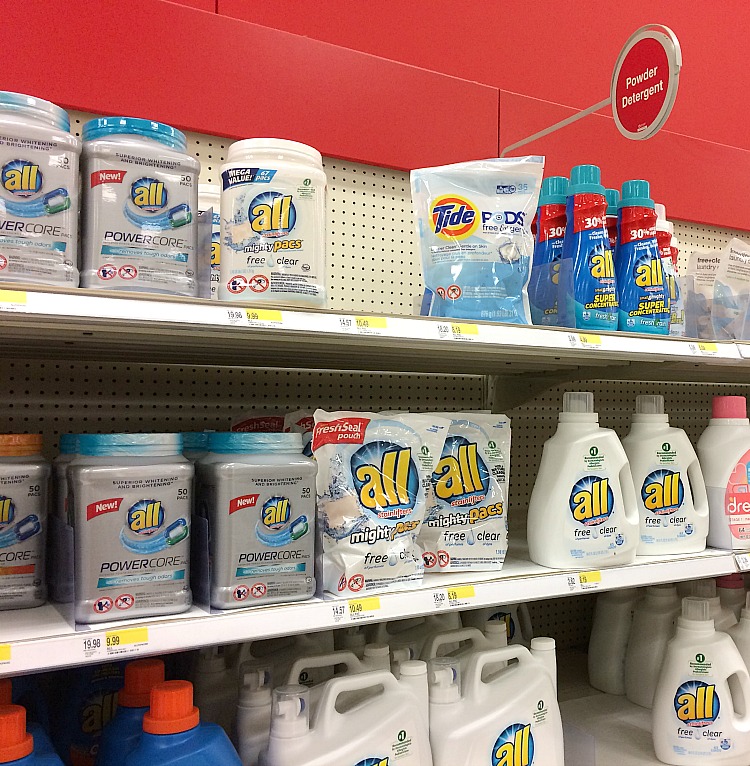 Prepping Off-Season Clothing for Storage
I like to use all® free clear detergent and all® free clear mighty pacs® on my family's clothing because the detergent is gentle on our sensitive skin and is free of fragrances and dyes. (Fragrances and dyes can trigger our allergies.) Also, all® free clear detergent was awarded the Seal of Acceptance by the National Eczema Association for having no dyes, perfumes, certain chemicals, and irritating residues. I appreciate that, since I, and one of my daughters, tend to get itchy eczema.
While all® free clear detergent cannot treat or cure allergies, it removes 99% of the top and seasonal allergens from clothing. The detergent is strong enough to get out stains, so I know our clothing is clean.
It's important to clean clothing before storing them away for any amount of time, so dirt and stains don't set in.
For extra convenience, I also use all® free clear mighty pacs®, which are perfect for our sensitive skin. The all® free clear mighty pacs® are extremely convenient — I can toss them in the washer with our laundry. (For best results, follow the instructions on the packaging of your detergent.)
Finding Extra Storage Space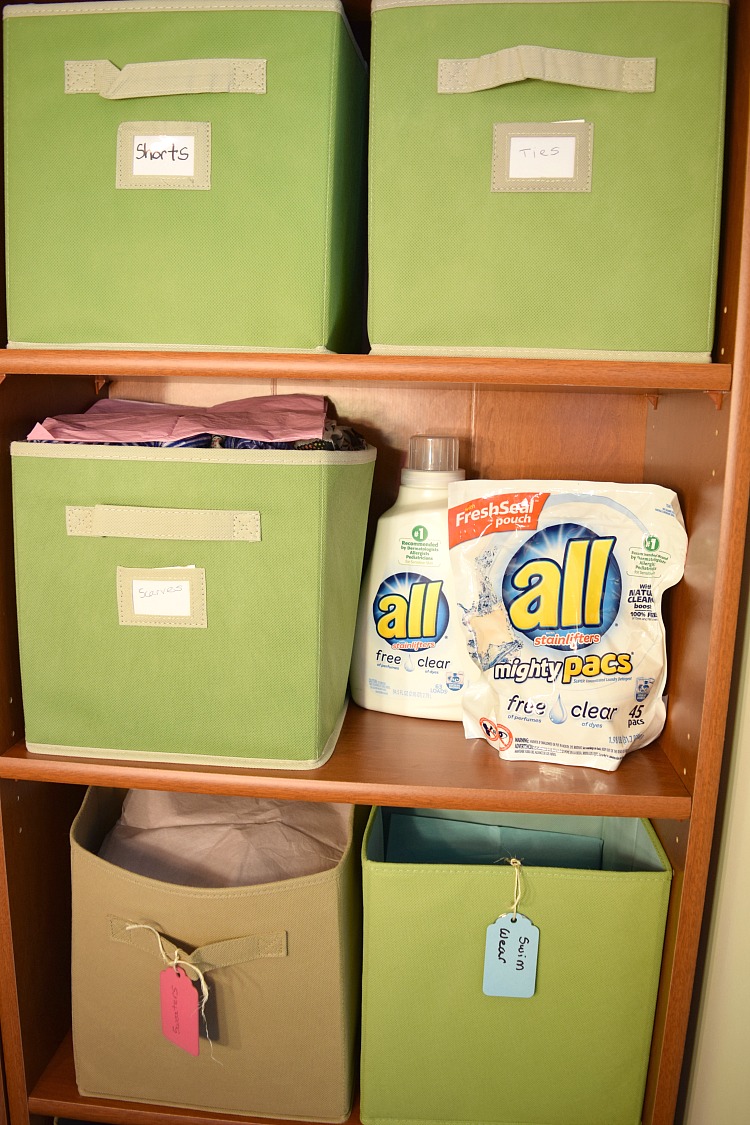 After I washed my off-season clothing, I picked up some cloth storage bins in various colors, so everyone in my family has a place to store their extra or off-season clothing.
Then was the hard part – I had to empty out some space in the bookshelves! I took some things to the local thrift store, threw out other items, and stored stuff in the basement that we need to keep, but don't necessarily want upstairs.
I first started with my clothing – it may take weeks to get all of my family's off-season clothing sorted and organized. I went through my closet and my drawers, and found clothing that is out-of-season. If the clothing wasn't washed recently, I tossed them in the wash with some all® free clear detergent or all® free clear mighty pacs®.
Organizing Off-Season Clothing
I then got to sorting my off-season clothes, putting T-shirts in one bin, shorts in another bins, etc. I also created a bin for my husband's ties. He doesn't have to wear ties very often in his current job, so I thought it made sense to store the ties with off-season clothing, or clothes we don't wear as often.
I'm happy to have my off-season clothing stored in one location, and to have open drawer and closet space in my master-bedroom for my current wardrobe. A plus is that the bookshelf in my home's upstairs hallway looks prettier and much more organized now, too!
Join the all® Community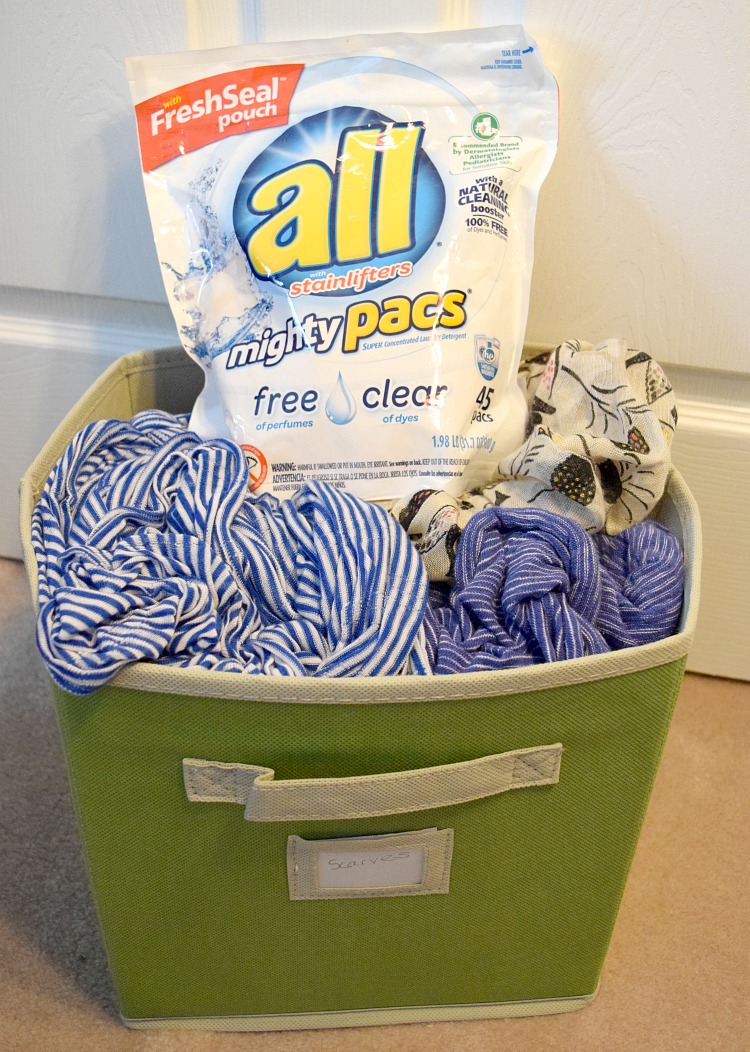 Be among the first to try new products and receive offers from all® free clear. Join now and get connected with all®.