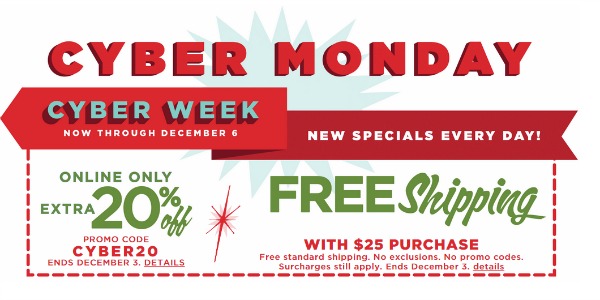 I am not much of a Black Friday shopper, so I slept in on Friday instead of hitting the stores. (I am not one for getting up very early or for pushing and shoving.) LOL! But I will be hitting Kohls.com today for Cyber Monday, as I am a HUGE cyber Monday shopper!  #KohlsBlackFriday continues online at Kohls.com today at for Cyber Monday!
I just love shopping at Kohl's. Kohl's is where I buy most of my own clothing, and it is also a great place to pick up deals for my kids and for my husband. And of course, because I am a home decor freak, I can often be found stalking Kohl's home decor department for decorating finds! I have a Kohl's card, so most every time I shop at Kohl's I can get an extra 15% to 30% off! Score!
I love shopping on Cyber Monday, since it is a great time to find deals, and because I can shop from the comfort of my own home! What's great that is if I shop the Cyber Monday sales at Kohls.com, I can get free shipping with a $25 purchase! I can also get an extra 20% off my purchase with the KOhl's promo code, CYBER20!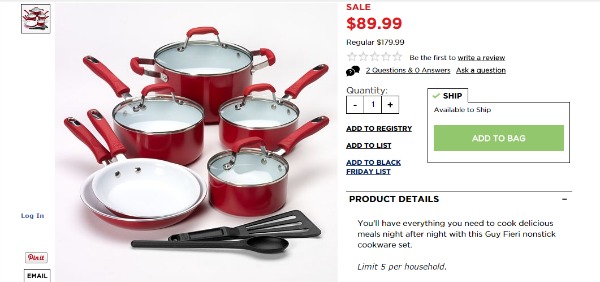 I would love to get a new blender. If I use the the Promo Code, CYBER20, I can get an extra 20% off! I got my blender when I got married about 20 years ago, an I could really use a new one! My old blender can't crush ice, so it can be difficult making my kids' morning smoothies! I am also thinking about getting the Guy Fieri 12-piece cooking set (in cherry red) for $89.99. I badly need new cookware, and I can get the set for 20% off with my CYBER20 Cyber Monday promo code from Kohl's!
You better get to Kohls.com to make sure that you can snatch up the best deals while they last! I have already been doing some shopping! (I jut put the cookware set in my cart!) To find out more about the sale, check out these links!
Kohl's Website: http://www.kohls.com/
Kohl's Facebook: https://www.facebook.com/kohls
Kohl's Twitter: https://twitter.com/Kohls