This post contains Amazon affiliate links. These links cost you nothing, but may earn me a small commission that helps to fund this blog.Thanks!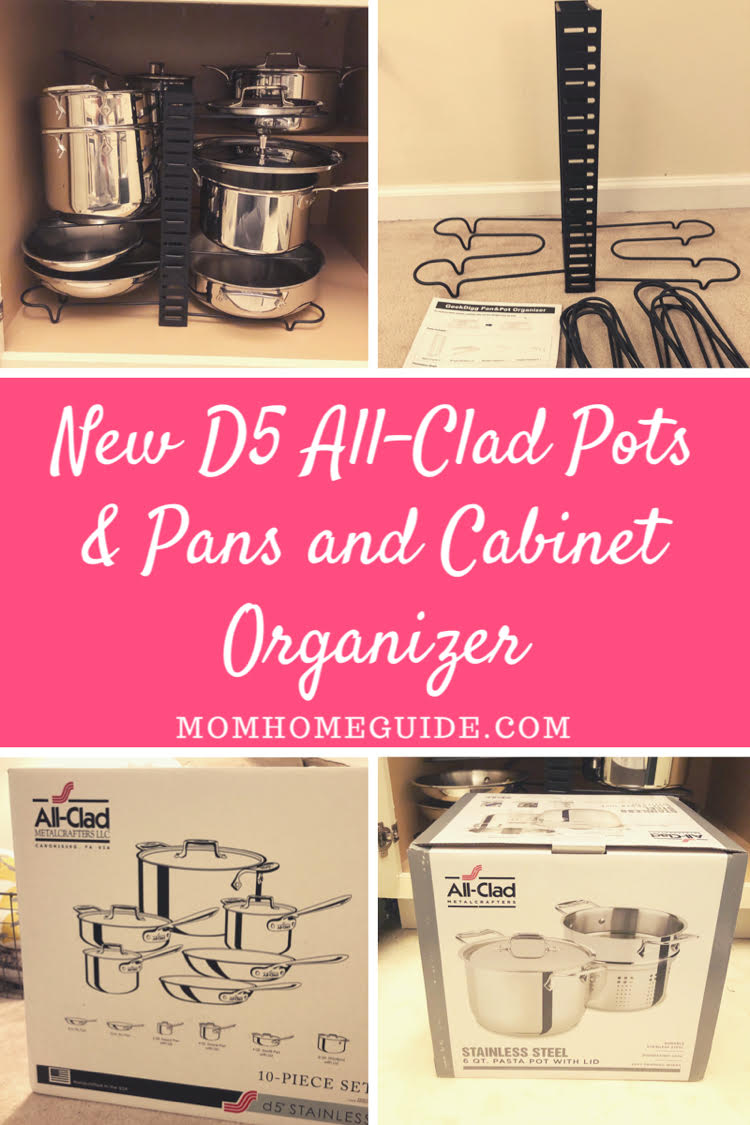 Welcome to the monthly Pinterest Challenge, hosted by Erlene of My Pinterventures! Once a month, my blogging friends and I challenge ourselves to tackle a pin we've pinned! The purpose of this Pinterest Challenge is to motivate all the participants of this hop (and you too) to not just pin, but to make it happen! This month's challenge is about organization and storage, so I chose to organize my new All-Clad Brushed D5 Stainless Cookware Set (10-piece pots and pans set)
!
Stainless Steel Pots & Pans
This Christmas, my husband and I decided to make a new pots and pans set our gift to each other. We've been married almost 25 years, and we've never purchased a complete pots and pans set!
Until recently, we had a mismatched set of pots and pans. We had pots my husband owned before we got married, some low-cost ones I purchased, and others that were gifted to us. Everything was starting to show its age!
The below photo shows some of my old pots and pans. The cabinet was actually messier than what you see below. I was so excited to prep the cabinet for my new pots and pans that I started cleaning it up before I snapped a photo!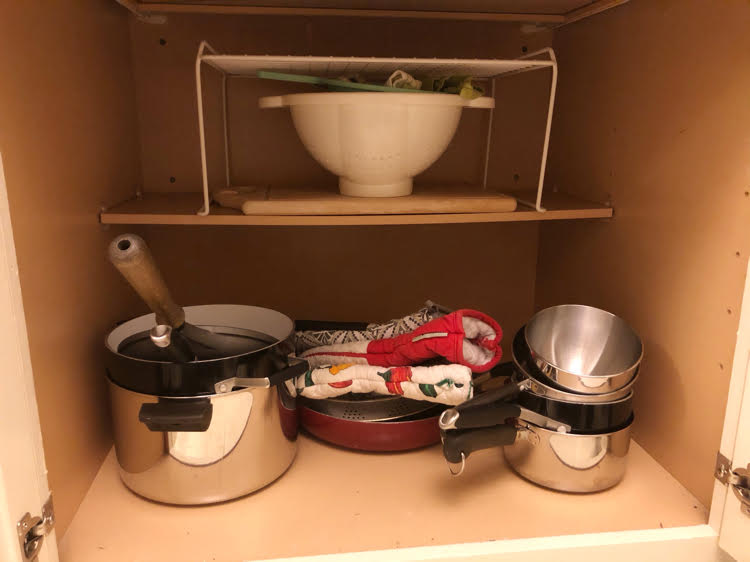 My husband suggested we buy a quality stainless steel cookware set, something that would last over the years. After doing some online research, I decided that an All-Clad stainless steel pots and pans set was the way to go!
My reading pointed me to the All-Clad Brushed D5 Stainless Cookware Set (10-piece pots and pans set)
, which gets raves reviews, is very durable, made in the U.S., and is backed by a very good warrantee.
I only recently unpacked and organize my new All-Clad pots and pans set — I'll be posting a review here on Mom Home Guide soon. My first order of business was making room for our new pots and pans in our kitchen cabinets! Our kitchen cabinets are quite full, so I wasn't sure how I was going to get the complete cookware set to fit in our cabinets! (I also purchased an All-Clad Stainless Steel 6 Quart Pasta Pot
.)
Organize Pots and Pans
I knew I'd want o organize the new pots and pans. If it were a few years ago, I probably would have ordered one of those pots and pans rack that you hang from the ceiling. They don't seem to be in style anymore, however, and I would need a handyman to put it up – neither my husband or I are that handy.
I didn't want to stack the posts and pans on top of each other in the cabinet, since I don't want them to get scratched.
I was looking to do organize my cabinet something like how Lindsay of the blog, Organization Obsessed organized her pots and pans cabinet. (Check out this post on her blog, Organization Obsessed, for lots of other great kitchen organization ideas!)
I found the GeekDigg Pot Rack Organizer
and knew that it would work well to organize my new All-Clad pots and pans set. The cabinet pots and pans organizer is very sturdy, incredibly simple to put together and costs less than $24. Perfect!
I was able to get my pots and pans organized in a cabinet underneath my kitchen counter in only about 10 minutes. (It only took that long because I had to figure out exactly which way I wanted to order the pots, pans, and lids on the organizer.) Because I put my tall pasta pot on the organizer, I moved two of my new pots to the shelf behind the organizer instead.
The cabinet pots and pans organizer that I chose is available on Amazon. The pots and pans organizer is set up so you can configure the included racks to fit your own pots and pans. I stacked my pots and pans vertically, but the set can also be used to stack pans and lids horizontally. I use my pots and pans organizer in a cabinet, but it can be placed on a countertop, too.
Made of heavy duty iron with 8 adjustable tiers, the rack and is very sturdy and can hold the weight of all the pots, pans and lids I have on my rack.I am very happy with my purchase!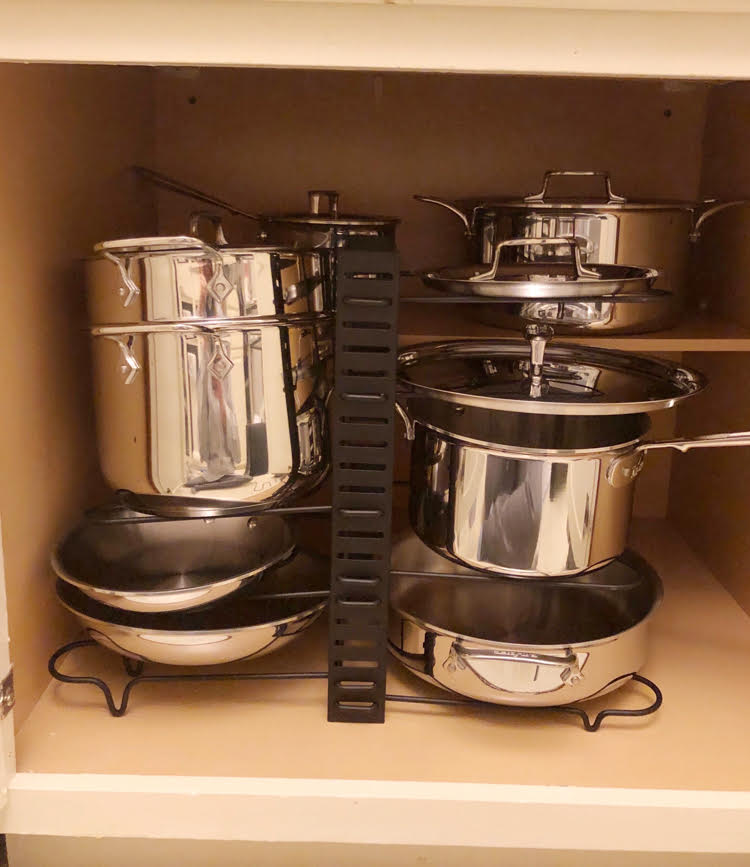 If you like this project, be sure to pin it for later!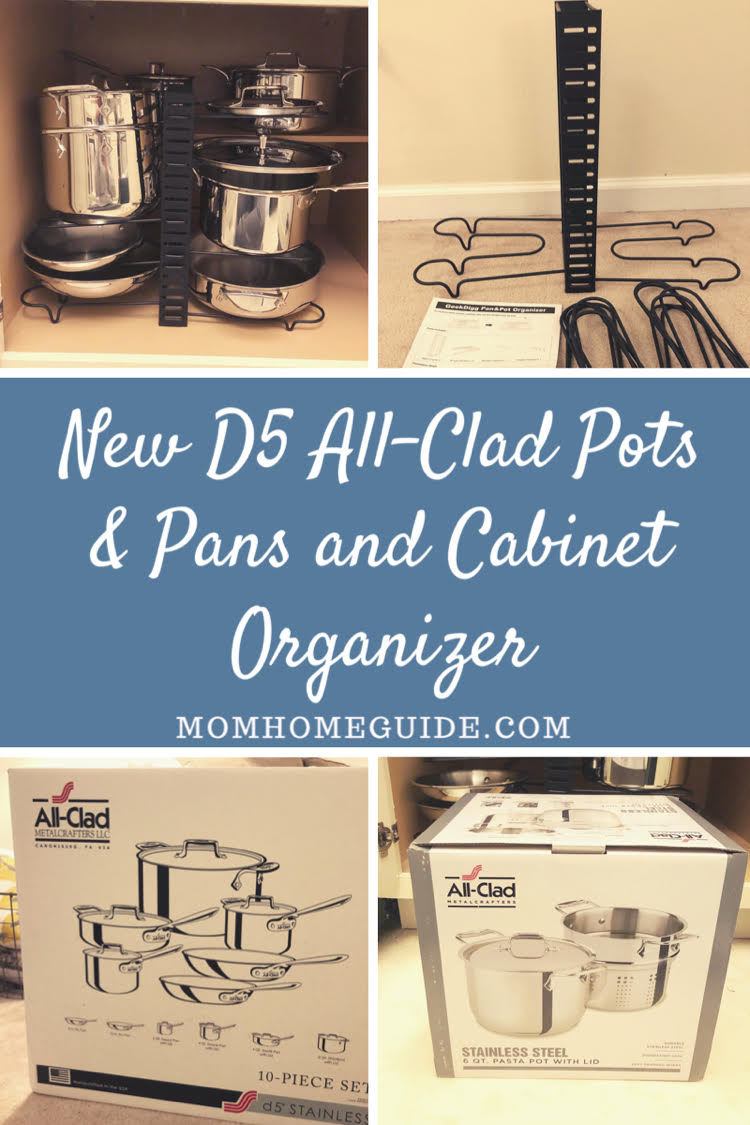 Now that I have my pots and pans kitchen cabinet organized, I'd like to get the rest of the cabinets organized! I put a lot of work into my DIY painted kitchen cabinets, so I'd be nice to get them organized, too!
TO JOIN NEXT MONTH'S #PINTERESTCHALLENGE, CLICK HERE TO SIGN-UP:

February Pinterest Challenge
---
For more Pinterest-inspired projects from this month's Pinterest Challenge hosts, check out the links below!

My Pinterventures • Domestic Deadline • Elle Marie Home
Cookies Coffee and Crafts • Across the Boulevard • Slices of Life
Teadoddles • Farm Girl Reformed • Purple Hues and Me
Decorate and More with Tip • Sew Crafty Crochet • Life Beyond Kitchen
Mom Home Guide • Intelligent Domestications • Lulu & Celeste
Love My Little Cottage • Eye Love Knots • My Family Thyme
Create with Cynthia • DIY Vibes • Once Upon a Time and Happily Ever After
Christine Faye Repurposed • Coastal Bohemian

Now, let's see what the other hosts have created ??
You are invited to the Inlinkz link party!