Would you love to grow fresh ingredients for homemade salsa, but don't have much room for a garden? Then a DIY container salsa garden might be just the thing for you!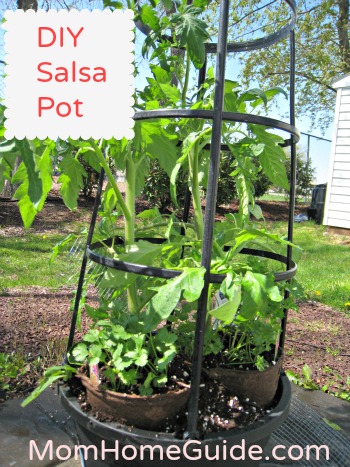 I planted a "salsa" container garden a few weeks ago, and thanks to frequent watering, my salsa garden has been doing well! To start my container garden, all I did was buy a big potted patio tomato plant. To that plant, I transplanted a cilantro plant and a parsley plant. I love how my mini salsa container garden adds some greenery to my home's  backyard patio.
While I didn't add them to my pot, you could add jalapeno seedings, too.
All the plants have been thriving and growing, and once I get some tomatoes, I will be ready to make my own homemade salsa! I tried this recipe recently (with ingredients from the grocery store), and it came out pretty well! My kids loved it with some tortilla chips!
Salsa Recipe
1/2  cup chopped red onion
1 cup chopped fresh cilantro (if you don't like cilantro, you could leave this out)
1/2 cup chopped fresh Italian parsley
1/2  cup vegetable oil
6 tablespoons freshly squeezed lime juice
3 tablespoons white vinegar
2 cloves garlic, minced
1/4 cup chopped jalapeno pepper (if preferred for some heat – I didn't add this to my salsa).
Mix all your ingredients together … and enjoy!