Now that I have taken down all the Christmas decorations, my home was looking a little empty! So I decided to get to work decorating for the next holiday … Valentine's Day! I spotted some great supplies at my local dollar store that I thought I could use to make a beautiful Valentine's Day centerpiece. So I picked up a class candle holder, a heart-shaped glass dish, a red scented candle and some plastic heart scatters — all for just over $4!
I had some Gorilla Glue on hand, so I decided to use that to glue my glass dish to my glass candle holder. Gorilla Glue is very strong — I've used it for a few repairs around the house, and everything has held up well! To glue my glass dish to my glass candle holder, all I did was wipe the surfaces of both the candle holder and glass dish with a wet paper towel, carefully apply a small amount of Gorilla Glue to the bottom of the glass dish and the rim of the candle holder, place the dish on top of the candle holder and let it sit for a few hours.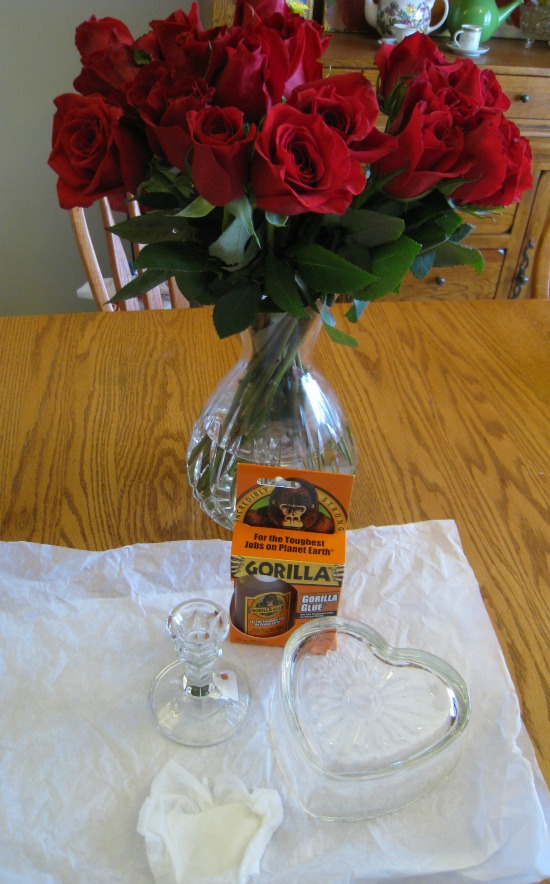 Beautiful Valentine's Day Centerpiece
Once I felt the glue was dry, I added a candle and some heart-shaped plastic scatters to my new Valentine's Day centerpiece. I think the Valentine's Day centerpiece came out quite nice!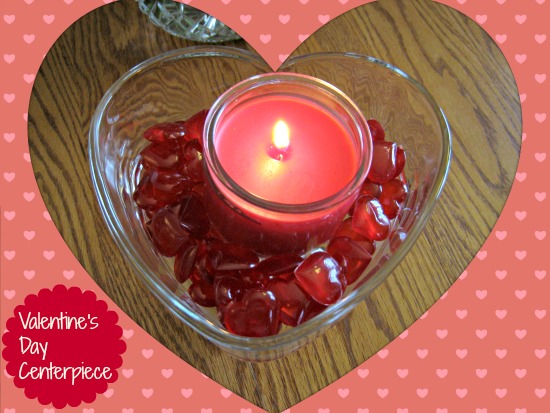 When my daughters got home, they immediately tested out the strength of the Gorilla Glue (much to my worry) by picking up my new centerpiece from the top of the glass heart-shaped dish. I am happy to say that nothing came apart and nothing was broken — the glue held on strong, and my centerpiece stayed in one piece!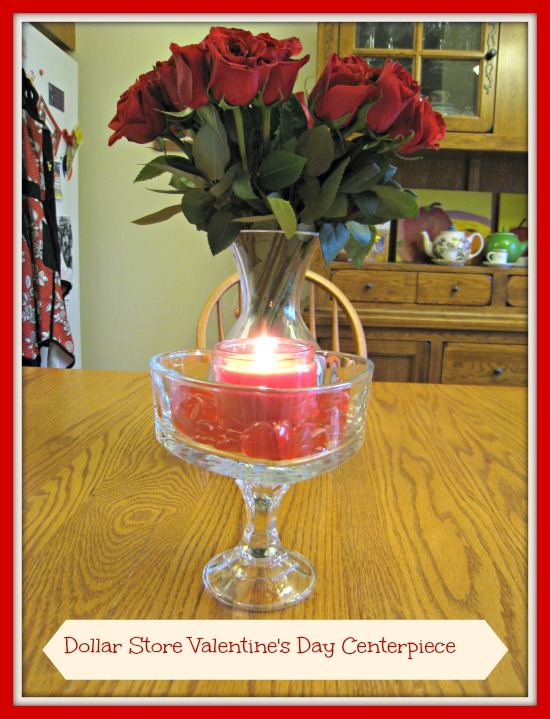 By the way, if you are wondering, those beautiful roses were given to me by my husband for my birthday, which I recently celebrated this month. (I won't tell you how old I am.) He is such a sweetie! Don't the roses look great in the photos?
Dollar Store Challenge Linky Party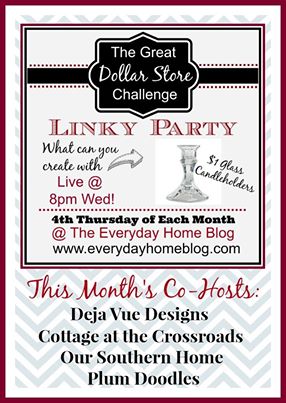 If you like this project, you can check out the projects that several of my other blogger friends have made with their dollar store candlesticks! Once a month we plan to all create projects out of the same dollar store item, and this is our first project! I will be linking this project up at the Dollar Store Challenge at 8 p.m. this Friday @ The Every Day Home Blog. Come check out all the great projects at the linky! You can also check out our Dollar Store Challenge Pinterest board to see everyone's fun creations, too!