I should be working on a freelance story I have this week, but the mess in my home's itsy-bitsy entry hall has just been irking me!
My home is almost entirely filled with carpeting. (I would LOVE wood floors, but I know I will never have those, unless I won a home makeover contest or something.) Wood floors are just so beautiful and are much easier to clean! I hate vacuuming and tend to destroy my vacuum cleaners!
So in my house, we take our shoes off before coming into the house to keep the carpets clean. I wasn't used to it at first, but now I like taking my shoes off when entering a home – not taking one's shoes off is just kind of gross! (Think of all the places you are during the day and whether you really want that stuff entering your home.) We use the area by our front door as a mudroom of sorts.
Shoes Everywhere
I used to keep a shoe rack in the entry hall to keep the shoes organized and under control. But the rack never really worked, as it never held all of our shoes, so shoes would spill out onto the floor. I also never liked that my family's shoes were the first thing one would see when entering our home — it's not like we wear beautiful, designer shoes!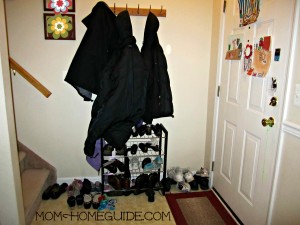 Plus, there has never been a place to put our keys, etc., once we get home.
Cleaning Up the Foyer
As you can see, my home has no coat closet near the front entrance — I really wish it had one! The nearest closet is around the corner in the family room. I use the closet to store extra coats and organize shoes, but the bulk of what we wear usually gets placed in our foyer, or mini mudroom.
I used to place extra shoes in a small bookshelf that I kept in our family room closet. But my hubby never liked the bookshelf there, so I decided to move it into the foyer and put the shoe rack in the closet instead. I used some extra ClosetMaid 78600 Closet Fabric Drawer,Canteen Brown
  organizing bins that I had to keep the shoes out of sight. I put a small cloth bin that I got at Target (for less than $3) on top of the bookshelf to organize our keys, etc., and stashed our shoes in the cloth bins. What do you think? I think the foyer looks a lot better!
I'd love to decorate by adding a pretty mirror to the right of the bookshelf (for last minute touch-ups before leaving the house), but because I really have to get to that story I need to write, finding that mirror  and decorating the space will have to wait.
I don't think my hubby is pleased with the change in our mini mudroom area, but I like the bookcase option in the foyer much better than the shoe rack. Another option would be to get a pretty table for the foyer, like the Winsome Wood Syrah Hall Table with Frosted Glass, Shelf
, and place the cloth bins (for shoe organization), underneath, but that would be an added expense — and I am trying to stop spending so much! I guess I will keep the setup as it is for now — unless I think of a better solution!
Other Posts You Might Like
Organization for a Small Entryway
Kitchen Organizing Tips for Busy Moms