*This post contains affiliate links.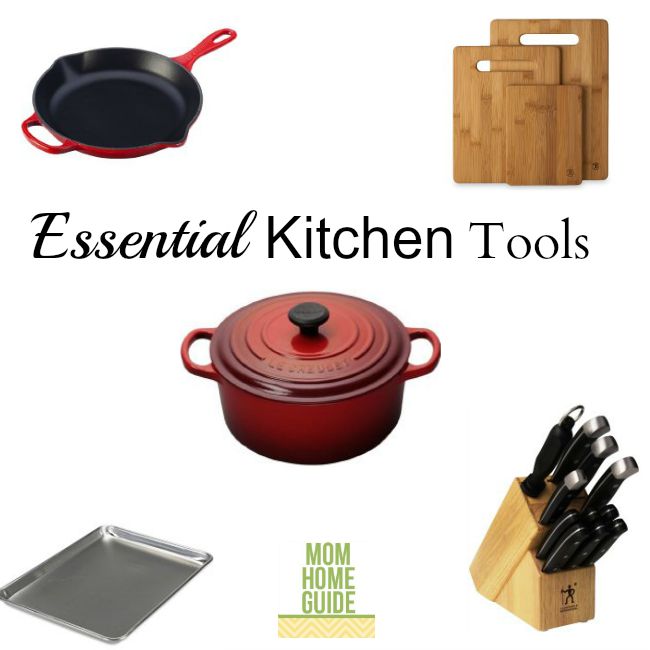 My kitchen is a fairly small one, so I try not to stock it with too many kitchen tools. That means that the kitchen tools I have must work well! These are the tools I think any well-stocked kitchen should have.
Enameled Cast-Iron Dutch Oven – I was lucky to find my Le Creuset dutch oven in my basement — in an unopened box! It belonged to my mother in law, and it looks like she never used it. I use my dutch oven daily — it can be used for soups and stews and even for pasta. My dutch oven is a boring brown — I wish it was in a prettier color. Today, dutch ovens come in beautiful blues, reds, greens and yellows!
A Good Set of Knives. My husband and I don't have an actual set of knives. Instead, we have a few good knives that we chose for their utility. We have three knives that are excellent for chopping, a few paring knives for peeling and cutting vegetables, a carving knife and a bread knife. For more on the types of knives, check out this guide to kitchen knives.
A Good Skillet – I have one skillet that I use most often — a Le Creuset cherry red skillet. I just love Le Creuset. I like my Le Creuset pan's enameled cast iron construction, since I prefer not to use non-stick pans for health reasons. I find that if I keep my Le Creuset pan seasoned, it provides a great non-stick surface.

Baking Sheet – My daughters and I love to bake together, so having several baking sheets in my home's kitchen are crucial! Since we bake regularly, we find that it's essential to have quality baking sheets so they can stand up to frequent use!
Cutting Board Set– I like to have different cutting boards in my kitchen for meats and vegetables, so I own several cutting boards. I like bamboo cutting boards, since they are sturdy and all natural.
Stainless Steel Colander – I like to serve salads with almost every meal, so a quality kitchen colander is essential! A stainless-steel colander is nice and sturdy and will be in your kitchen for years!

Toaster Oven – My family and I use our toaster oven much more often than we use our regular oven! I don't cook much in the oven, and use our toaster oven often. The toaster oven is great for cooking small portions of meat, re-heating pizza and other takeout foods, and of course, for making toast!
Slow Cooker – I love making pot roasts, ribs and soups in my home's slow cooker! The slow cooker is great because I can add my ingredients in the morning, turn on the slow cooker and come home to a complete meal in the evening! Plus, the slow cooker doesn't heat up my kitchen like a full-sized oven does or use a lot of energy.
Trivets – My kitchen has laminate counters (not heavy-duty quartz or granite), so trivets, a place to safely place hot pots and pans, are essential in my home! I wouldn't want to ruin the counters by placing a hot pan on them! There are quite a few trivets in my home's kitchen.
That's my list of essential kitchen tools! Have something you'd add to this list? Please feel to share your kitchen must-haves in the comments!
This post was shared at Creative Spark Link Party
You Might Also Like