This post contains Amazon affiliate links. If you click on an Amazon link and make a purchase, it doesn't cost you anything, but I earn a small commission that helps me run this blog. Thanks!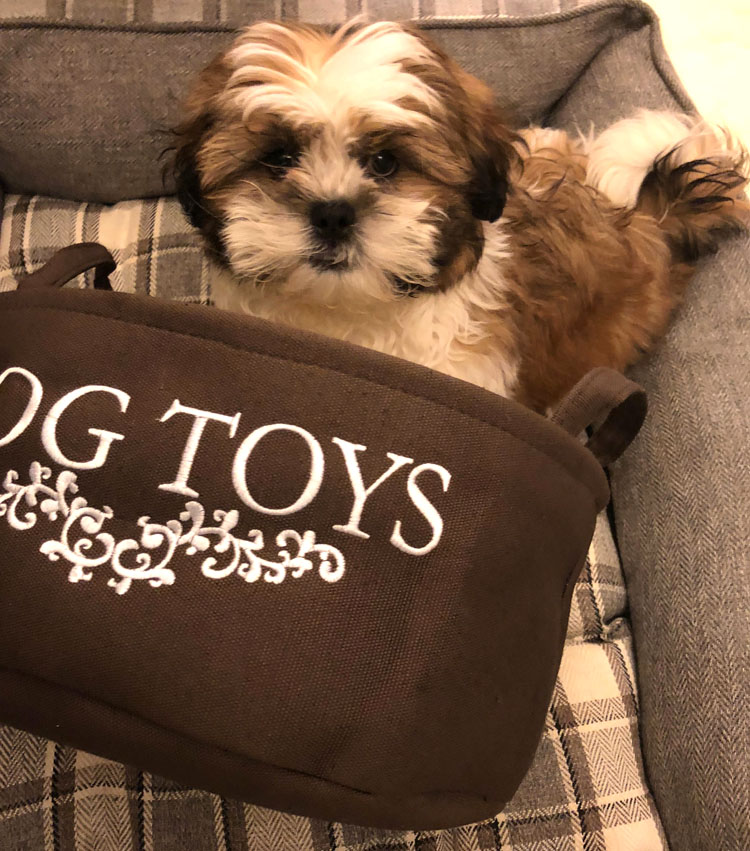 My husband, daughters and I adopted a Shih Tzu puppy ("Mochi") about three weeks ago. He's now 3 months old. We've discovered that bringing a new puppy home is like having a baby. The puppy needs lots of care and attention — and lots of stuff! We're always having to buy new items to care for our little pup! If you're planning on bringing a puppy home, these are some of the essentials you might need.
(I've created a must-have list of essentials you'll need for your new pup. For the full-sized version of this list, scroll down to the end of this post.)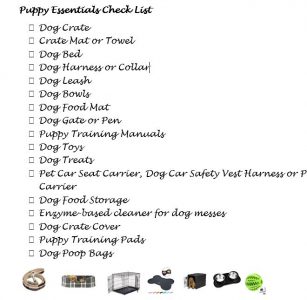 Dog Crate
— We've found that house-training our puppy will likely be our biggest task to tackle. For this task, a dog crate is necessary. Puppies don't want to eliminate (poop or pee) where they sleep,. If you keep them in a crate while they are sleeping or when unsupervised and take them out immediately after removing them from the crate, it should help in the potty training process. We've found a double-door crate to be especially helpful — believe it or not, sometimes our puppy doesn't want to leave his crate!
Crate Mat
or Towel
— It's nice to put a comfy crate mat or even just a towel in your pup's crate, so he'll enjoy being there. We often put a towel in our crate — our pup loves towels and likes to rearrange them to his liking in his crate.
Dog Bed
–– When your pup isn't in his crate, it's a good idea to give him his own soft place to lie down — especially if he isn't quite yet house-trained. Our pup is a good puppy, and we can pretty much get him to stay in his puppy bed by the TV when we're watching a program at night.
Dog Harness
or Collar
– You'll need a dog collar or harness for walking your dog. You can even get fashionable if you like and find plaid collars or collars in various prints and colors.
My family chose a harness for our puppy because of his small size. Harnesses are also supposed to be good for pups with eyeballs that protrude and dogs with short noses like Shih Tzus and pugs.

Dog Leash
— You'll also need a dog leash. You'll have to determine the best length for your leash. We chose a short leash since our pup is just a puppy and is a small breed.
Dog Bowls
– You'll need dog bowls for your puppy's food and water. I've found having a weighted water bowl is helpful so your pup can't knock it over. My family is just using an inexpensive small water bowl and a child's plate for our puppy, though, since he's so small.

Dog Food Mat
– If your puppy is like mine, he is bound to make a mess when he's eating or drinking! It's helpful to have a mat underneath your water and dog food bowls to keep your floors cleaner.
Dog Gate
or Pen
– If your puppy isn't house-trained, you'll want to confine him to a puppy friendly space. (My family keeps our pup in the kitchen for the most part.)
You can gate off a room, or confine your dog to a puppy pen.

Puppy Training Manuals
– As a new dog owner, I find it helpful to read puppy training manuals. These manuals offer insights on why your puppy behaves how he does and how to best train him. You can also find lots of helpful puppy training videos on YouTube, like the puppy training videos by Zak George.
Dog Toys
– Puppies have a lot of energy and love to play, so puppy toys are essential! Among my pup's favorite toys are plush squeaky dog toys
, dog balls
, dog ropes
for lighthearted tug of war and toys to hide doggie kibble in.

Dog Treats
— It's helpful for having small dog treats on hand for house-training your pup or for teaching him simple commands like sit, stay and come. My family has also found it's good to have a long-lasting dog bone treat on hand for times when you want your pet calm and happily occupied. (We try to limit our pet to one of these a day.) I hope to make some homemade treats soon for the puppy and will be sharing my recipes!
Pet Car Seat Carrier,
Dog Car Safety Vest Harness
or Pet Carrier
— Since we've gotten our pup, we've been taking our puppy to the vet every two weeks. That's a lot of car trips! While transporting your pup, you'll want to keep him contained either in a portable dog carrier (if he is small like my puppy), in a dog harness or car seat carrier.

It's a lot safer for you and your pet if he's not roaming the car while you're driving.
Check out this post on how to choose the best car seat for small and large dogs – the post lists several dog car seats you can consider, with photos.
Dog Food Storage
– When you have a pup, it's most likely you'll be buying big bags of dog food. You'll need an airtight storage container to store the dog food in. You could keep the container in your kitchen. (If your pup is small or unlikely to get into it, otherwise, you can keep it in a laundry room or basement.) I might keep an air-tight container of food at the foot of the stairs in the basement, and a smaller canister of puppy food on the counter.

I like this glass canister set
— I can use one for puppy food, once for treats and one for the mini dog chews that my puppy likes.

Enzyme-Based Dog Stain and Odor Remover
– If you have a new puppy, he's bound to have accidents in your home. If you don't use a proper cleaner, the smells will linger and will entice your pup to have more accidents. Enzymatic cleaners use enzymatic reactions to break down organic stains and odors. We bought our cleanser at our local pet store, but you can also buy enzyme-based cleaning products online.


Dog Crate Cover
– Puppies need a lot of sleep. But if a puppy lives in a house of night owls like mine, he might get a little sleep deprived. A crate cover helps shield out light and distractions so your pup can stay calm or rest. Or, you could just cover the towel with a dark towel or blanket.

Pet Training and Puppy Pads
— There is debate on whether to use these or not. These absorbent pads with leak proof linings give a pup a place to go if you miss his signals that it's time to go outside. (But as we're finding, it's tough to wean a pup off of these, so think hard about whether you want to use them. When we adopted our pup, he was already trained to use these.)

Dog Poop Bags
— You are going to need something to pick up your dog's business during your walks. You could use free plastic grocery bags, or you could opt for Earth friendly dog poop bags instead. (But I'm not sure how Earth friendly these bags actually are.)