Thanks to Fashom for sponsoring this post. I was provided free product in exchange for my honest review. This post contains affiliate links.
I recently tried the new fashion styling service, Fashom. With Fashom, you can get personally designed fashions delivered right to your door. I don't always have time to shop, so I decided to give this fun and affordable service a try.
I've long been a fan of Stitch Fix, a popular fashion styling service, so I was eager to see how the two services compare.
Interested in giving Fashom a try? Use my Fashom referral link to get your first styling free (a $15 value) and $10 off your order!
With Fashom, you get to pick 5 styles that are sent to your door. You only pay for what you keep. It's free to ship back (in the provided envelope) what you don't want, and your first styling session is free. (After your first box, you pay a $15 styling fee, but that fee is credited back to your account if you decide to keep any of the items sent to you. (Stitch Fix charges a $20 styling fee.)
For first time Fashom users, there is a $50 hold to verify your payment method. This hold should be cleared within 5-7 business days after you receive your box.
How Fashom Works
To get started with Fashom, I first downloaded the Fashom app. (You can also get started from your computer if you prefer.) I filled out a style profile on the app (to give Fashom's stylists an idea of my style) and submitted my styling request.
Three days later, I got an email from my stylist that my styles were ready. I used my app to view photos of the clothing items I could choose from for my 5 style picks. This is where Fashom really differs from Stitch Fix — with Stitch Fix, your stylist chooses 5 items to send to you, but you don't see the items until they arrive at your door.
Another difference between Fashom and Stitch Fix is that Fashom bills itself as an affordable option — most items from Fashom average at about $35. In my experience, Stitch Fix items tend to be pricier.
Both styling services offer a discount if you buy more items. With Fashom, if you keep at least 3 out of the 5 items in your box, you get a 25% discount on the items you purchase. If you keep all 5 Fashom items, you get a 30% discount. (With Stitch Fix you get 25% off if you purchase all 5 items.)
I like that with Fashom, you can pick the 5 items that are sent to you. But on the other hand, what I like about Stitch Fix is the surprise of what will be sent to me.
I wasn't completely happy when I saw the selections my stylist chose for me on the Fashom app. I emailed my stylist, and two days later, she gave me additional items to choose from. I wound up choosing some items I knew I might not like, but didn't want to submit another request for new fashion choices.
The 5 fashion picks that I ended up choosing arrived on my doorstep about a week and a half later; the shipping was free.
Mittoshop Jersey Slub Scoop Neck Knit Top ($38)
The first item that was sent to me was the Mittoshop Jersey Slub Scoop Neck Knit Top ($38) in black. I like the fit of this top and the lace detailing on the sleeve. The shirt fits what I like – something classic and understated, but with a little extra flair. (I also tend to like wearing black.)
The fabric of the shirt is soft and has a good weight to it – it's not too thin and not too heavy, either. I appreciate that the top has a slightly longer length.
I paired the top with a pair of black and white skinny plaid pants and a black pair of Skechers .
Outcome: I decided to keep this top.
Mittoshop Bamboo V-Neck Twisted Side Knot Top ($38)
The next top I was sent is the Mittoshop Bamboo V-Neck Twisted Side Knot Top ($38 ) in olive green. I paired the top with a pair of dark wash skinny jeans and a black pair of New Balance Running Shoes
.
I liked the silky smoothness of the top, the color and weight of the fabric and the top's length. I thought the knot was a nice touch. I recently bought a top in the same color from a local budget clothing store at a lower price, so I opted not to keep this top.
Outcome: Return.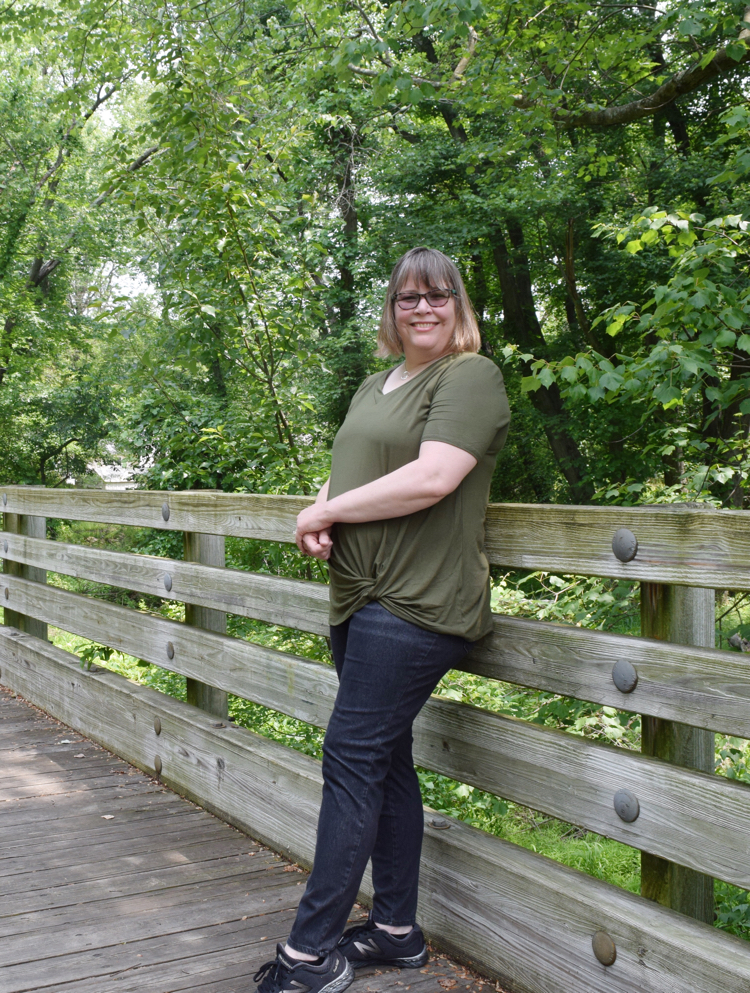 APNY Blue Poncho Top ($55) and D.Jeans Cuff Bermuda Shorts ($48)
The next two items I received from my Fashom stylist were total misses for me. The APNY Blue Poncho Top ($55) is not at all my style and was very oversized. For me, this print was a bit "wild" and too retro 1960's. I think my personal style is a little more simple/tailored. The fabric, though, was very comfortable and was silky soft.
YouTuber Georgia Sunshine received the same top, and it looks super cute on her. So maybe I just don't like it on me!
I thought that the D.Jeans Cuff Bermuda Shorts ($48) were nothing special. I usually wear casual clothes, but I think these are too casual for me. I would prefer a dark wash jean with more style or detailing to it. I also tend to prefer lighter weight shorts in the summer, and don't tend to pick heavy jean shorts.
Outcome: I returned both the poncho top and the Bermuda shorts.

Mittoshop Jersey V Neck Pocketed Sleeveless Dress by Mittoshop ($42)
The Jersey V Neck Pocketed Sleeveless Dress by Mittoshop ($42) is a comfortable dress. However, I didn't feel it fit me well or looked particularly good on me. I have to admit that I feel more comfortable in tops and skirts than in dresses. (Dresses tend to accent my most problematic figure flaw.) I'm also not a fan of sleeveless tops. (At least until I get toned arms like Michelle Obama's.) The jersey fabric of this dress is of high quality, though.
Outcome: I returned this item.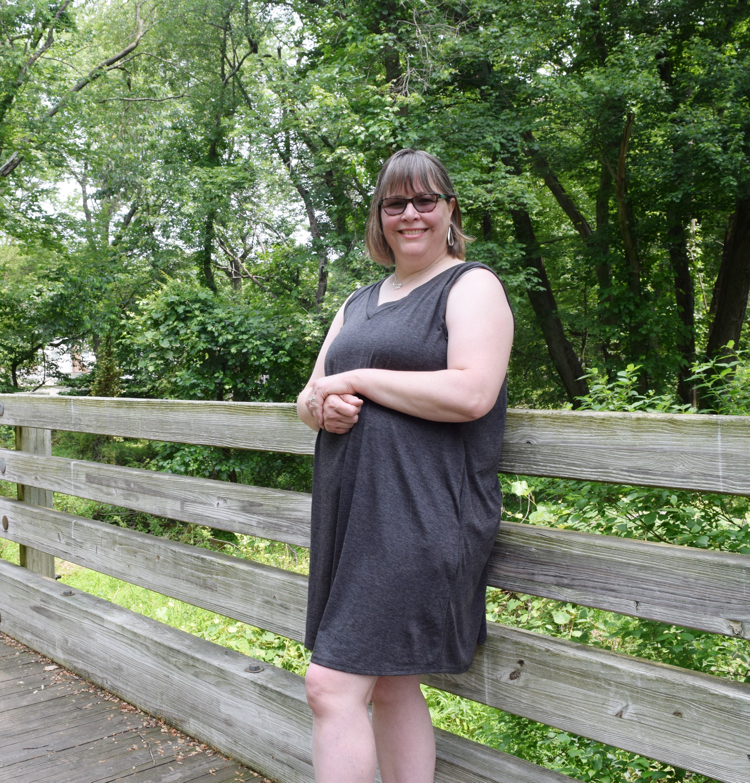 Overall Verdict: I would give Fashom another try.
I only kept one item – but I love it! To return the items I didn't keep, I simply put them in the provided postage-paid envelope and dropped it off at my local post office.
I would try Fashom again. I felt that although not all the items I received fit my style, they were all quality items. I am a very choosy consumer. I have received quite a few Stitch Fix boxes since 2015, but I have only kept 9 items so far.
As a dog owner, I like that for every Fashom box sold, Fashom donates $1 to Second Chance Rescue NYC. I also like that no subscription is needed to use Fashom's styling service. You can choose when and if you want to receive a Fashom box – there is no continuing commitment.
Like Stitch Fix, Fashom has a customer referral bonus. Every Fashom member gets a custom referral link — you get $10 Fashom credit for each new customer you refer to Fashom through your link. (Like my link below.)
Interested in giving Fashom a try? Use my Fashom referral link to get your first styling free (a $15 value) and $10 off your order!