Win a Febreze Prize Pack & a $60 AMEX Gift Card!
EDITOR'S NOTE: A winner has been chosen for this giveaway: Cynthia R. Congratulations, Cynthia!
"This review and giveaway was made possible by Double Duty Divas and Febreze. I was compensated for my participation in this campaign, but all opinions are 100% mine."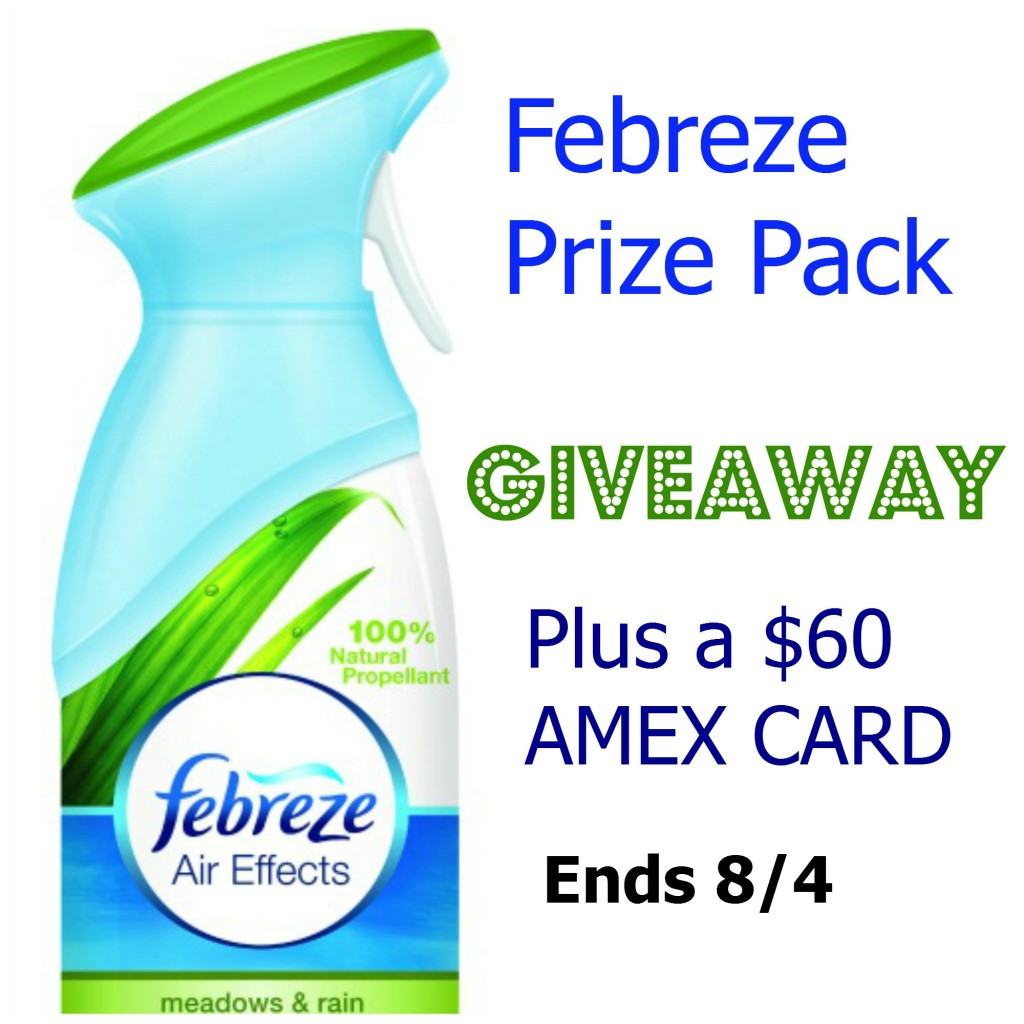 My kids love the Febreze #Noseblind commercials on TV — the ones where they lead unsuspecting folk blindfolded into a gross, stinky room, and the people think they are in a great place because it smells wonderful!
So when I was given the chance to try some of Febreze's products and conduct our own #Noseblind test, my kids were thrilled!
It was really exciting when our package of Febreze products arrived on our doorstep — it was like Christmas in July!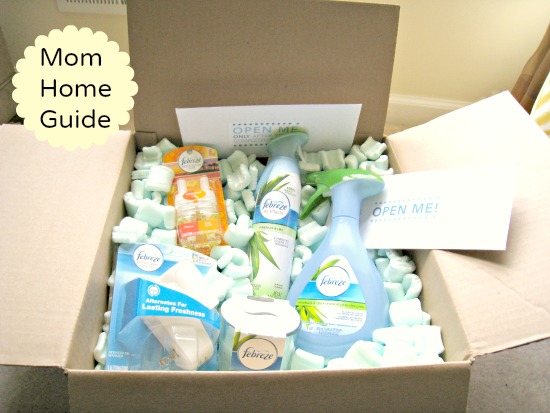 In our package we found:
·         Noseblind Kit (2 envelopes)
·         1 

Febreze

 Air Effects
·         1 

Febreze

 Fabric Refresher
·         1 

Febreze

 Noticeables with refill
·         1 

Febreze

 Candle
** Check out the bottom of this post for a chance to win the products in this gift package, plus a $60 AMEX card!
I immediately placed the Febreze candle on the new side table in my home's recently decorated and furnished living room. The candle complements the pretty robin's egg blue of the side table just perfectly!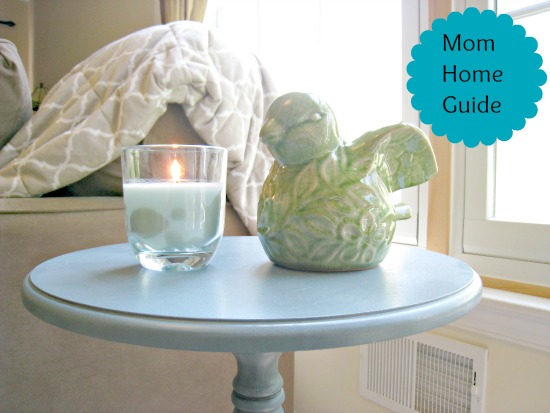 Are You #NoseBlind?
We immediately plugged in the Febreze Noticeables — my daughters loved it, and said it made our house smell "outdoorsy" and "pretty." That is a good thing, since I suspect that our house most likely smells like onion and garlic, since we often cook with those ingredients! We are no doubt "Noseblind" to the smells in our own home because our noses grow accustom to our house's odors over time so we don't notice them.
My kids, who occasionally go to sleepovers at their friends' homes, notice that everyone's home has a distinct scent, and that those scents linger on their belongings for a while after their sleepovers away from home. (For instance, one friend's home smells like fragrant incense, while another friend's home smells like laundry detergent.) I am afraid to think what our house smells like to our guests! Are you #Noseblind to the smells in your home?
Movie Night
We had a movie night Friday to put the #Noseblind concept to the test. Before the movie, we had our guests take a #Noseblind survey. Luckily, they thought our house mostly smelled like "fragrance," thanks to the Febreze Noticeables that I had plugged in our kitchen (which is just off the family room, where we watch TV).
We then popped up bags of "movie theater butter" and caramel popcorn. We took another survey, and everyone agreed that the house smelled like popcorn/food. After our popcorn, I lightly spritzed the room with Febreze Air Effects, and everyone thought that the room smelled nice and that the popcorn scent was gone — amazing! That's because Febreze contains a special molecule called Cyclodextrin that traps and gets rid of bad odors. Febreze might become my secret helper before guests visit from now on!


Febreze Prize Package and AMEX CARD Giveaway
Want to see how Febreze works in your home? Enter the Rafflecopter giveaway below. Good luck!!
a Rafflecopter giveaway
Want to learn more about Febreze, the #Noseblind test and how Febreze eliminates unwanted odors? Check out the Febreze Noseblind website. You can also learn more that the Febreze Twitter page and the Febreze Facebook page.
I am sharing this post at the Freedom Fridays link party.

Follow Mom Home Guide on

Instagram

!