Ever since my family and I have moved into our home, we've rarely parked in our garage. Our garage is so narrow that it takes VERY careful maneuvering to get our family's mini van into the garage! With winter only a few months away, however, I'd love to get the garage cleaned out enough so that if a major snowstorm is forecast, I can get the cars into the garage if I want to! (I hate cleaning off snow-covered cars in the cold!)
Getting Organized
I hope to focus my organizing efforts on the garage and get some wall storage into place. I already plan to make a mini mud room area in the garage so the front entry of our home will get less wear in tear. I also would like to paint some pegboard a pretty color (perhaps green, my favorite color) and create areas to hang up our shovels, tools, etc. I really love the below look — I might have to make my pegboard look just like this!
Great Pegboard Project
Melissa of The Inspired Room has a great tutorial on how to make a large pegboard for tools on her blog. The amazing thing is that she somehow got a Home Depot associate to build it for her right in the store — I wish I could be that lucky! Her pegboard project came out great!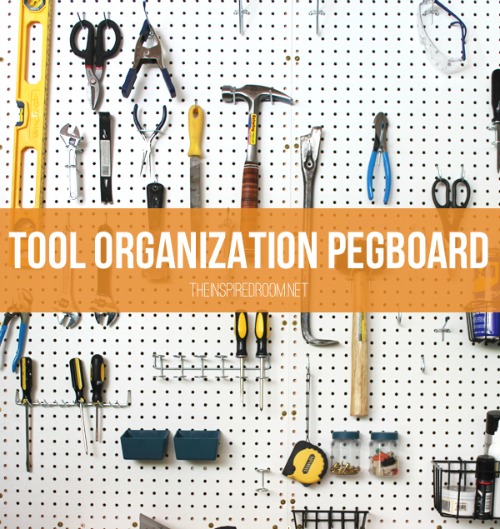 Anyone who has been reading this blog for a while might be laughing — I've posted at least a few times over the past few months about organizing my home's garage, but I haven't gotten to it yet. I hope I can get this project done before this winter! Keep posted!
You Might Also Like