*This post contains Amazon affiliate links.
Welcome to the April Pinterest Challenge Blog Hop! The purpose of this Pinterest Challenge is to motivate all the participants of this hop (and you too) to not just pin, but to make it happen! So this month, I chose to hang new window valances in my home's family room.
To join next month's #pinterestchallenge, click here to sign-up: May Pinterest Challenge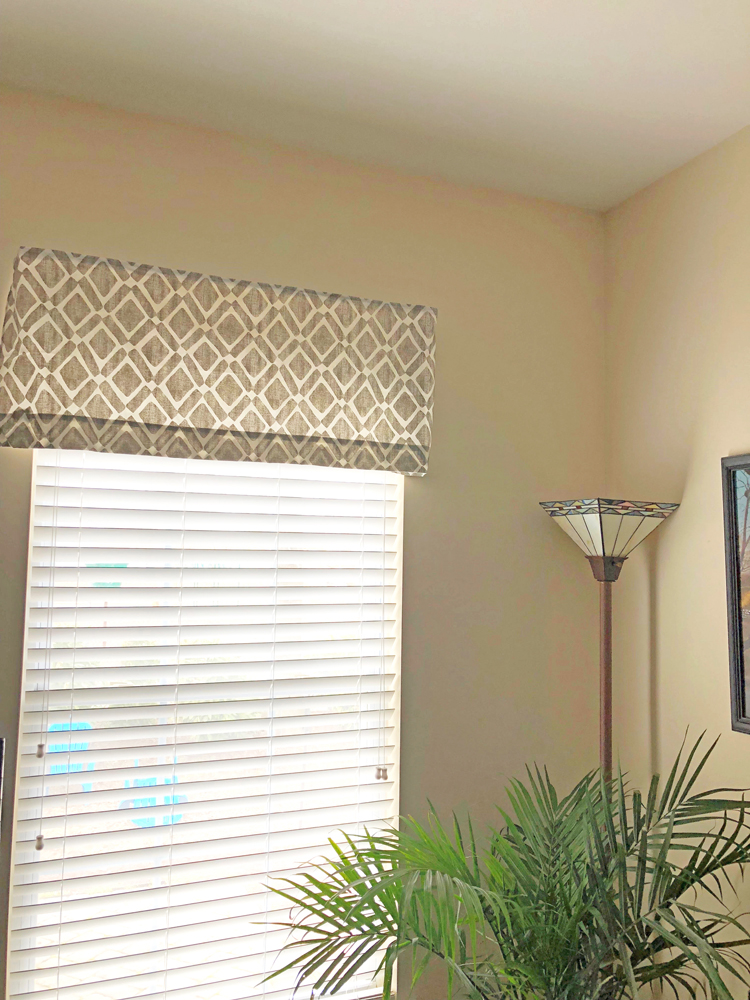 Hanging Window Valances
For several years, my home's family room had custom-made valances hanging over the two windows and the back door. The valances were custom made for the room for me. I had chosen a striped pattern back when my girls, who are now in high school, were tots. I had chosen the pattern for the valances because I thought they were masculine — we have a beautiful pool table in the room and I wanted the valances to have more of a club/billiards room feel.
The valances were made of a green and maroon fabric and had sort of a Ralph Lauren kind of stripe.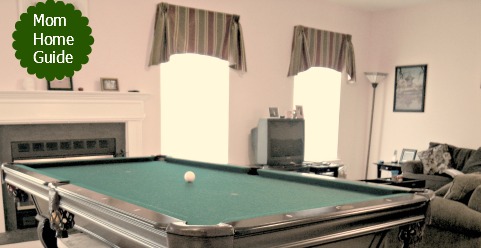 Once the valances were up, however, I never thought they were pretty! I wanted to change them for a while. But because they were custom made for me and were expensive, I kept them for several years. On top of that, the woman who made the valances for me had installed them by attaching the valances to boards hung above the windows. The valences were attached to the boards with Velcro and so many staples! No wonder the woman had suggested just vacuuming the valances regularly instead of washing them. They weren't made to be taken down!
I decided to use the boards the valances were on and to keep the same hardware up instead of installing regular curtain rods. (The boards were set on angle/corner braces.) I do a lot of DIY, but I'm not good at hanging things like curtain rods. I also didn't want to put more holes in the wall.
I took the valances down before Christmas. It took me until only a few weeks ago to finally pry the valances off the board because of all those dang staples! The windows in the family room were bare for a while. (At least since Christmas!)

Geometric Gray Valances
My inspiration for the new valances for my home's family room was a gray geometric valance I saw on Pinterest. I thought gray geometric valances would look great with my family room's modern gray and white area rug.
When I clicked through the pin, I found a tutorial on how to attach a valance to a 2 x 4 piece of wood. My custom made valances that I took down were on 2 x 4s that I am reusing. The tutorial suggests stapling or gluing the fabric on, but I decided to just use Velcro — Velcro is plenty strong enough to hang the valances. Plus, this way I can wash the valances or switch them out when I want.
Instead of making my own valances, I bought regular pre-made valances (that are made to be hung on a curtain rod) on sale online.
Since my valance boards already had Velcro on them, I just used VELCRO Brand – Sticky Back Coins to hang my new valances.
How to Hang Window Valances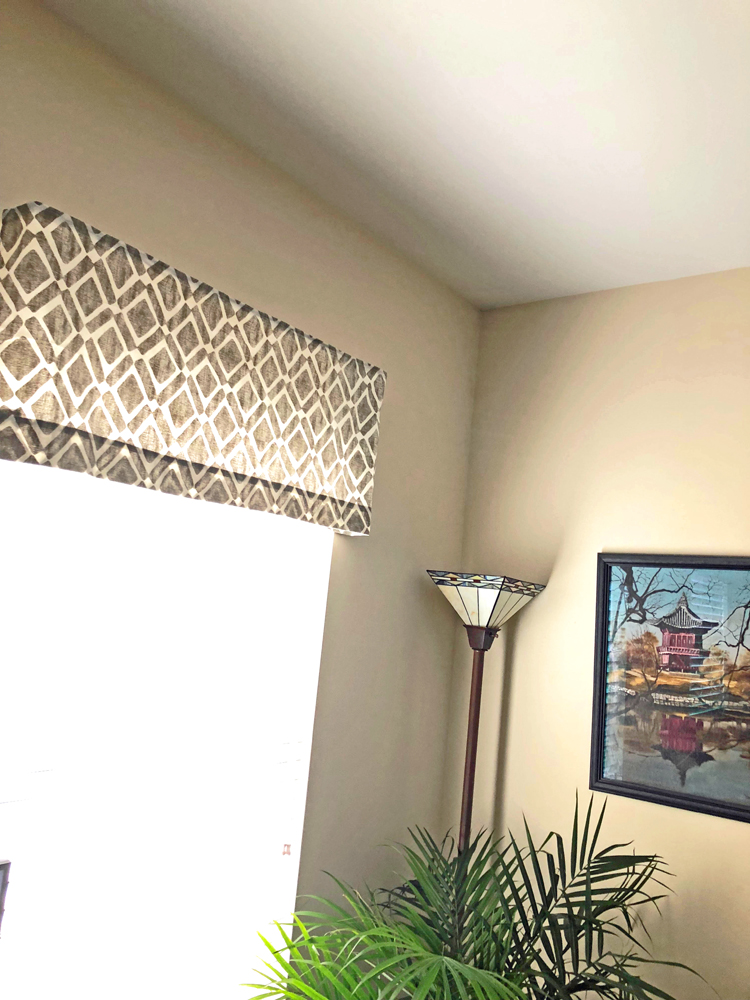 All all I had to do was peel the paper off the coins and stick them along the top of my valance along the backs of the valances. I just wrapped the valance around the edges of the valance boards, securing them with the coins to the Velcro on the valance boards. Easy!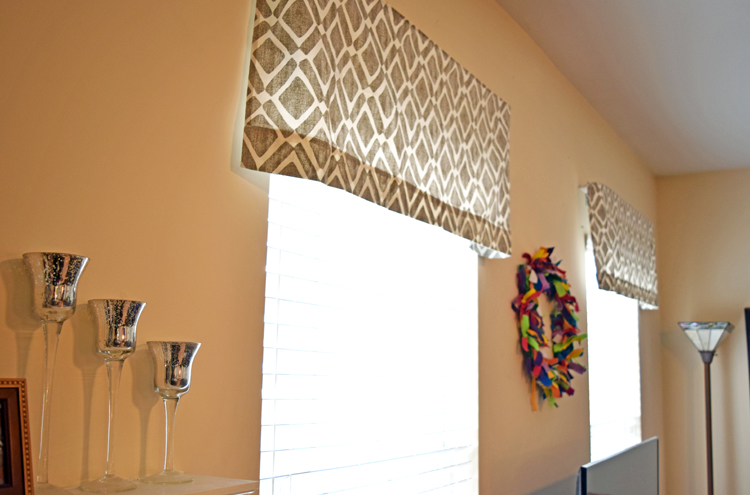 I was in a hurry to get my valances up and didn't take any photos along the way, but if you check out the tutorial that inspired me, it has a good tutorial on how to hang a valance from a 2 x 4, with lots of photos. If you want to use my method, you can just use Velcro instead of the staples and hot glue!
---
Now let's see what other things Pinterest inspired! Head over and visit the other hosts to see what they crafted, cooked, built, or tried!
Erlene – My Pinterventures • Lauren – Mom Home Guide
Debbee – Debbee's Buzz • Laurie – My Husband Has Too Many Hobbies
Marie – DIY Adulation • Julie – Sum of their Stories
Marie – The Inspiration Vault • T'onna – Sew Crafty Crochet • Debra – Shoppe No. 5
Roseann – This Autoimmune Life • Terri – Our Good Life
Lisa – Blogghetti • Marci – Stone Cottage Adventures
Leslie – Once Upon a Time & Happily Ever After
Cherryl – Farm Girl Reformed • Candice – Fearlessly Creative Mammas
Kelley – Simply Inspired Meals • Joanne – Our Unschooling Journey
Gwen – Geez, Gwen! • Pili – My Sweet Things
Jenny –Cookies Coffee and Crafts • Gail – Purple Hues and Me
Sherry – Olives & Okra • Sam – Raggedy Bits
Beverly – Across the Boulevard• Samantha – Little Bits of Home
Kristie – Teadoddles • Shirley – Intelligent Domestications
Kelli – Olympic Nest • Chelsea – Making Manzanita
Cherryl – Farm Girl Reformed • Ola – J'adore Le Decor
Rebecca – Simple Practical Beautiful • Hil – Raising Fairies and Knights