This post contains affiliate links and I will be compensated if you make a purchase after clicking on my links.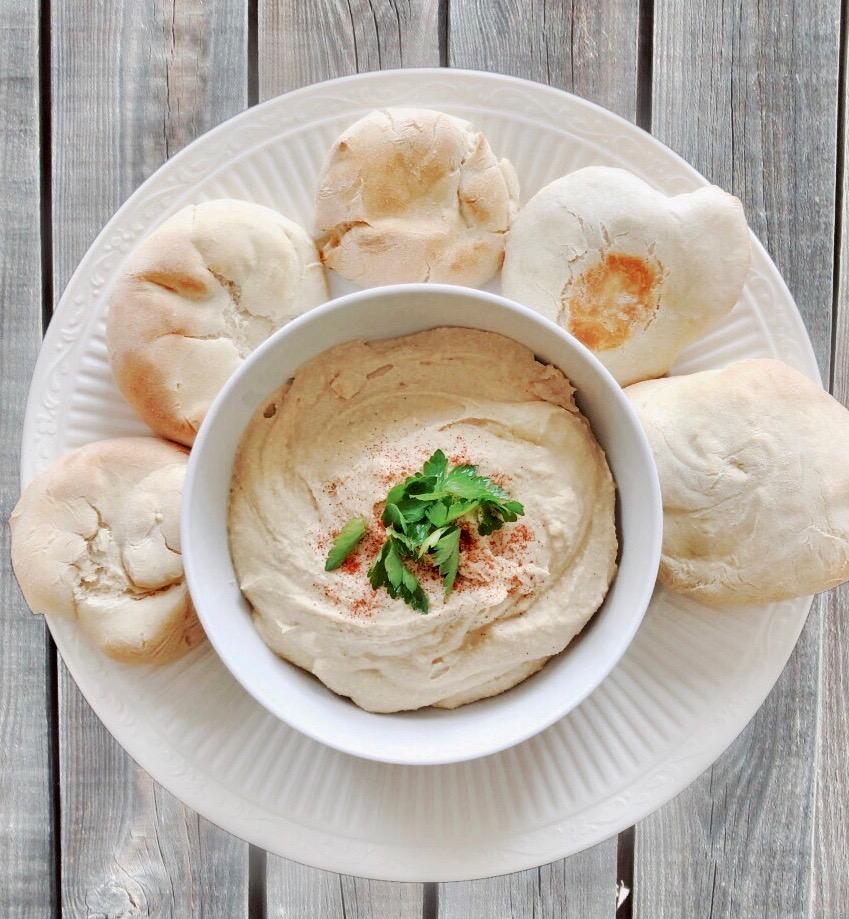 Since we my family has been home, I have been trying a lot of (new to me) recipes! One of my family's favorites is my new homemade hummus and pita bread! I am sharing my recipes as part of the spring recipes blog hop with Leslie of Once Upon a Time & Happily Ever After.
I would like to thank everyone visiting my blog from Deb's World! If you are new to Mom Home Guide, my blog is a place where I share budget DIY projects, crafts and recipes to share with your family!
After checking out my recipes, please stop by Laura's I Do deClaire blog to see the next recipe in the recipe swap!
Easy & Delicious Homemade Hummus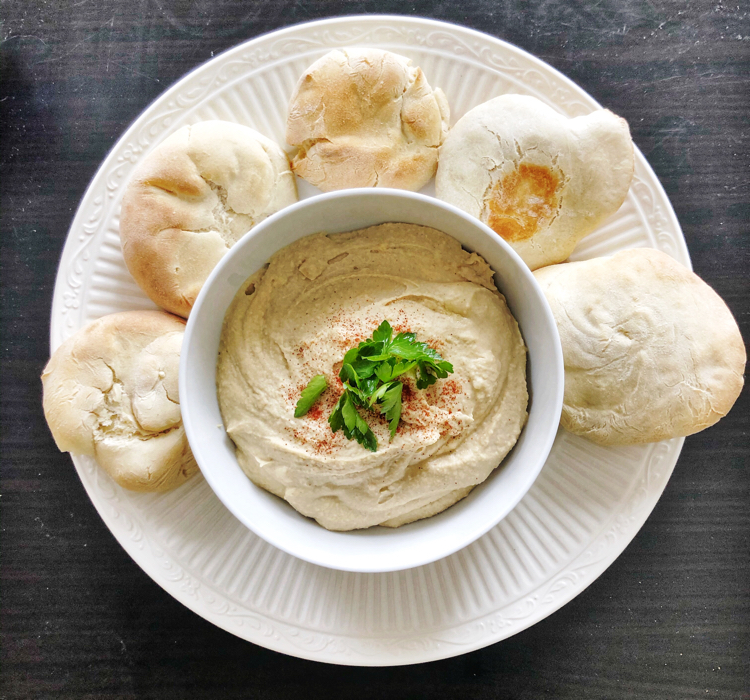 I had been promising my daughters for a while that I'd make them homemade hummus. For some reason, it took me forever to get around to it! But now that we are all at home (for the shutdown), I found the time last week to make some. I even made two batches in one day — my family liked it so much!
I used the recipe from Inspired Taste. Hummus is super easy to put together! It's a simple mixture of chickpeas, tahini (which is made with ground sesame seeds), garlic, olive oil, lemon juice and seasonings.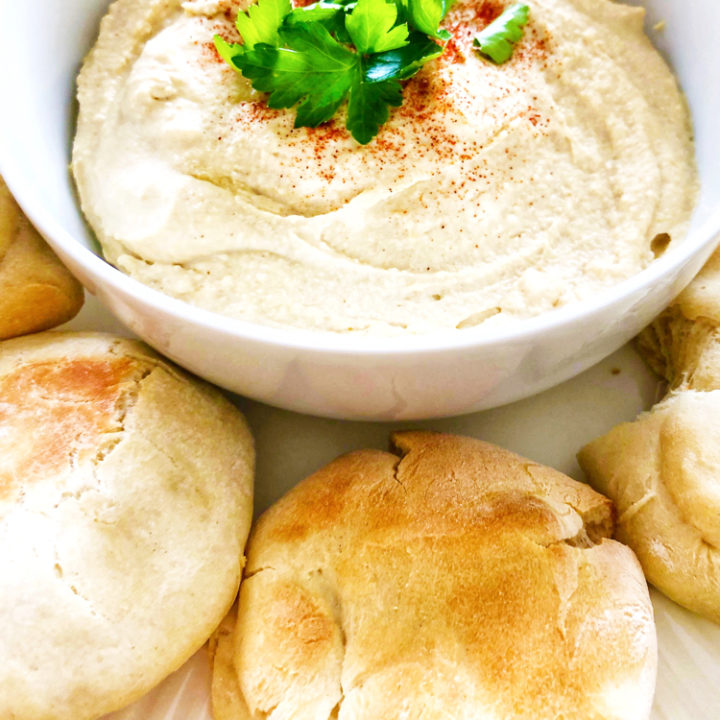 Classic Hummus
This classic hummus recipe is so easy to make, yet so delicious!
Ingredients
1 (15-ounce) can chickpeas
1/4 cup fresh lemon juice (1 large lemon)
1/4 cup well-stirred tahini
1 small garlic clove, minced
2 tablespoons extra-virgin olive oil, plus more for serving
1/2 teaspoon ground cumin
Salt to taste
2 to 3 tablespoons water
Dash ground paprika and parsley for serving (optional)
Instructions
1. In the bowl of a food processor, combine the tahini and lemon juice and process for 1 minute.

2. Scrape the sides and bottom of the bowl and then process for 30 seconds more to make the tahini mixture creamy.

3. Add the olive oil, minced garlic, cumin and a 1/2 teaspoon of salt to the whipped tahini and lemon juice. Process for 30 seconds and then scrape the sides and bottom of the bowl. Then process another 30 seconds or until well blended.

4. Open, drain and rinse the chickpeas. Add half of the chickpeas to the food processor and process for 1 minute. Scrape the sides and bottom of the bowl, and then add remaining chickpeas and process until thick and smooth; 1 to 2 minutes.

5. You may have some bits of chickpeas still, or the hummus might be too thick. Add a tablespoon or two of water at a time and process some more until the hummus is creamy.

6. Taste, and add salt as neccessary.

7. Serve the hummus in a large serving bowl. Drizzle a little olive oil on top. If desired, top with a sprinkling of paprika and some fresh parelsey.

8. Serve the hummus with the fresh pita bread.
Bread Machine Pita Bread
I used my ZOJIRUSHI compact bread machine
to make my pita bread dough. My bread machine is smaller than most bread machines, but I like that it doesn't take up a lot of space on my kitchen counter. It is also really easy to use!
I got the recipe for the pita bread from Bread Machine Magic: 138 Exciting Recipes Created Especially for Use in All Types of Bread Machines
. The recipe book is really helpful for me, since I have a small 1 lb bread maker. For each recipe, the recipe book gives three different recipes – for a small, medium or large bread machine. I completed baking the pitas in the oven.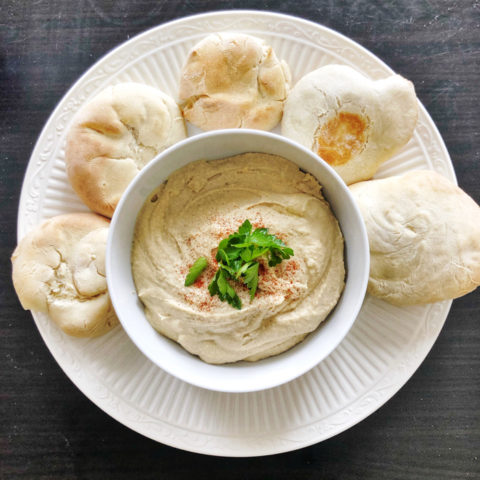 Bread Machine Pita Bread
This easy to make pita bread is much more delicious that store bought pita bread!
Ingredients
3/4 Cup Water
2 teaspoons oil
1 teaspoon sugar
1 teaspoon salt
2 Cups Flour
1 1/2 teaspoons yeast
Instructions
Place ingredients in the bread machine's bread pan. Select dough setting and then hit start.
When your bread machine signals that the dough signal is complete, take out the dough and place it on a well-floured surface. (You might need to dust the dough lightly to remove the dough from the machine, as it will be quite sticky.)
Gently roll and stretch the dough into a 12-inch-long rope.
Divide the dough into 8 equal pieces using a sharp knife.
Form each piece of dough into a ball. Use a rolling pin to roll each ball into a 6-inch to 7-inch circle.
Cover the dough with a cotton kitchen towel.
Let the dough rise for 30 minutes until slightly puffy.
Preheat oven to 500 degrees Fahrenheit. Using the middle oven rack in your oven, cook the pitas on a cookie sheet (or wire cake rack if you have it) for about 5 minutes until lightly browned. Cover the pitas with a damp cotton kitchen towel until soft.
Notes
(Recipe adapted from Bread Machine Magic by Linda Rehberg and Lois Conway)
If you don't have a bread machine, check out this pita bread recipe. The pita is still simple to make — you just have to do some kneading!
Pin this for later!