All of my home's bathrooms have ceramic tile floors. I like to clean the tile floors with my new Swiffer WetJet, which makes mopping a tile floor quick and easy, with no mess! But while the Wet Jet does a great job in getting dirt up off the tiles, it skims over the grout lines, missing the grime that can accumulate there. In the past, I've had to get on my hands and knees with a sponge to scrub out the dirt. Not anymore — I've discovered a product for the Swiffer Wet Jet mops that is designed to clean grout lines — Grout Genie Grout and Tile Pads.
The Grout Genie scrubbing pad has a twin row of polypropylene bristles that get into the grout lines to quickly and easily clean out dirt, while the absorbent microfiber pad collects the grime and dirt. When I used the scrubbing pad, I could feel the pad scrubbing the grout lines in the floor!
To use the pads correctly, it is necessary to sweep or vacuum the floor first. After I quickly vacuumed, I attached a Grout Genie scrubbing pad to my Swiffer Wet Jet with the brush side down. I then lined up the brush of the Grout Genie scrubbing pad in one of my tile floor's grout channels. I sprayed the area liberally with my Wet Jet's cleaning solution and ran the brush on the Grout Genie's scrubbing pad along the grout line. I repeated until I had cleaned all the grout lines in the tile floor.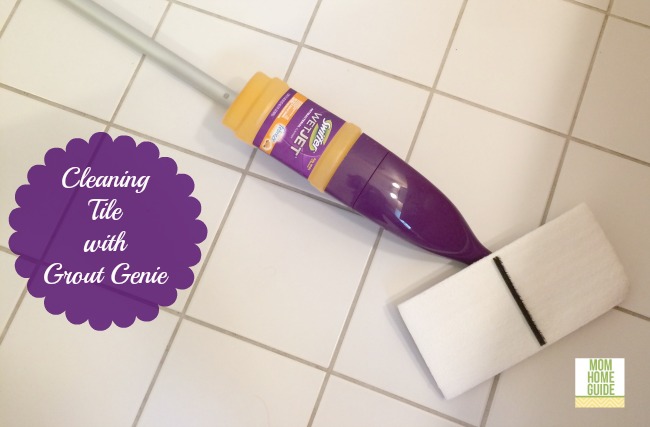 I was surprised with how dirty the pad was when I was done! (I should have snapped a photo of that!) After I used the scrubbing pad, I used a Grout Genie finishing pad to wipe up any residue that the scrubbing pad had left behind.  I then threw out the scrubbing and finishing pads, and I was done! The Grout Genie pads made cleaning my tile floor's grout easy!
Grout Genie Giveaway
Now, it's time for a giveaway! Grout Genie has graciously agreed to gift FIVE WINNERS with a package containing 10 disposable Grout Genie Grout and Tile Pads. (To use the Grout Genie Grout and Tile Pads, winners will need to own or purchase a Swiffer Wet Jet — the pads are made to work with the Wet Jet.)
To enter this giveaway, submit your entries via the Rafflecopter contest widget below.
a Rafflecopter giveaway