*I was provided Modern Master's Front Door Paint, and a door decal from The Vinyl Company for this project. All opinions expressed in this post are 100% my own.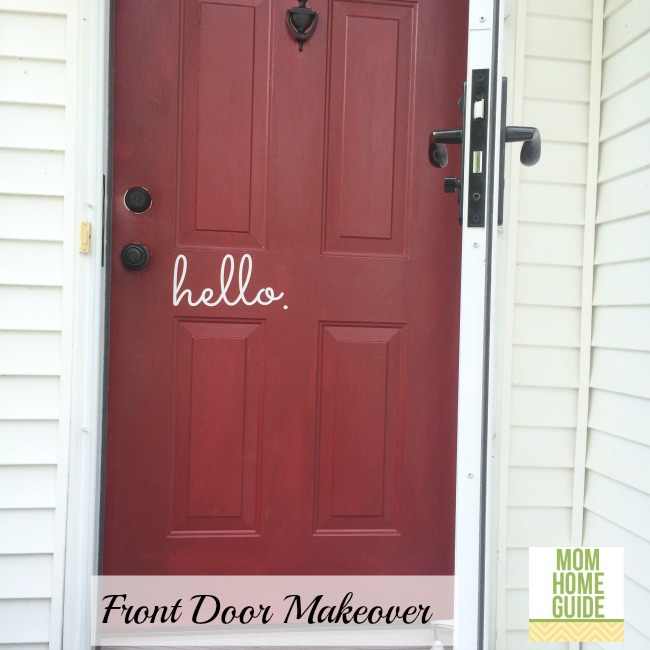 Hi, everyone! I am super excited to show you my front door makeover! I painted my home's front door red a few years ago, but the paint faded and two magnetic hooks that I had on the door (to hold up a wreath) did a number on the paint job! I put off painting the door, since paint sometimes takes forever to dry and I wasn't sure what color red I wanted. (The red that was on my door before was a little too orange for my liking.)
Then I met the folks from
Modern Masters
at last summer's Haven Blogging Conference. I learned about their quick-drying, never-fading, water-based front door paints, and wanted to give the paints a try! Modern Masters has 24 vibrant colors that can make just about any door look good. Plus, Modern Masters has a really fun app (search "front door paint" in the app store) that allows you to virtually try a color on your front door before painting!
After trying out a few colors, I settled on the front door color, "Sophisticated." I like how the color is a rich, deep red with just a hint of pink for a modern look.
How to Paint a Front Door
I chose a beautiful spring day to paint my front door. I started out by taping newspaper down on the floor and on the threshold, so I wouldn't make any unwanted spills. I then wiped off the door with a clean, wet rag to clear off any dust, and let the door dry. I got to work once the door was dry, following Modern Master's very easy painting instructions, except that I didn't paint my door edge. (I left that white). After the first coat of paint was applied, I waited an hour for the paint to dry and then painted the second coat on my door. I completed painting my door in one morning!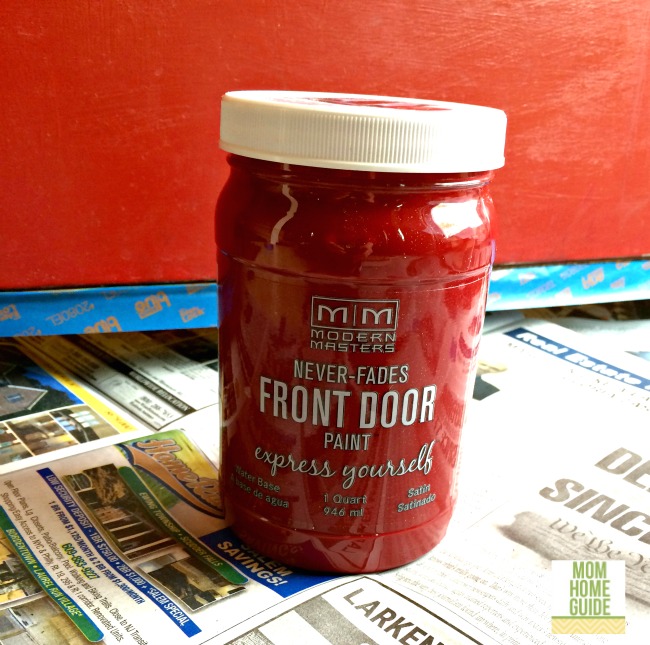 I love how the new Modern Masters Front Door Paint color looks on my home's front door, and my kids love the color, too! (My husband didn't say anything, but he is usually ambivalent about our home's decor.)
This is another look at the front door. I love how the door adds a pop of color to my home. I think the door looks great as a backdrop for the flower garden!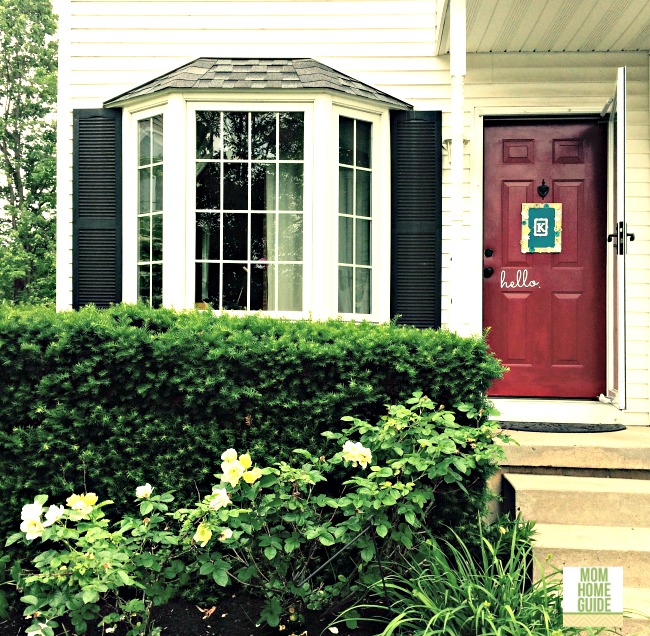 Modern Masters Front Door Paint is available at selected Lowe's and Ace Hardwares as well as online via Amazon, HomeDepot.com or the Modern Masters online shop.
A Little "Hello"
My front door was so pretty after painting it, that I wanted to jazz it up a little. I had come across The Vinyl Company on both Facebook and Pinterest, and just loved their "Hello" decal, so I just had to add one to my door! The decal was super simple to put on the door, and I love the visual interest and bit of whimsy it adds!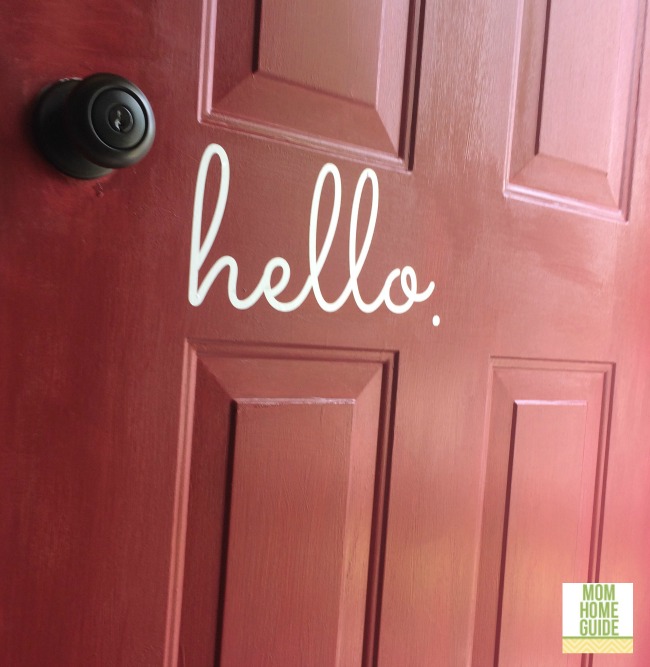 Modern Masters Giveaway
Now for the fun part — a giveaway! Use the Rafflecopter widget below for your chance to win a quart of Modern Masters door paint in the color of your choice! (The contest is open to U.S. and Canada – one winner will receive 1 quart of Modern Masters door paint in one of Modern Master's 24 colors.) Check out Modern Masters' website to see the full palette of door paint colors available! *The winner will be selected at random and Modern Masters will be responsible for the fulfillment of this prize. Mom Home Guide is not responsible for the fulfillment of this prize.
a Rafflecopter giveaway

Additional Resources
Front Door Paint Projects — A Pinterest Board
Modern Masters on Facebook, Twitter, Pinterest, Instagram, Google+ and YouTube
This post has been shared at:
This Is How We Roll Link Party
and
Think and Make Thursday