As a stay-at-home mom with only a part-time income, it is important to me and my family that we don't go over budget this holiday season. So that means that I will be carefully watching our Christmas spending and will be using every cost-saving measure that I can to make sure that my family enjoys the holiday season without spending more money than we need to!
It is important to my husband and I that we only spend modestly, since as the parents of two tweens, the college years are getting closer and closer! My husband and I would love to send our children to the best colleges we can without saddling them with a lot of debt! So this Christmas, I will be looking for ways to save money this Christmas!
Shop the Dollar Store for Gift Wrap & Bags
The dollar store is my go-to place for buying gift wrap, bows, ribbon and gift bags for the holidays. You won't find me sinking lots of money into fancy gift wrap!
Reuse Gift Wrap, Boxes and Ribbon
When I can, I reuse gift wrap, bags, boxes and bows. It works for me! I am lucky, though, to have kids who don't tear through their packaging. I throw away what I have to after the gifts are open. But whatever is still in good condition, I carefully box up and save for the next year. Saving what I can gives me #FinancialPeace of mind and adds less to the landfills, too!
Get a Fake Tree
My husband and I use a fake tree because of my husband's allergies, but using an artificial tree instead of a real one can help you save money for the future — once you buy a fake Christmas tree, you can reuse it year after year, and don't have to purchase a live or a cut Christmas tree!
Give DIY or Homemade Gifts
I am hoping to make some DIY and homemade gifts this year. If I put a little time and effort into a gift and make it myself, I can give my friends and loved ones something extra special (that shows I really care) for the holidays!
 Make Your Own Holiday Decor 
I used to mostly buy my holiday decor,  but lately, I have been into making my own Christmas decor! Making DIY Christmas decor is something fun and special to do with the kids! I will be sharing the DIY holiday decorations that my kids and I make throughout the holiday season!
Save With Capital One 360's Black Friday Sale
Looking to give my husband and I some lasting financial peace of mind, I took a look at Capital One 360's Black Friday sale and browsed their deals on banking, brokerage and mortgage products. I especially like that Capital One 360's checking and savings account are fee-free and earn interest — my own checking account has started charging fees, so I have been looking to switch to a non-fee-charging account! I also like that Capital One 360 provides remote deposit capture with Capital One 360's CheckMate tool — that means less running around for me! (And more time enjoying the holiday season with my family!)
Through the Black Friday sale, I can earn a $100 bonus if I open a new Capital One 360 checking or savings account, if I make the minimum initial deposit! That $100 will more than cover the past few months of fees my checking account has charged me!
These are some of the deals that you can find at the Capital One 360's Black Friday sale: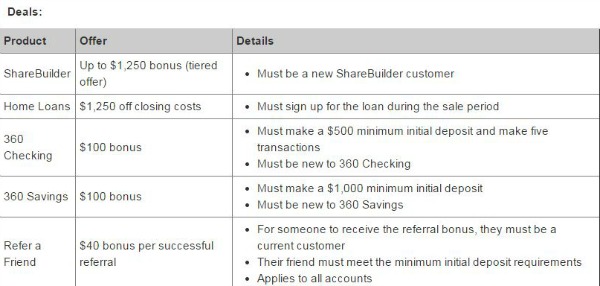 Here's hoping you can save some money this holiday season!
Bonus Tip: You can refer your friends and family to the Capital One 360's Black Friday sale  to help them out, and possibly earn a $40 referral bonus.
I was selected for this opportunity as a member of Clever Girls and the content and opinions expressed here are all my own.