*This post contains Amazon affiliate links.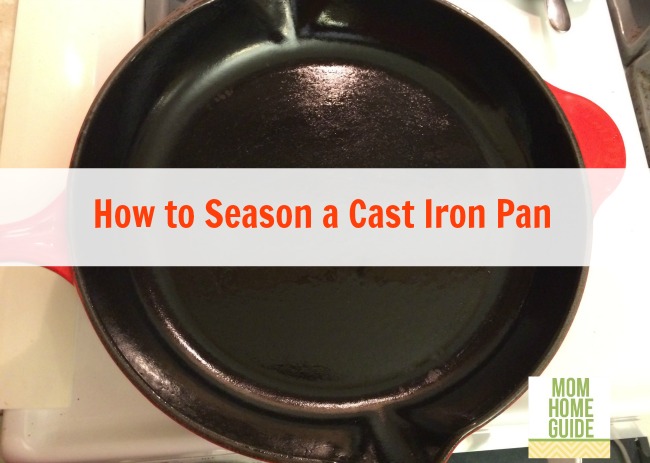 My non-stick pan has become anything but non-stick recently, so I've decided to invest in a Le Creuset cast iron pan. I've been wanting to switch to a cast iron skillet because I worry about the chemicals that a non-stick pan may contain. But, as you may know, you have to "season" a cast iron pan before using it, otherwise everything will stick! So recently, I seasoned my cast iron pan! All it took were five easy steps to season my pan and ready it for use. Now my cast iron pan is just as good as any non-stick pan! Plus, it will likely last MUCH LONGER than a regular non-stick pan! I've cooked eggs and other things that used to stick in my other pans, with no problem! My cast iron pan is so easy to use and clean! (Plus, it looks great!)
Materials for Seasoning a Cast Iron Pan
Cast iron pan (I have a Le Creuset Skillet
and a Le Creuset Cast-Iron Grill/Griddle
)
Scrubbing brush or sponge
Dish Soap
Aluminum Foil
Dish Cloth
1. Wash with Soap and Water
Wash your cast iron pan, skillet or griddle with a dish sponge or stiff brush, liquid dish soap and water.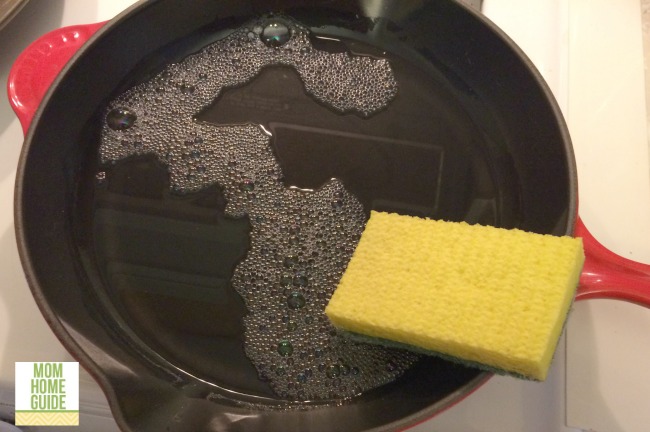 2. Dry Your Non Stick Pan
Dry you pan well with a dish cloth.
3. Oil Your Pan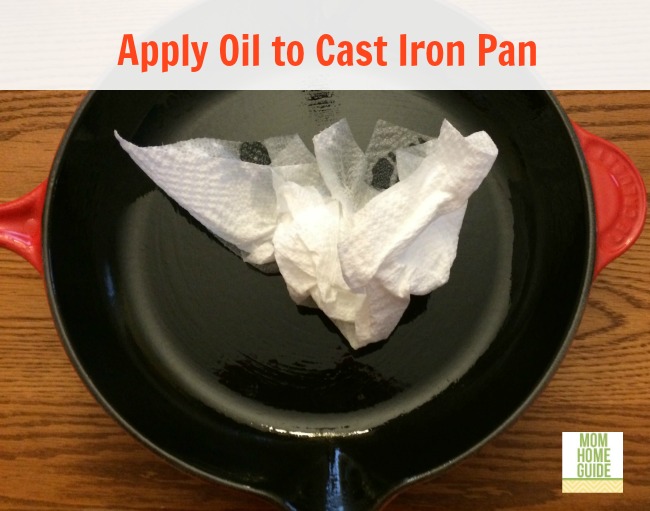 Spread a thin layer of vegetable oil on the inside, sides, handle and back of your pan. (I spread my oil with a paper towel.)
4. Bake Your Pan
Place a sheet of aluminum foil on the rack underneath the rack on which you will be placing your pan. (The foil will catch any oil that might drip.) Heat your oven to 350 degrees. Place your cast iron pan upside down on the rack above the rack with the aluminum foil. Close your oven and bake the pan at 350 degrees for 1 hour.
5. Cool Your Pan
Let the pan cool before removing it from the oven. (The pan will be very hot, so don't touch until it has cooled.) You are done!
How to Use Your Cast Iron Pan
Now that I have seasoned my cast iron pan, it is basically non-stick. But I still use a little oil just in case! The trick to using a cast iron pan is rinsing it and giving it a quick scrub (with no soap) when it is still warm after cooking. (Don't use soap — the soap will strip off the protective coating that you made by seasoning your pan.) After you have cleaned/scrubbed your pan, re-apply a thin layer of oil to your pan. I like to store my pan in an open place, like on top of my stove. (My Cherry Le Creuset Skillet
is beautiful, so I might as well show it off anyway!) I use my pan for everything from making scrambled eggs in the morning for the kids before school, to making a quick stir fry for dinner at night!
Related articles across the web