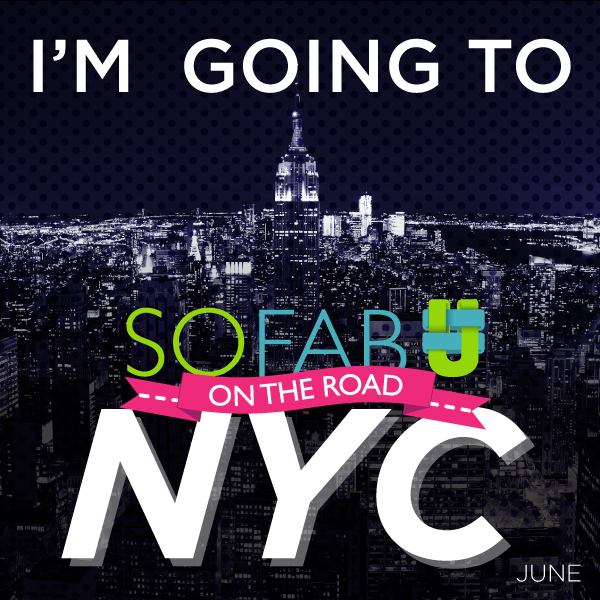 Hi, everyone! I am excited because I soon will be heading to the SoFabU On the Road blog conference in New York City! SoFabU on the Road is a blog conference for influencers like myself — and the conference will be hitting several cities this summer and next fall! The NYC SoFabU On the Road conference will be held on June 20.
I love going to blog conferences — I went to Haven in Atlanta, Ga. last summer, and the first ever New Jersey Blogger Network blog conference  last month! Blog conferences are a great way to meet other bloggers and learn lots of great stuff to improve one's blog!
There will be lots of great topics touched upon in the SoFabU On the Road in NYC, including how to write sponsored posts that will resonate with both readers and sponsors, how to grow your blog with email marketing, how to use SEO, and how to improve video and photo skills for one's blog! I am happy about SoFabU because some of the folks that I met at the New Jersey Blogger Network blog conference are attending SoFabU, and because I love to meet other bloggers!
If you are heading to SoFabU NYC, I'd love to hear from you! SoFabU is sponsored by Müller, Kraft and iBlog
SOFabU On the Road NYC
Date

:

June 20th

,

8:30-9:00

registration – WeWork, 54 W 40th St, New York, NY 10018 (2nd floor)


Keynote info

: 

How to Use SEO to Supercharge Your Posts, by Jessica Woodbury

SEO is SO important to our success and most of the SEO advice out there isn't geared specifically towards single-contributor lifestyle blogs. Jessica will cover basic SEO and specific blogger strategies to work on building search traffic and how to increase domain authority. 

This session is for savvy bloggers. Most bloggers at this level are experienced at retaining regular readers and increasing traffic via social media. This presentation will help bloggers consider readers who are finding their blog from search, how to attract them, how to retain them, and how to increase domain authority with a specific SEO-posting strategy so all posts rise in search. This will focus less on technical things like alt tags and meta descriptions and more on writing and photo strategies.

We'll also have sessions on Video, Email Marketing, Sponsored posts, networking, and other learning opportunities (check out the agenda on the SoFabUOTR website!)

*I am writing this post in exchange for a discounted conference ticket; however, all opinions are mine and mine alone.