*This post contains affiliate links.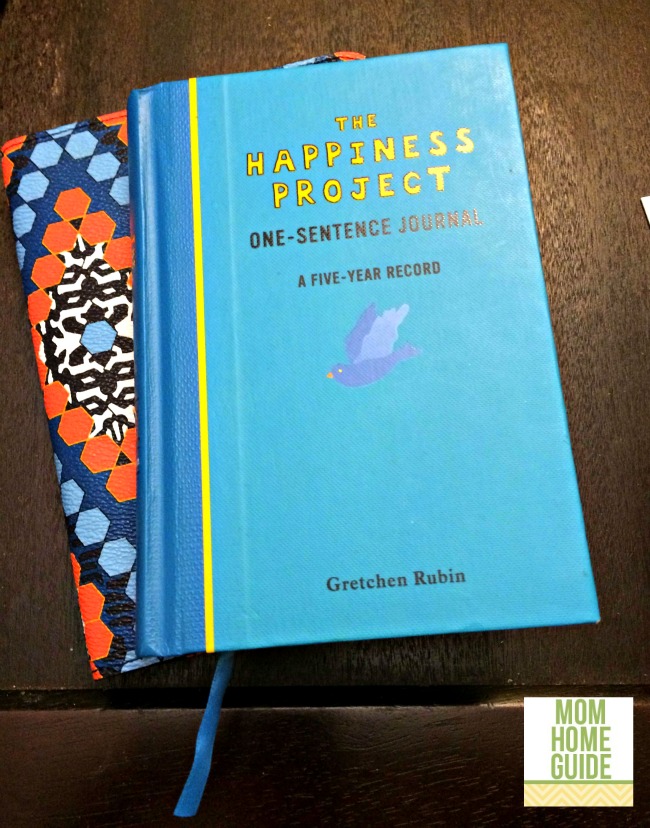 With the holidays only a few months away, I thought I'd share something that I think makes a nice gift — a journal! I have had a journal ever since I was a kid. I still have the journals I wrote in as a child, and they are so funny and interesting to read! I love keeping journals because they help me remember fun times and special moments that I might not otherwise remember!
But after my twin daughters were born, I found it even harder to keep a traditional journal. I no longer have the time to fill pages with the day's events or just my thoughts.
The Happiness Project One-Sentence Journal: A Five-Year Record
So I am so happy to have discovered The Happiness Project One-Sentence Journal: A Five-Year Record. Each day's page starts out with a quote about happiness, such as "To be really happy and really safe, one ought to have at least two or three hobbies, and they all must be real." — Winston Churchill
I really enjoy reading the quotes on the tops of the pages of this journal — many of them are by famous personalities or writers.
This journal is a companion to The Happiness Project: Or, Why I Spent a Year Trying to Sing in the Morning, Clean My Closets, Fight Right, Read Aristotle, and Generally Have More Fun
by Gretchen Rubin — a book with a long title, but a really awesome read! The book details Rubin's efforts over a year's period to increase her enjoyment of life by making small, easy to tackle changes in her daily life.
The journal is a five-year journal, so on each date there are five spaces for entries — one for each year. I like to compare what I write on each date year to year!

One Good Deed a Day
I've heard many good things about the One Good Deed a Day
journal! I love the purpose of this journal — to make kindness viral! Each day's page gives you a prompt that suggests a small way to spread kindness, like "tell a friend why she means the world to you." I think these random acts of kindness are a great way to add joy to both your's and another's life!
Q&A a Day: 5-Year Journal
One of my tween daughters has this five-year journal (she picked it out on her own), and she really enjoys adding entries to it! With questions like "If you could travel anywhere tomorrow, where would you go" and "Write down a problem you solved today," the journal encourages you to share insights on your thoughts and feelings for a particular moment in your life. I think this journal would be a fun one to go back to several years later and see how much you've changed over the years!

Gorgeous Vera Bradley NEW BB Collection Journal in Marrakesh Beads
I saw this journal while my daughters and I were shopping together at a local bookstore. It's a blank journal. I really like the pattern, and the journal fits easily in my purse! I use the journal to keep track of all my blogging deadlines and projects!

Do you have a favorite journal? If so, I'd love to hear about it! Please share in the comments.
Related articles across the web