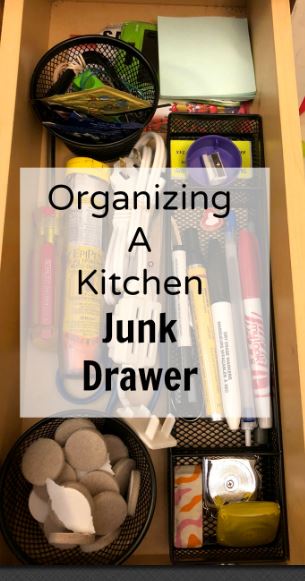 Welcome to the Drawer Organization Blog Hop! For the entire month of April, 12 bloggers will be sharing the process of cleaning and organizing one drawer in our homes each week. To kick off the first week, we're focusing on drawers in our kitchen and dining rooms! Our blog hop's participants:
My Pinterventures • Intelligent Domestications
DIY Adulation • Domestically Creative • Cookies Coffee and Crafts
Domestic Deadline • Across the Boulevard •
Mom Home Guide • Centsably Creative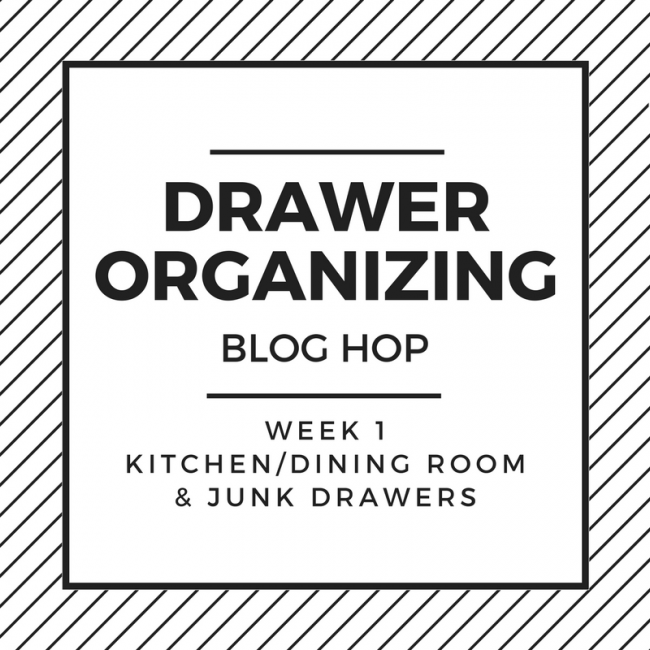 I think almost everyone has a "junk" drawer in their kitchen. For my home, the junk drawer is a very skinny drawer that I usually don't know what to do with. The drawer becomes the spot where we dump pencils, sticky notes, rubber bands, etc. Basically, if we don't know where to put something, it ends up in the junk drawer!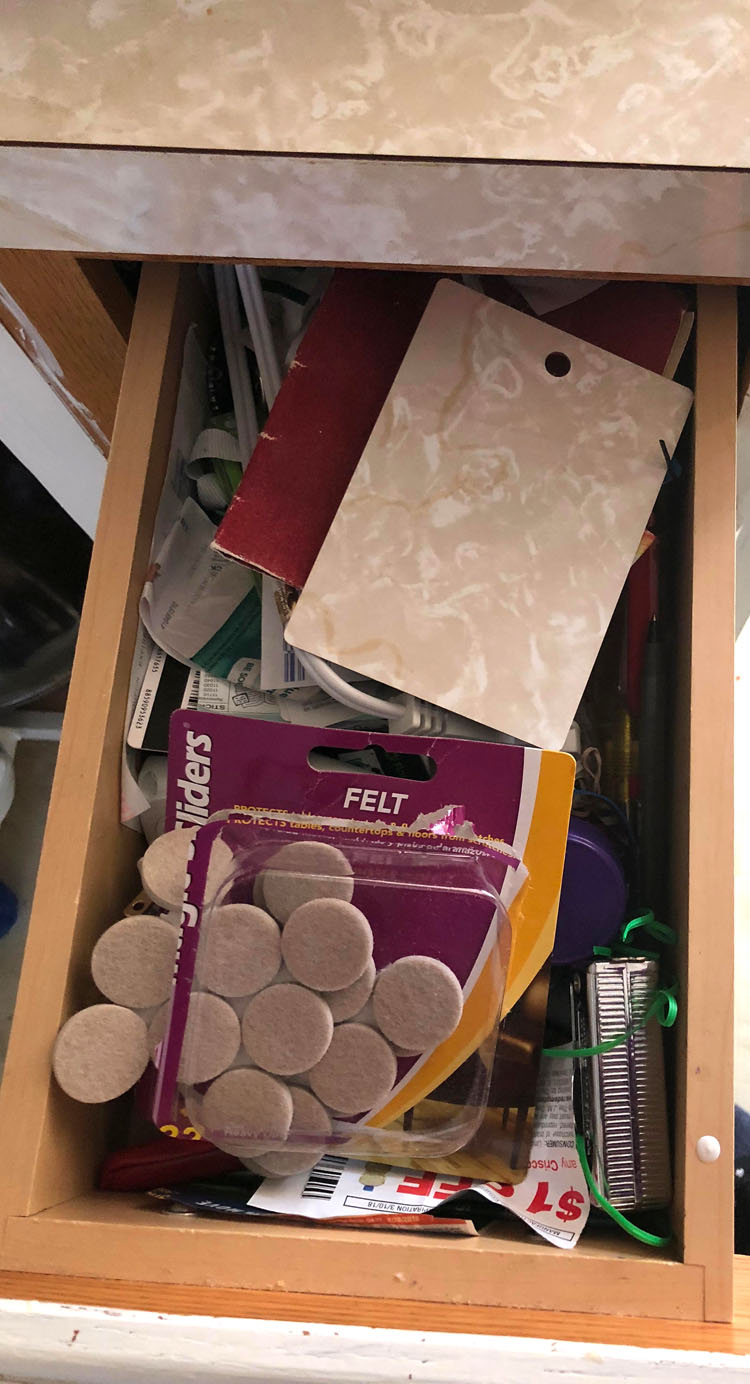 Before I started this challenge, my home's junk drawer was a hot mess — I'm not going to lie. In the drawer was a tape measure, an extension cord, coupons, twist ties, pencils and pens , felt protectors for the bottom of our kitchen floors, and even a sample of our kitchen counter. (Even though that counter is more than 15 years old.)
You can also see from my photo that I still have some cabinets to finish painting from my kitchen cabinet painting project! (With our new puppy, it's been hard to paint the cabinets — he's not house trained yet, so we often corral him in the kitchen.)
Organizing a Kitchen Junk Drawer
For my inspiration, I used the organized junk drawer by Jen of IHeart Organizing. Her drawer is much bigger than mine is, but I figured I could use a similar organizing concept to get my kitchen drawer under control.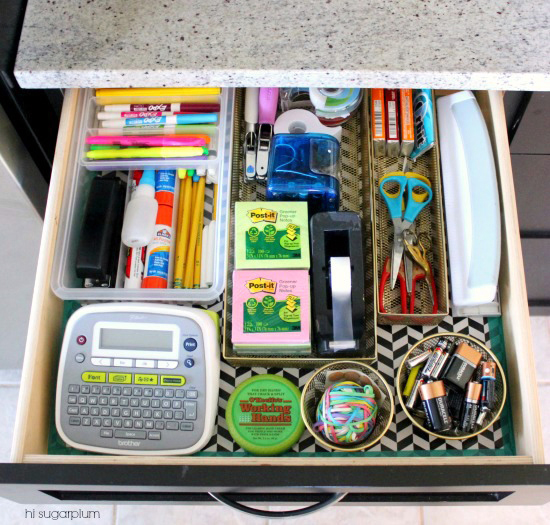 To help organize the junk in my kitchen drawer, I picked up some $1 silver bins at my local dollar store.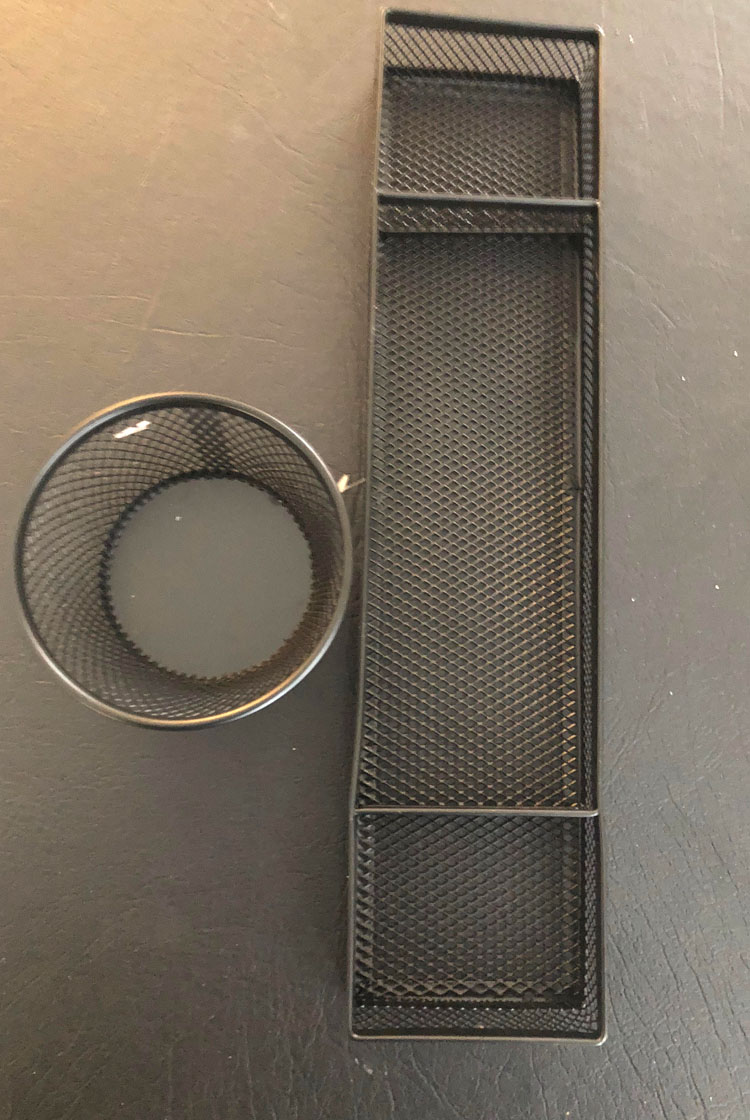 Before I got to organizing the drawer, I went through the drawer and trashed a fair amount of stuff — expired coupons, extra twist ties (that once secured bags of bread), dried out pens, etc.
Then, all there was left to do was organize the drawer. I decided to only keep in the drawer what made sense in the kitchen.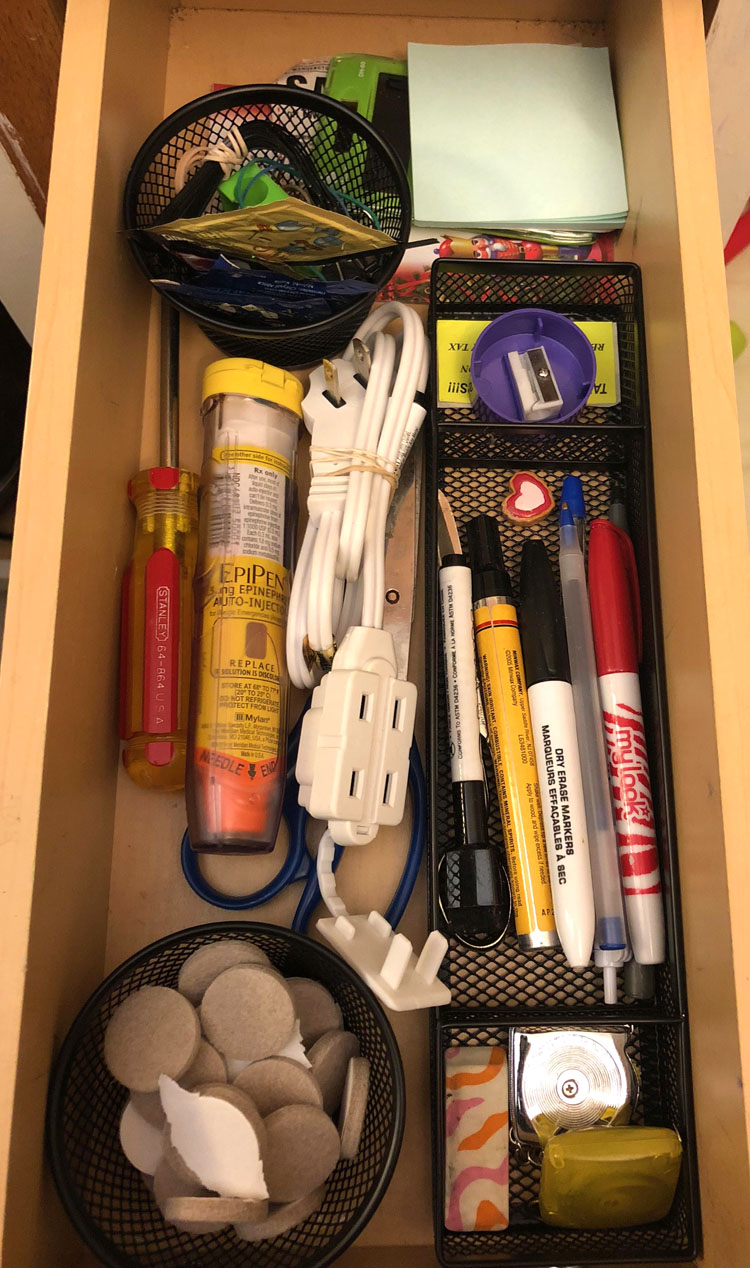 In the end, in the drawer I kept:
– Twist ties for closing bread and veggie bags, etc.
– Felt protectors for the bottom of my kitchen chairs
– Some pens, pencils, pencil sharpener, sticky notes and pads, a calculator, a fridge magnet and an eraser
– Two tape measures. I'm always working on a project, and since the kitchen is the center of the house, the drawer is an easy to access place for a tape measure.
– An extension cord. (I often use our farmhouse-style kitchen table as a work surface for sewing projects, and I need the cord to reach the wall outlet from the sewing machine.
– Extra packets of flower food. For some reason, I have some of these from past times I received flowers, and they come in handy when flowers don't come with the food.
– A screwdriver (for installing the kitchen cabinet doors once they are painted)
– An extra epipen (for my food allergies).
For more kitchen and dining room drawer organization ideas, visit the other host blogs below. Also, be sure to visit next Wednesday when we share our drawer organizing projects for home offices, craft rooms and living rooms!