*This post contains Amazon affiliate links.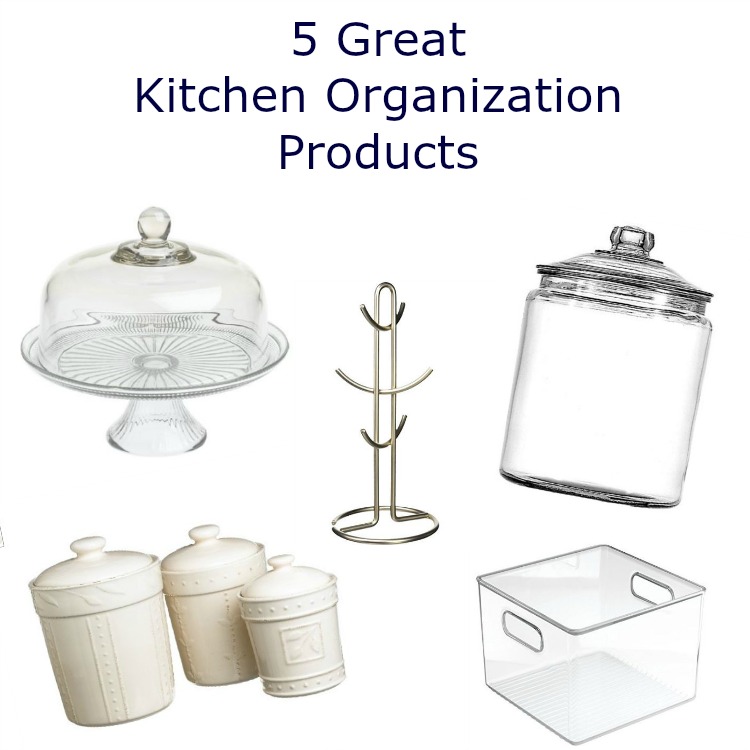 The right products can be key to having an organized kitchen. These five kitchen items are perfect for organizing and beautifying a kitchen.
Glass Canisters
The Anchor Hocking 1-Gallon Heritage Hill Jar, Set of 2
glass storage jars are an attractive option for storing flour, sugar and cereal. They are pretty enough to leave out on a kitchen's counters or open shelving.
Pantry and Fridge Storage Bins

These clear Kitchen Pantry and Cabinet Storage Bins
are ideal for storing like items in the fridge for better organization in your refrigerator, and for organizing soup and soda cans, etc., in your pantry.
Satin Nickel Mug Holder
I have two of these sturdy and beautiful Satin Nickel Mug Holders
in my kitchen – my teens love decorative mugs, so I needed to find additional mug storage in our kitchen. I keep one of these mug holders on our coffee bar right next to our Keurig coffee machine.
Glass Cake Dome

I don't know about you, but whenever I make brownies, banana bread, etc., I always wind up having a plastic-wrap covered plate of leftovers on the kitchen table. (I leave them out in the hope someone will finish up the last of the treats.) A Glass Cake Dome
like this one would come in handy to help keep the leftover treats fresh.
Ivory Canister Set
I usually like to store everyday needed items like flour, sugar, rice and tea in canisters on my kitchen's counters. I think this 3 Ivory Canisters Set
would look beautiful against white cabinets or in a farmhouse kitchen.