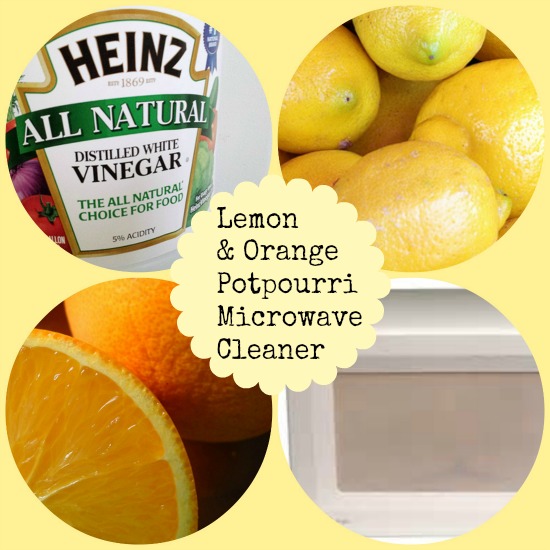 Over the past few months, I have been trying to make the switch from commercial cleaning and beauty products to more natural (and less expensive) homemade ones. That is why I am excited to join some of my blogging friends in sharing our own recipes for beauty and cleaning products! For my product I decided to make an all-natural microwave cleaner.
Natural Microwave Cleaner
When I clean the microwave, I usually fill a microwavable bowl halfway full with vinegar, microwave it for 1-2 minutes and immediately scrub down the microwave. It works like a charm!
I have to tell you, though, that my husband hates the smell! So now, before microwaving my bowl filled with vinegar, I add a few lemon and orange slices to it. When I run the microwave with my vinegar, orange and lemon mixture, I get a yummy smell, too. Wonderful! I've also read that if you fill a mason jar with lemons, close it with a tight-fitting lid and let it sit for two weeks, you get a powerful lemon and vinegar all-purpose cleaner. I have to try that!
Natural Beauty & Cleaning Products
Be sure to check out all the homemade beauty and cleaning products that my friends have come up with! I know I will: I would like to find some non-bleach products for my laundry and bathroom. I like the way bleach cleans, but when I use it, it makes me feel ill! You can find the links to my friends' blogs below. Enjoy!