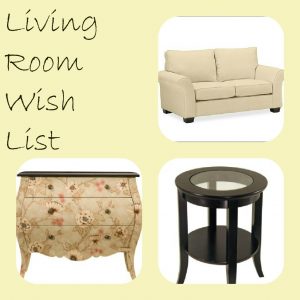 For years, I have been trying to figure out what to do with my home's living room. The long, narrow room leads from my home's front door to the kitchen and the family room in my open-concept home. Since the room is a main thoroughfare in my home, I haven't wanted to block the flow of traffic with furniture. So, I've been searching for small living room ideas.
Plus, when my kids were tots, the carpeted living room space, which is just off the kitchen, was a great place for them to play. (That is why today, two toy chests still sit in the living room.) The only other furniture pieces of importance in my home's living room are an upright piano (for my daughter's piano lessons) and a rocking chair that my daughters enjoy reading in.
Small Living Room Ideas
Now that my kids are getting older, I would love to complete the space. (We've been in our house for about 10 years, and our living room is filled with mostly hand-me-downs and toy chests.) The piano makes designing the living room tougher, but the piano has to stay!
Furniture for a Small Living Room
Blogger Melissa of The Inspired Room has a living room that's shaped very much like the one in my home — it's long and narrow and is just off the front entry to her home. I've been following her blog (I love it) and have followed the various transformations that her living room has gone through. I just love how she has transformed her living room into a cute siting area — the hickory floors in her living room are just beautiful, too!! I would love to have those floors.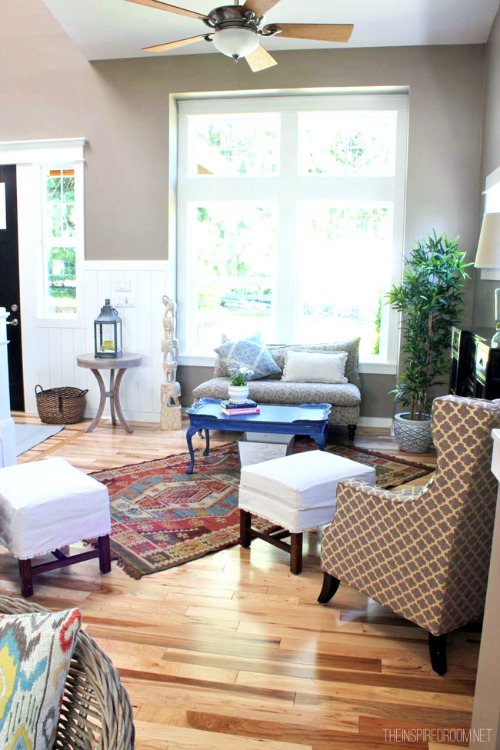 I have been searching the Web for inspiration, and have come across a few pieces of furniture that I think would work in the living room. I love Pottery Barn's Comfort Upholstered Loveseat in Caramel Twill, which sometimes goes on sale for less than $800. The piece, which is smaller than a sofa, would fit well in our small space.
At furniture store Raymour and Flanigan, I love the Flora Accent Chest, which I've seen on sale for $299. The piece's three drawers would give me more room to store tablecloths and other linens, since I never know where to put those! The chest's creamy beige color would complement my living room's creamy yellow walls, and the flower motif picks up the floral pattern in living room's floral drapes.
There's also a pretty but inexpensive coffee table that I like on Amazon.com, the Winsome Wood Genoa End Table, Espresso
. At about $78, the end table could be kept to the side of the loveseat (and not block traffic), and wouldn't affect my budget much. So in total, my dream living room would only cost about $1,100.
PicMonkey Inspiration Board
To get an idea of how everything looks together, I created a collage inspiration photo on PicMonkey.com, a great website that offers free online photo editing. (I use the website for editing most of MomHomeGuide's photos.)
To create the collage, I first went to websites Amazon.com, PotteryBarn.com and RaymourFlanigan.com, and saved photos of my wished-for furniture pieces by right clicking on them and saving them to my computer.
I then went to PicMonkey.com and clicked on "Create a Collage." By clicking on "Open Photos," I was able to find my furniture photos on my computer and upload them to PicMonkey.com. All I did then was drag each photo into the collage spots I wanted, and saved the collage by clicking on "Save" at the top of the collage. I then chose "Edit a Photo" on PicMonkey.com, opened my new PicMonkey collage, and added text to my living room collage by clicking on the text icon (the P on the left of the PicMonkey screen) and typed in my text. I then saved my finished PicMonkey collage to my computer.
What do you think? The new collage will be a handy tool when contemplating whether to move on with my design ideas — that is, if my husband is OK with them. Maybe some day, my husband and I will actually complete our living room!
Other Posts You Might Like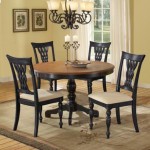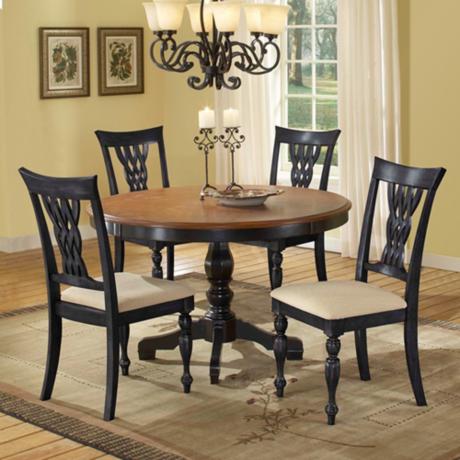 $500 Shopping Spree Giveaway and Vote for Mom Home Guide