Hello! Today I am joining some of my blogging friends in sharing my fall home tour! Throughout this week, my friends and I will open our homes and show how we have styled our spaces for the autumn season! Check out the schedule below to see the full fall tour schedule — be sure to visit my blogging friends' home tours, too!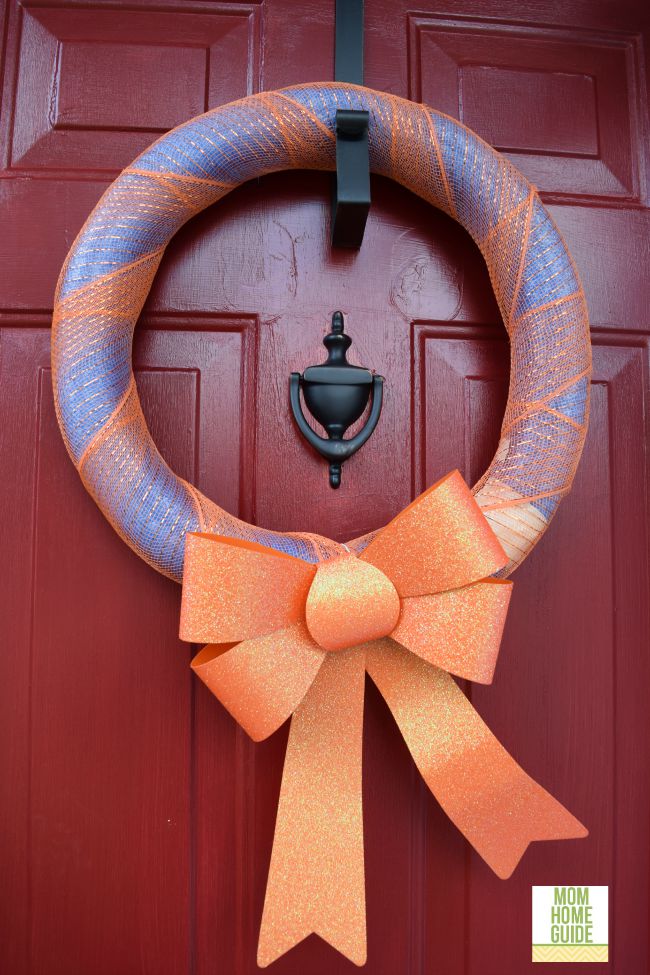 First up is my easy, $3 DIY fall wreath! With my kids' cross country schedule and music lessons, life can be busy! So, I wanted a quick and easy fall wreath. To make this wreath I spent $3 in supplies for a pool noodle, some orange ribbon and a big bow, all from the dollar store. I simply taped the pool noodle together, wrapped it with the ribbon, and secured the bow with a wire kitchen tie. Easy!
Next up is my home's living room. In the fall and winter, my family loves to wrap ourselves in a warm throw and read on the sofa! The fun colors of the pillows add brightness and a sense of light to the room!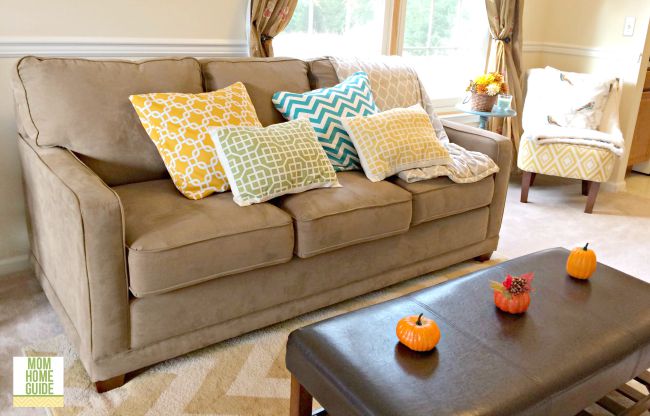 On the side table by the sofa is an inexpensive faux-flower arrangement that I picked up from my local craft store. I love the orange and rust brown colors of the flowers! Outside the window you can see some of the flowers that are still blooming in my flower garden!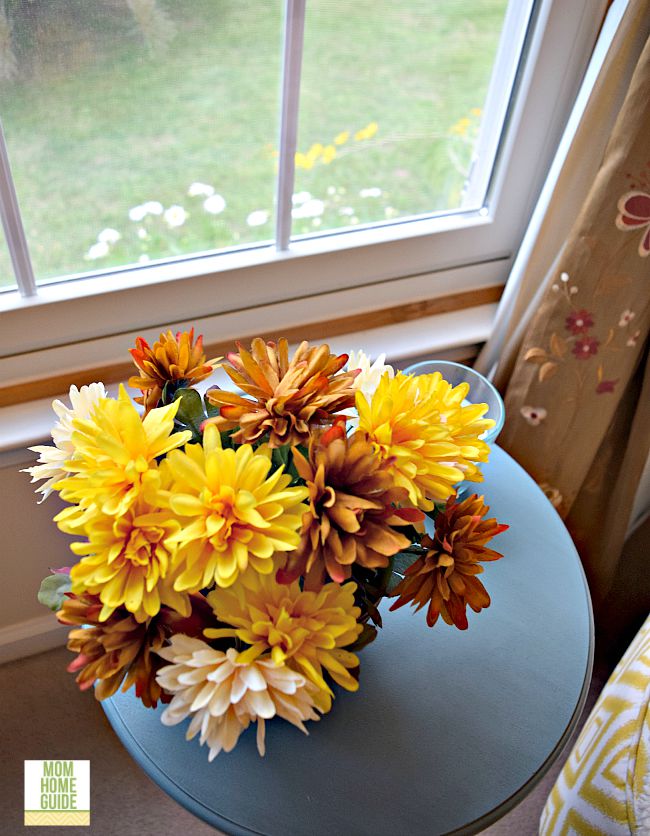 Not too long ago, I painted and stained an unfinished console table for my home's living room. I love to decorate the console table for every season! This is what my console table looks like decorated for fall!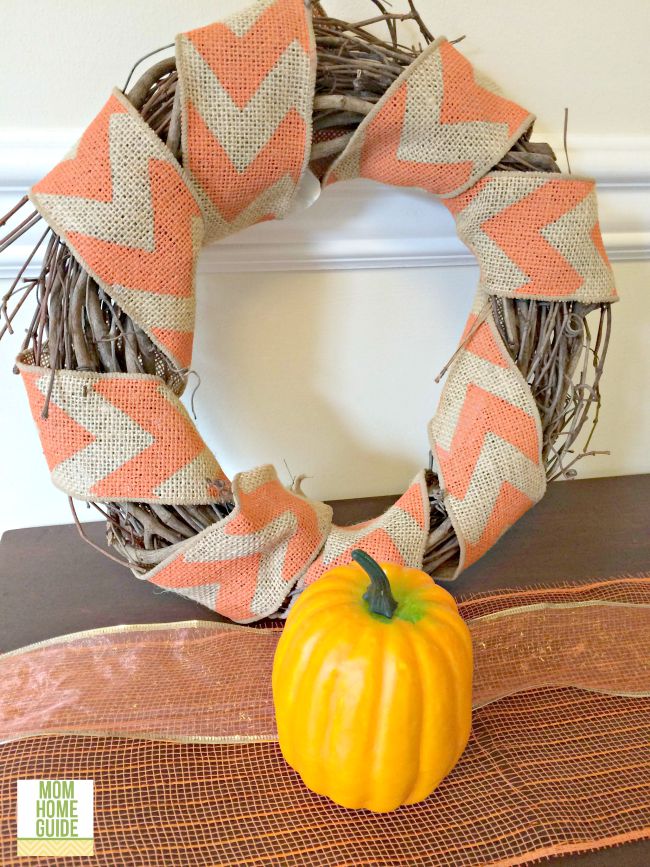 I love to add fall hues to my kitchen's farmhouse-style table by adding pottery (that I hand-painted in yellow) and some fall-colored flowers! On the hutch behind the table is some artwork that my kids made. The art just happens to feature autumn apples and colors!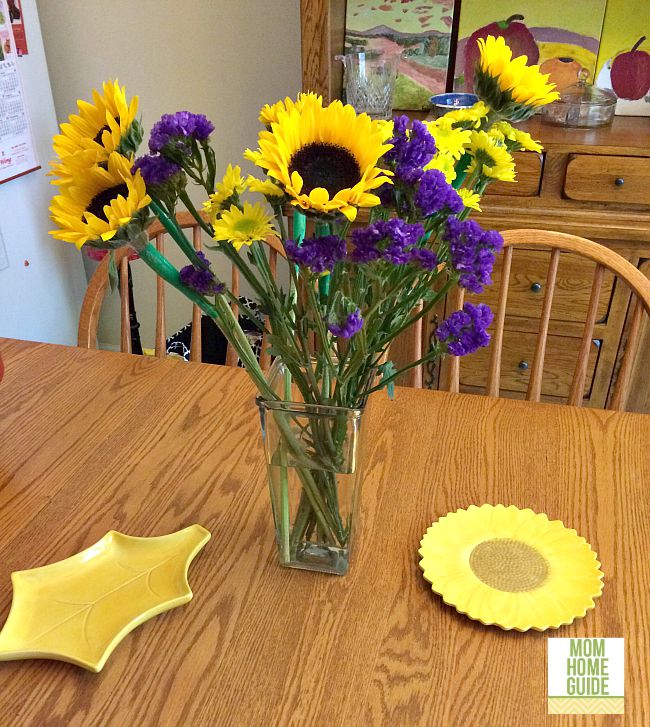 I adore how the sunflowers' pops of yellow brighten up the kitchen!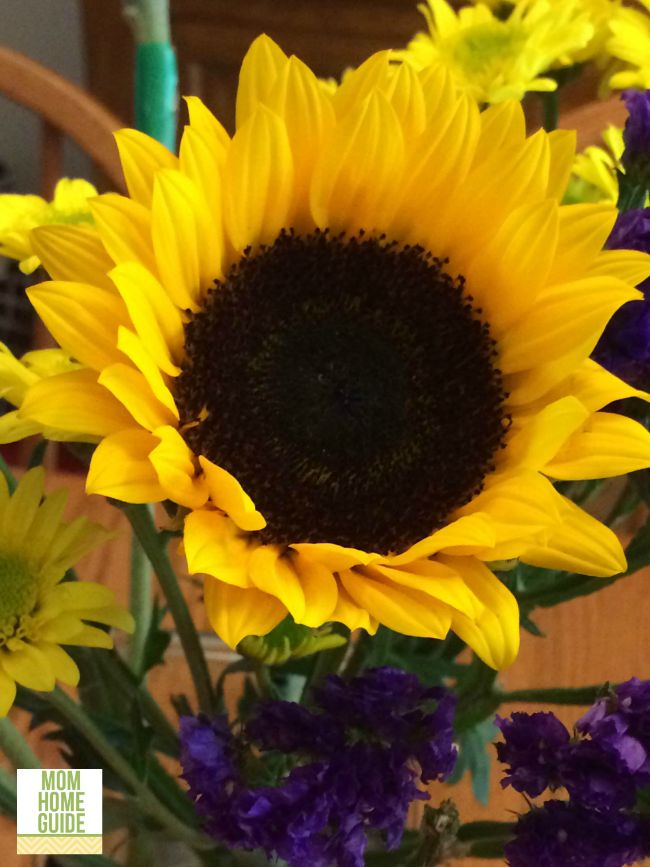 When the weather starts getting cooler, one of my family's favorite spots in the kitchen is our new beverage center! It's stocked with all the makings for hot coffee, tea and apple cider, and hot chocolate! One of my daughters has developed a love for iced coffee, so the beverage bar also has a mason jar filled with red and yellow paper straws just for her! I've also added a ceramic owl and an autumn scented candle to the beverage area for more fall fun!


When the weather is nice, my daughters and I like to take our tea, apple cider or coffee outside to enjoy by our new patio pond! The pond is stocked with two goldfish (Ollie and Picasso) and some water hyacinth. This fall I added a rubber ducky thermometer to the pond. (I'll have to move the goldfish indoors when it gets too cold outside.) I also got a beautiful fall mum!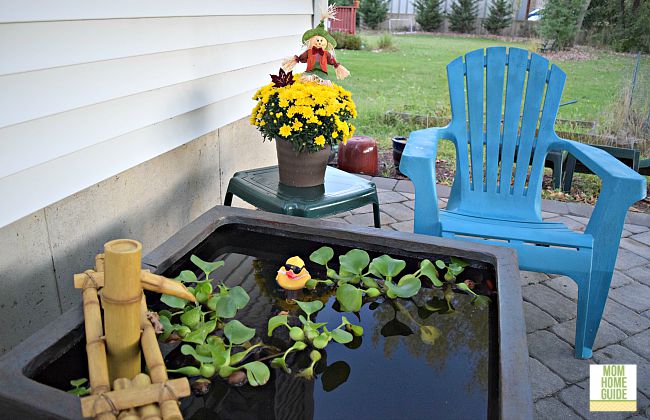 Even though it's fall, I still get to enjoy my flower gardens! Several of the perennials in my gardens are still going strong.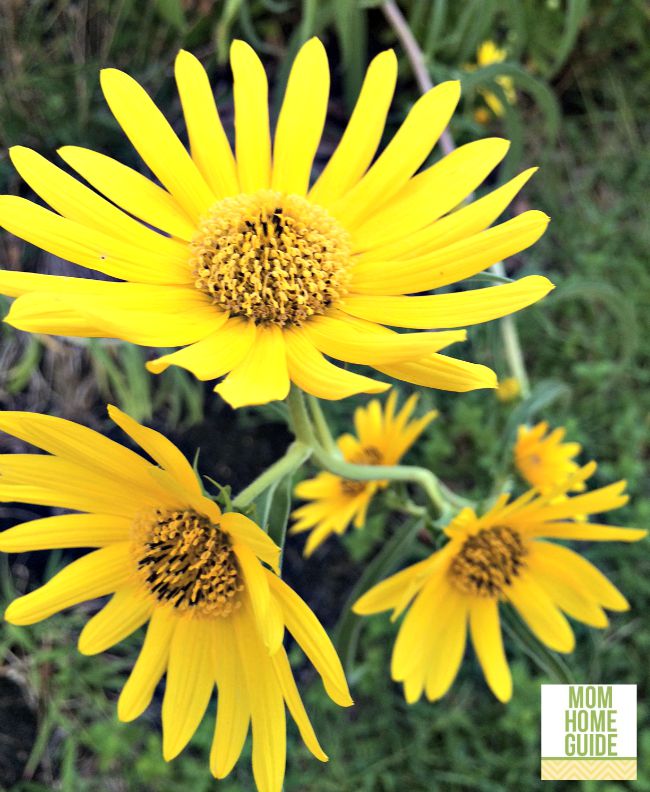 The roses in my home's front yard garden are also still blooming, sending a sunny welcome to anyone who approaches my home!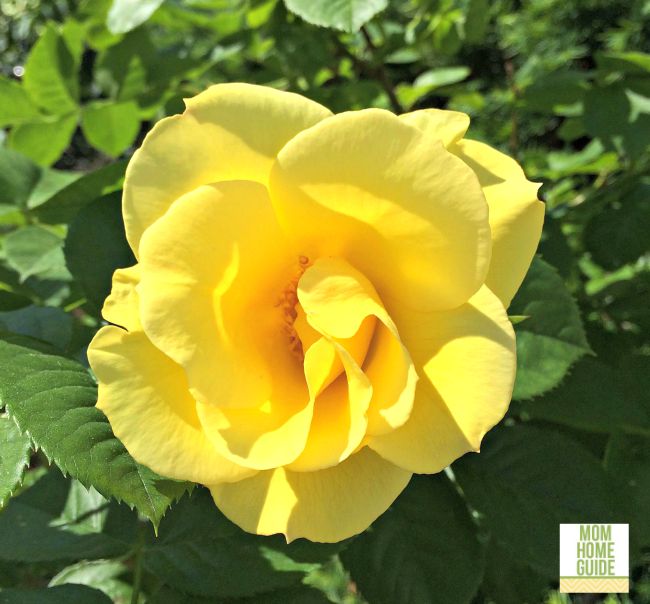 This concludes my fall home tour! Stop by my friends' blogs to see how they have decorated their homes for this beautiful autumn season!
Thank you for joining me for the
"Fall In Love With Your Home"
sponsored by The Everyday Home.
Please join these fabulous Bloggers to see what
amazing Fall Inspiration they are sharing to help
you "Fall In Love With Your Home."
{Monday, Sept 28th}
{Tuesday, Sept 29th}
*links will not be active until 6amEST
{Wednesday, Sept 30th}
*links will not be available until 6amEST
{Thursday, Oct 1}
*links will not be available until 6amEST
SondraLyn at Home
{Friday, Oct 2}
*links will not be available until 6amEST
This post was shared at the Moonlight & Mason Jars Link Party