Every mom could use a good moms' night out.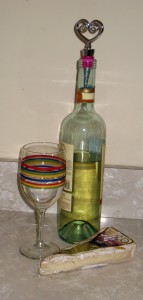 Many of us get so busy with our families that we don't find the time to kick back, relax and enjoy the company of a few good friends.
I enjoyed a fun moms' night out Friday, when the moms in our Brownie troop got together to paint some pottery and share some wine, cheese and other snacks.
It was enjoyable spending time with other moms and chatting. It was also great to share something — like painting pottery — that we don't normally do.
It's not often that I want to spend a night out without my family, but I am glad I had a night out. Making the night even better was that my husband drove a whole van full of moms to and from the pottery night, allowing us to enjoy the evening without any worries. (Thanks, honey!)
And when I saw my kids' little happy faces in the window of the pottery shop at the end of the evening, the reunion was even sweeter!
Did you recently enjoy a moms' night out or have ideas for a fun mom's night out? Please share them in the comments.