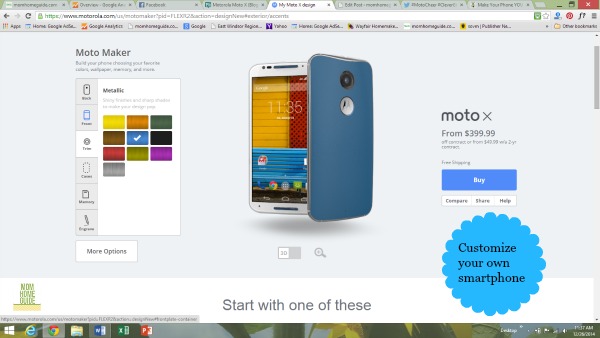 Hi, everyone! I can't believe that it's almost 2015! 2014 sure did fly by! If you are like me, holiday get togethers and parties are still going strong, and if you life is as busy as mine is (and who's life isn't busy these days), you still have some gifting to do for the holiday season! LOL. Well, for those of you who still have presents to buy and give, I found something really cool — you can make a personalized smartphone for anyone on your list with Moto Maker — pretty cool!
The MotoMaker website makes it easy to customize a Moto X (provided by Motorola) smartphone! There are a multitude of ways you can style a personalized Moto X smartphone. You can add shiny finishes and vibrant colors to the back of your phone (I personally like blue), or go with a leather or wood-tone back for your phone. For extra pop, you can pick the trim color for your cell phone, too (e.g., you could go with traditional metallic silver or select something that would accent your personal design, like metallic royal blue). You can also add a Hula case in the color of your choice. (For my phone design, I picked a Hula case in teal.)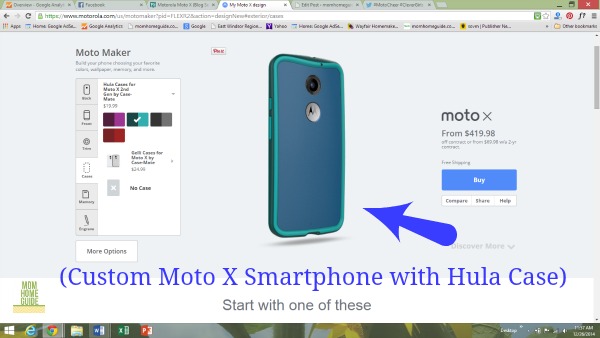 You could even name your Moto X phone and give it verbal commands! (Like, "Hey, Blue, what's the weather like today?") It even takes voice commands for apps like Facebook, Twitter, Google Play Music and Pandora. The phone even has a cool feature for someone like me, who doesn't always take the best pics. The Best Shot feature can take several photos before and after you snap a picture and will identify  your optimal shot. Pretty awesome!
I like how I can choose the greeting my phone will greet me with (before I even buy it) and pick a wallpaper to suit my style. (I like the beautiful cherry blossoms!)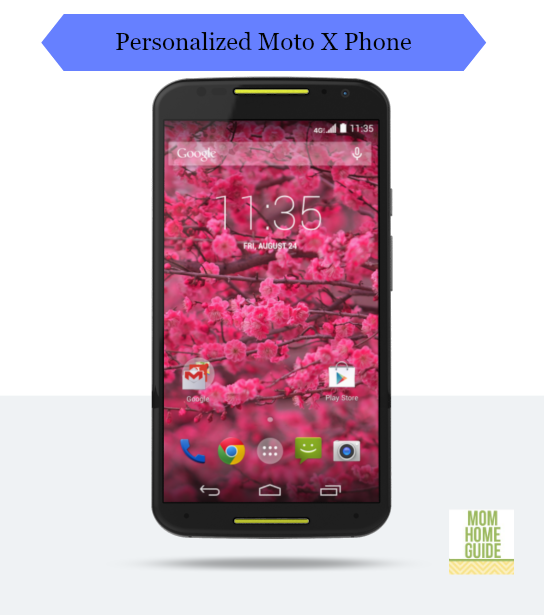 You can also opt to upgrade your phone's memory from 16G to 32G to 64G. I use my cellphone a ton (I use it to made videos and to take most of the photos of my family), so extra memory is always a good thing!
The Moto X is available for $99 with a two-year contract and $499 without a contract. If you choose the wood or leather backs for your phone, you would add $25.
I think the Moto X is a great gift for tweens like my kids — I like how I can engrave a name or words of my choice on the back and that it has a 5.2-inch HD display and a curved frame to fit easily in one's hand. I am always worrying that my kids will lose their phones, so the fact that the Moto X photos can be engraved (with their names) makes me feel a little less worried about their phones!
I was selected for this opportunity as a member of Clever Girls and the content and opinions expressed here are all my own.