This post contains Amazon affiliate links. Thanks to DecoArt for sponsoring this post. DecoArt provided the paint used for to paint my DIY bathroom mirror frame and to paint my bathroom vanity. These links cost you nothing, but may earn me a small commission that helps run this blog if you make a purchase. Thanks to DecoArt for helping sponsor this project by providing the paint used on my bathroom vanity.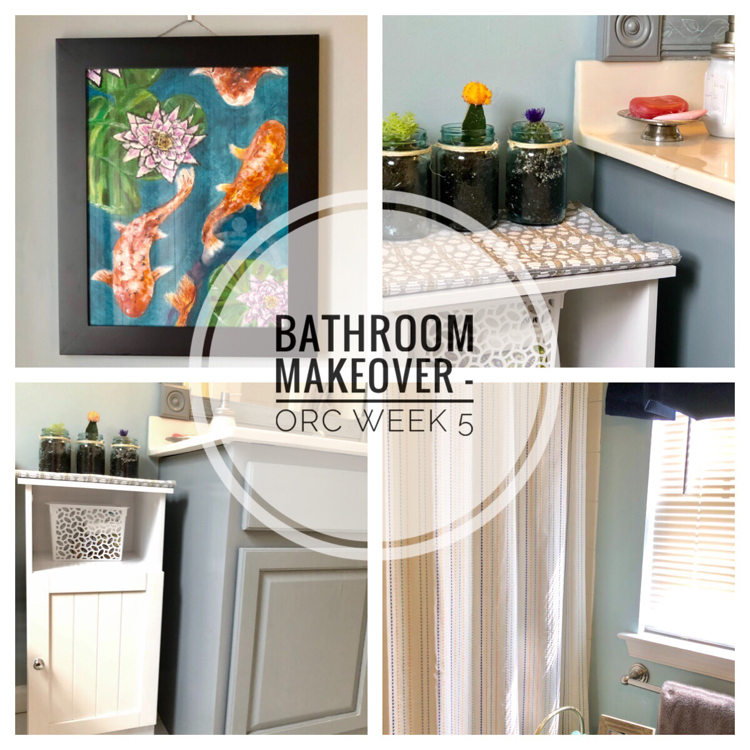 Welcome to the 5th week of One Room Challenge (ORC), hosted by Linda of Calling It Home! There is just one more week to go until the big reveal! If you haven't been following along, I've been working the past several weeks to give a new look to my teen daughters' hall bathroom.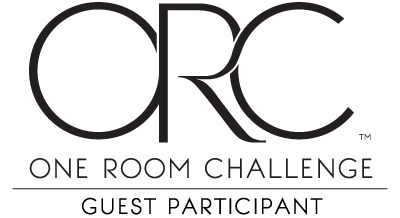 In case you missed my previous posts, this is what I have accomplished so far: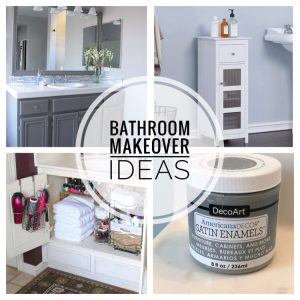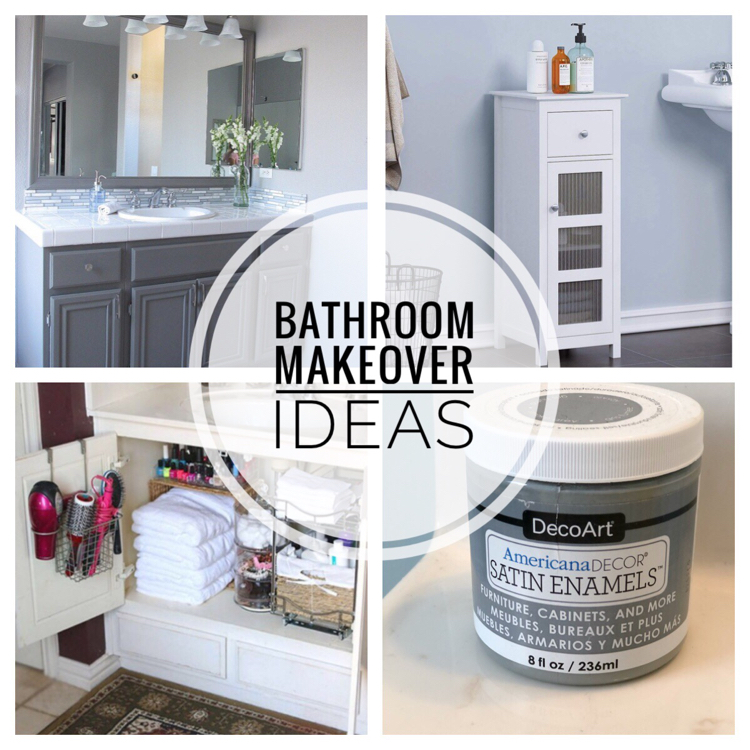 Bathroom Makeover Plans (One Room Challenge Week 1)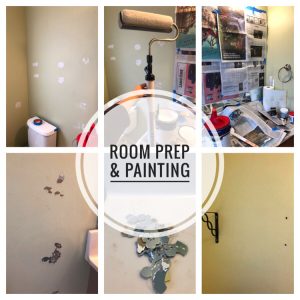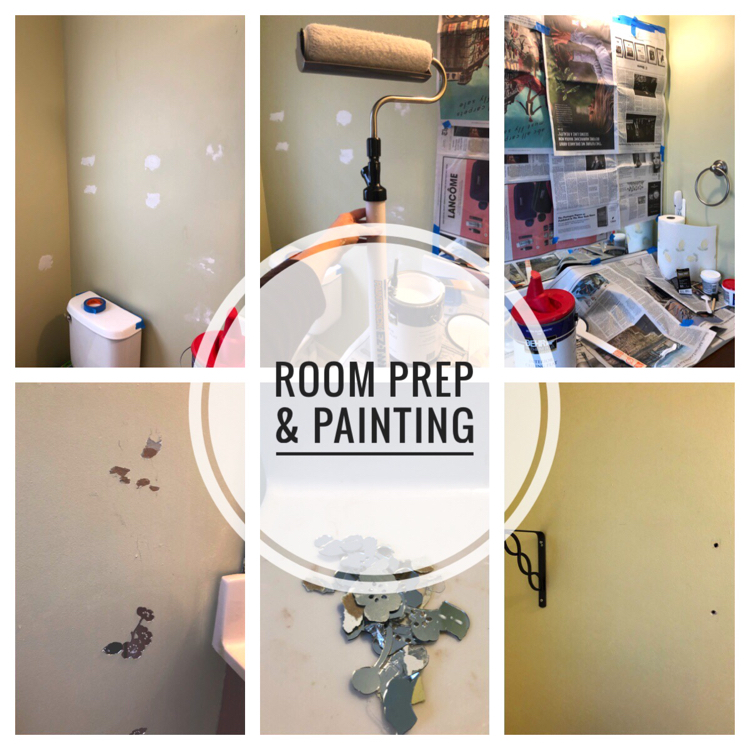 Room Prep and Painting – (One Room Challenge Week 2)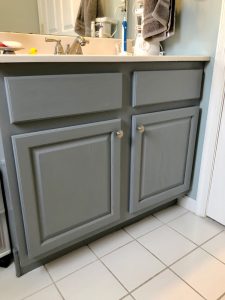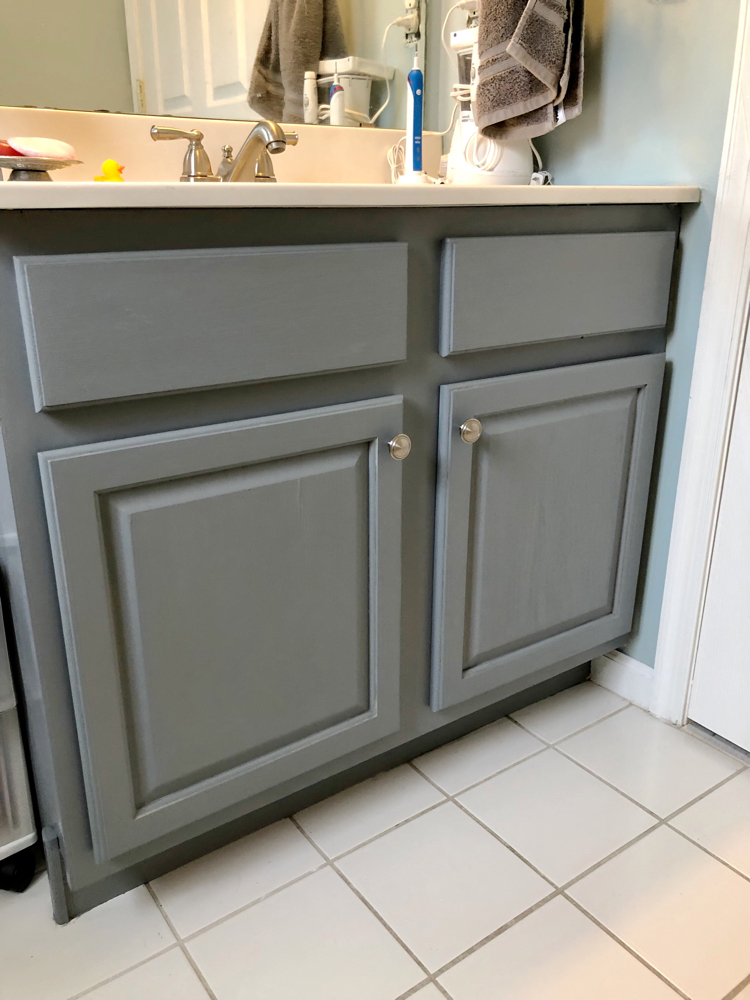 Painted Bathroom Vanity – (One Room Challenge Week 3)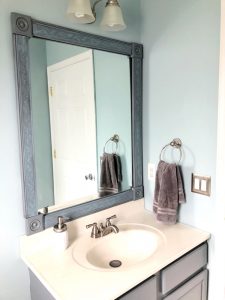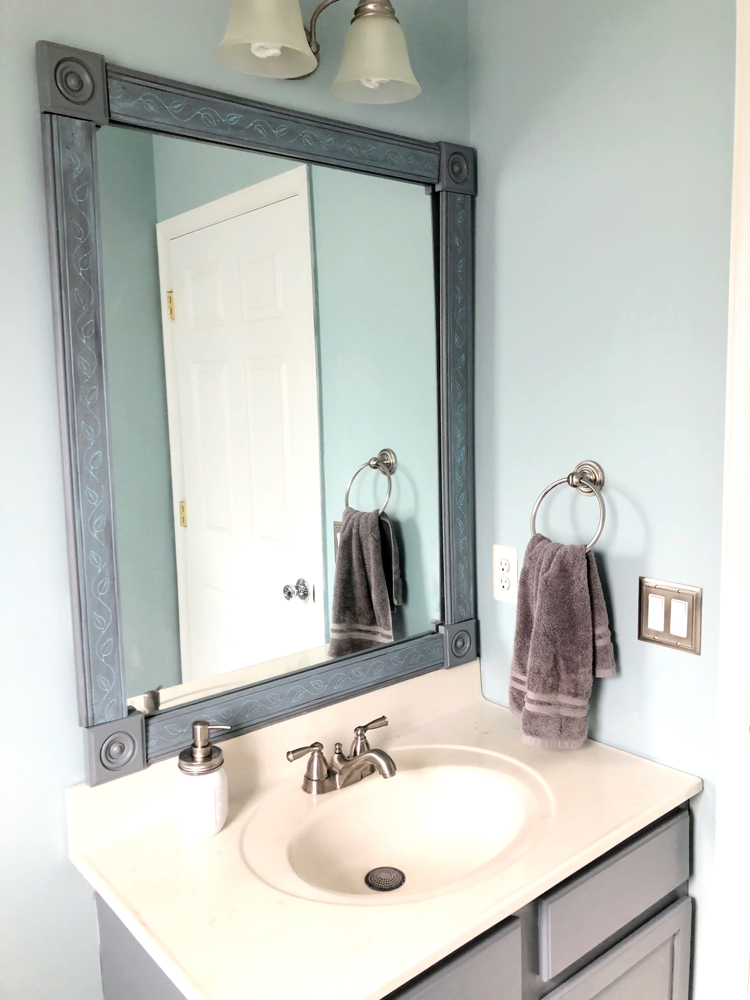 DIY Bathroom Mirror Frame – (One Room Challenge Week 4)
The below is what the bathroom looked like before I started my project: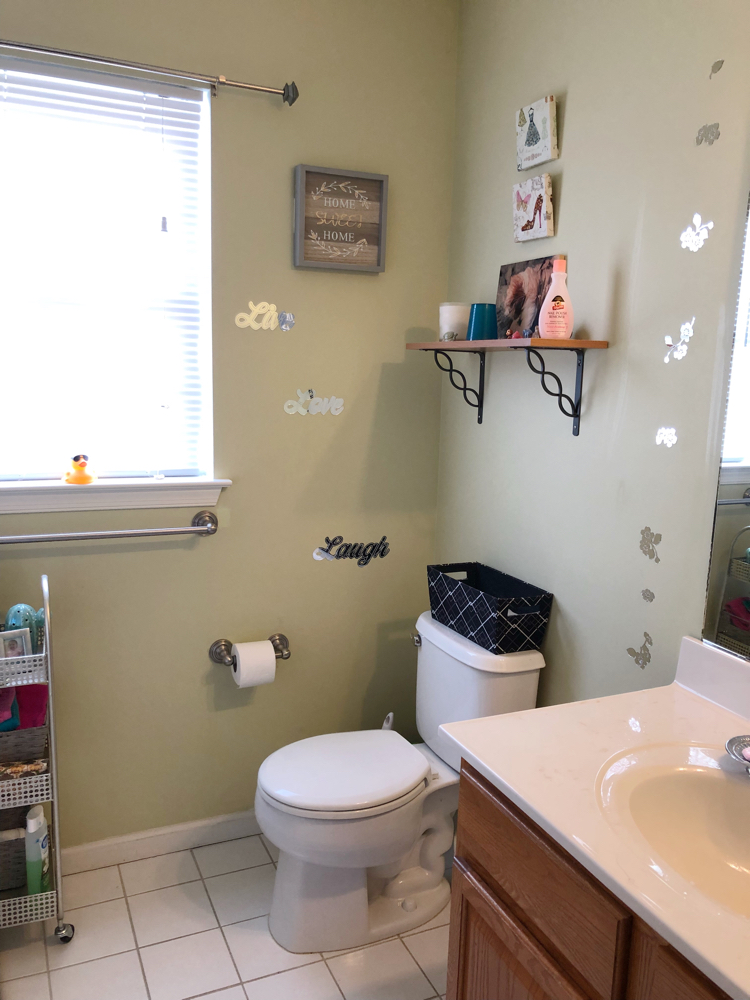 Earlier in this challenge, I painted the bathroom cabinet and the DIY bathroom mirror frame that I made for the space.
Thanks to DecoArt for being a sponsor of my spring 2019 guest participation in the One Room Challenge! I used DecoArt Americana Decor Satin Enamels Paint in Smoke Grey
for the bathroom cabinet and for my DIY bathroom mirror frame.

New Bathroom Decor
This week I focused on adding new decor to my daughters' bathroom. My daughters were on spring break, and one daughter offered to paint a custom painting for the room. We both decided we'd love a painting of koi fish in a serene pond for the space.
My daughter worked hard all week on her painting and completed it in time for this week's reveal! I think her painting is gorgeous — I am so proud of her! She sketched and painted the entire painting herself. The below is a closeup of her painting. The painting includes her favorite color combination, blue and orange. I really love the koi fish!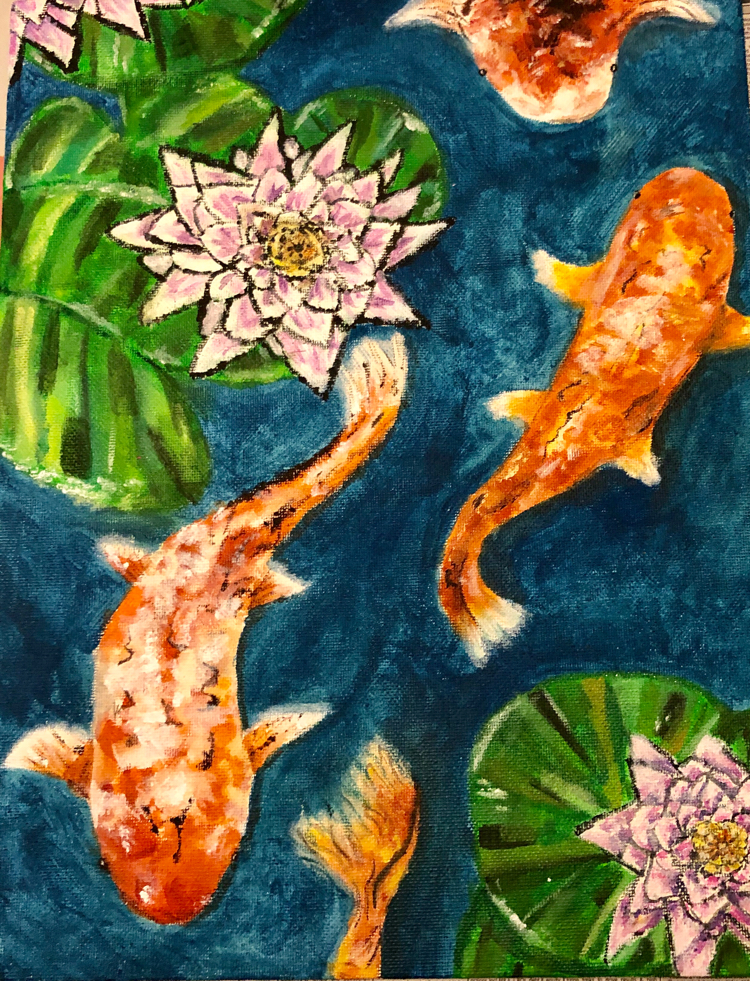 I found a beautiful black modern picture frame for her painting. Since the canvas she painted on is slim, I was able to fit the canvas in a 11×14 Black Gallery Picture Frame
.
The below is a closer look of my daughter's painting in the gallery frame: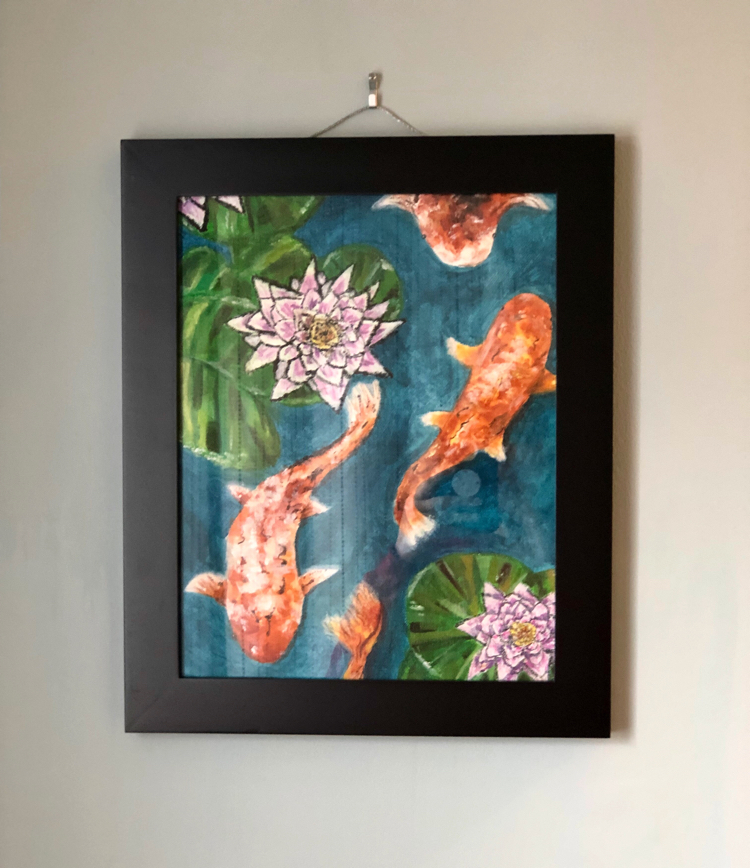 Bathroom Cabinet, Cacti & Succulents
My daughters needed some extra storage space, so I added a pretty white bathroom cabinet. My husband did the honors of putting it together for me! The cabinet has one open shelf and two hidden shelves inside the cabinet, to give them extra room for their personal bathroom products.
On top of the cabinet I added some cacti and succulents that I potted in pretty Aqua Blue Mason Jars
. I put some Glass Genstones
in the bottom of the mason jars and added Succulent and Cactus Soil Mix
. The shower in this bathroom isn't used too often, so hopefully the conditions in the bathroom will be dry enough for the succulents.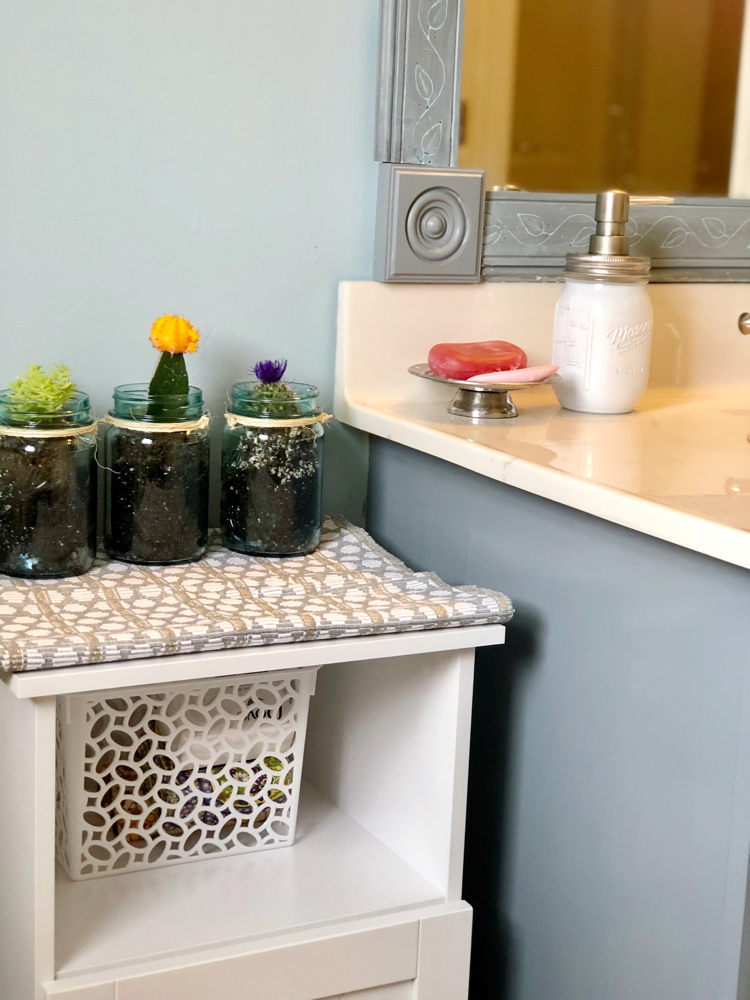 I returned a rolling cart to the space – we had added it to the room the last time we added new decor. We also hung a shower curtain that the girls picked out and a new window valance.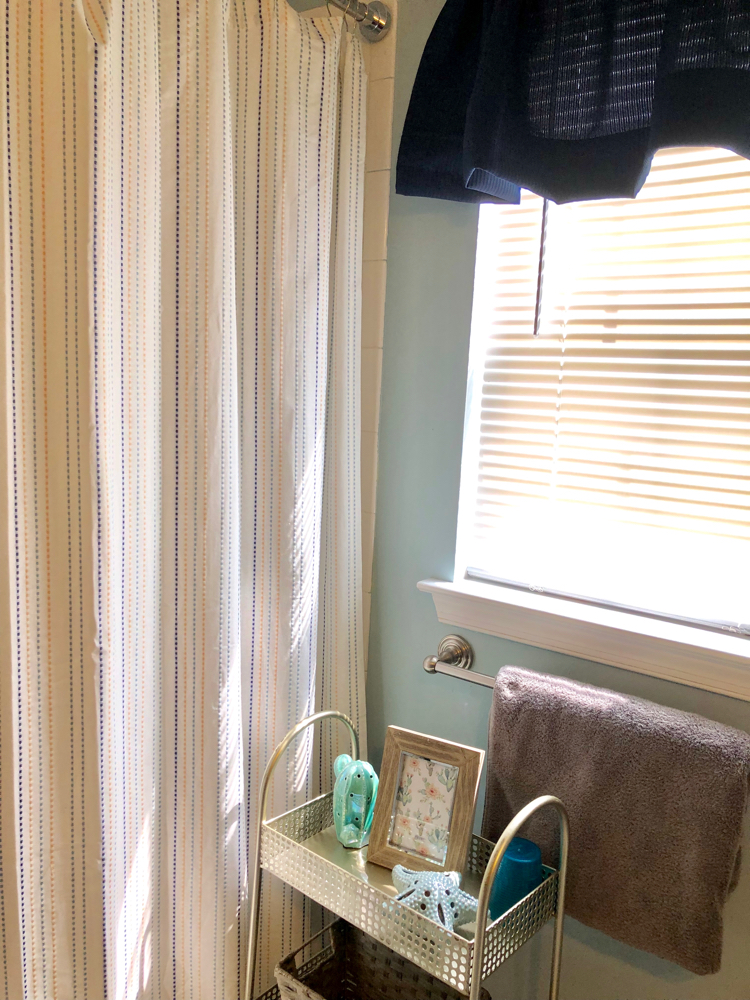 My daughters and I are happy with the bathroom makeover so far! I am working on adding some more organization to the space and possibly some art for the wall to the right of the window. Next week is the end of the One Room Challenge, so I need to get everything done by then!