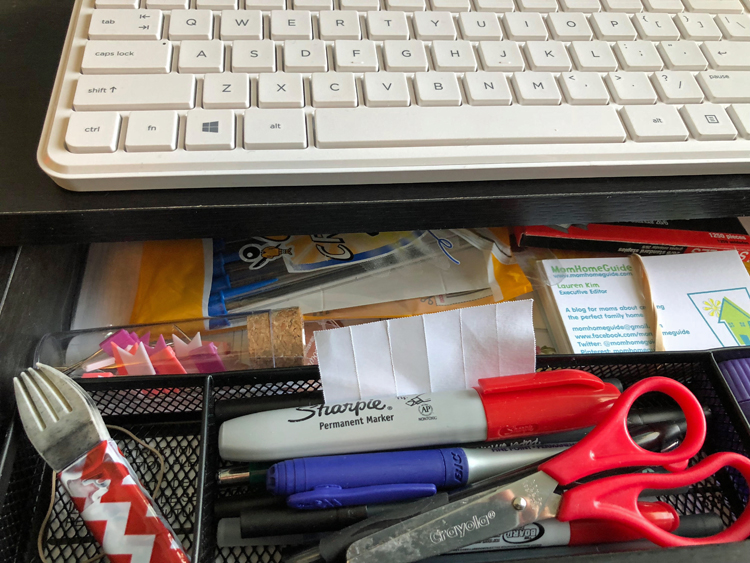 Hey, everyone! Today marks the second week of the Drawer Organization Blog Hop! I joined this blog hop because there are plenty of drawers in my house that needs organizing! (I'm not going to lie — my whole house needs organizing!)
For the entire month of April, 12 bloggers will be sharing the process of cleaning and organizing drawers around our homes each week.
We kicked off the first week in the kitchen! This week we have been doing drawer organization in our office, craft and living Rooms. My living room doesn't have any drawers, so I decided to tackle the desk drawer in my office/craft room!
Be sure to check out my friends' office/craft room and living room drawer organization projects this week, too!
My Pinterventures • Intelligent Domestications
DIY Adulation • Domestically Creative • Cookies Coffee and Crafts
Domestic Deadline • Across the Boulevard • Michelle James Designs
Mom Home Guide • Centsably Creative • Olives & Okra
Office/Craft Room Drawer Organization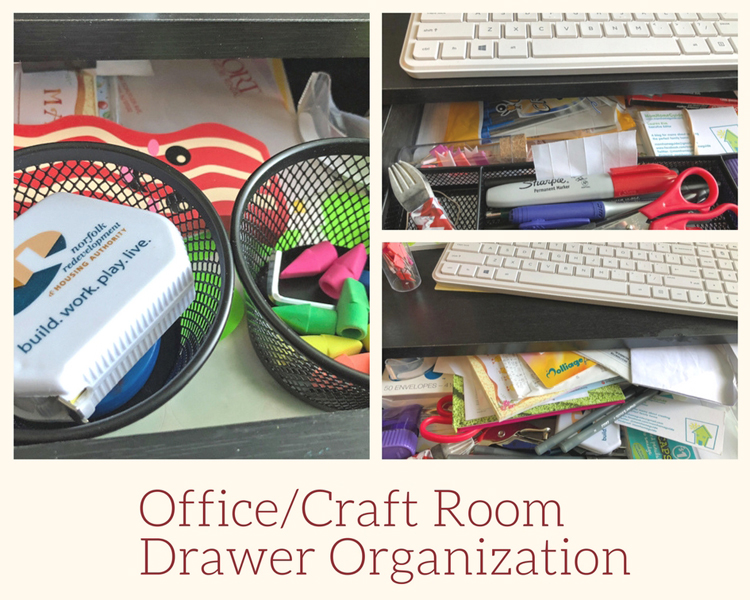 I actually don't go into my office/craft room drawer too often — so it became quite messy!
My home office/craft room just has one drawer, and the drawer isn't very deep, so my organizing project was not too difficult. I found these tactics useful when tackling my quite messy office drawer.
Empty the drawer. Empty the contents of the drawer into a box or plastic bag. I find that it's easier to start with an empty drawer to get the job done more easily.
Have a trash can ready.Throw out or donate no longer needed items. I found several items in my office drawer that I no longer need, like old receipts and business cards. The trash went into the trash can. I didn't have anything to donate from this project, but I regularly donate usable items that I no longer need.
Get inexpensive containers or dividers. Use these containers to divide and separate the items in your drawer so they can be located easily. I used the same kind of dollar store black mesh bins in my office drawer that I used in my home's kitchen drawer.
Relocate items that don't belong in the drawer. Take things out of the drawer that are best stored elsewhere. For instance, a friend had given me a desktop "zen garden" two Christmases ago. The "garden" now sits on my desk. The mini garden came with a book on zen gardening — I decided that the hall bookcase in my home would be a better place to keep the book.
Clean. Before returning items to the drawer, clean the inside of the drawer with a regular purpose cleaner.
Sort like items together. Use the bins to group similar items in your drawer. For instance, I used one bin in my office drawer for pencil erasers. I have separate compartments for business cards, pens, etc.
While my organized drawer doesn't look picture-perfect organized, it's now a lot neater. I can now find what I need in my drawer
Please visit the other host blogs below for more Office, Craft and Living Room Drawer Organization Ideas.
Also, check back next Wednesday, when my fellow bloggers and I all share how we organized our bathroom drawers!