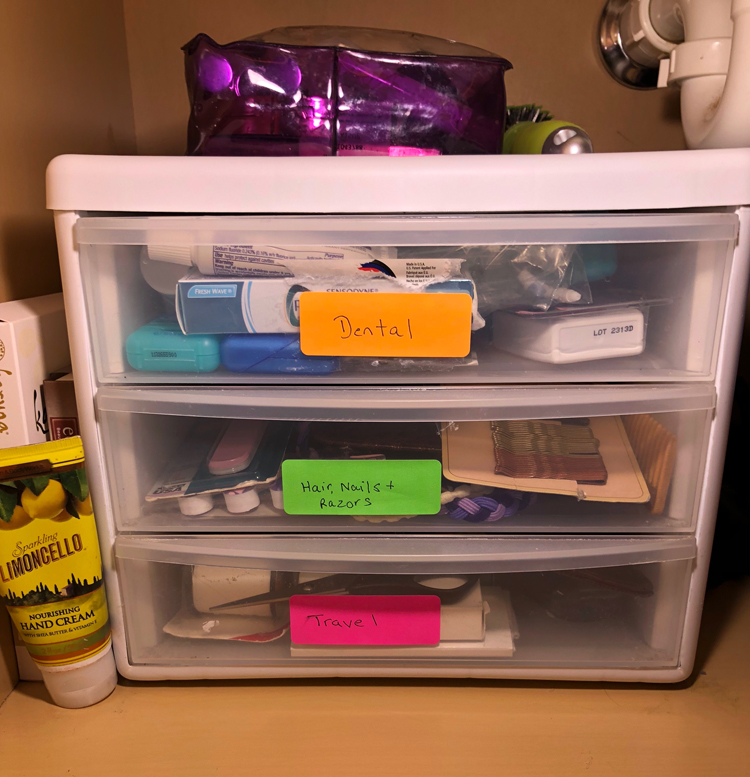 Welcome to the Drawer Organization Blog Hop! For the entire month of April, several bloggers and I will be sharing the process of cleaning and organizing drawers in our homes each week. This week we're focusing on bathroom drawers!
My Pinterventures • Intelligent Domestications
DIY Adulation • Domestically Creative • Cookies Coffee and Crafts
Domestic Deadline • Across the Boulevard •
Mom Home Guide • Creative Cynchronicity •
Centsably Creative • Fearlessly Creative Mammas
We are technically only supposed to organize one drawer, but I organized a drawer unit that has three drawers in it. (Oops!) Also, my bathroom doesn't really have drawers. It has a double vanity with storage underneath and a narrow linen closet that is filled with towels and sheets. I've been storing things in a plastic storage unit with three drawers. I just had the unit sitting on the floor of the master bathroom. The drawers were quite messy and disorganized! There was no rhyme or reason to what was stored there.
Organize to Save Money
This is the third week of our drawer blog hop — so far, I've organized my home's kitchen "junk" drawer and the drawer in my home's office/craft room. One thing has become apparent to me during this blog hop. Organizing a home takes a lot of time and effort, but not being organized can cost money. As I have been organizing, I've been discovering that my family owns duplicates of several items — we just didn't know we did because we couldn't find them! E.g., when I organized my bathroom "drawers," I discovered that I have enough toothbrushes to last my family for at least a year!
I also found several sewing kits (the kind you find in hotel bathrooms) while organizing my bathroom drawers. (I admit — I like to take the shampoo samples, etc., from my room.) After I organized the drawers, I used one of those sewing kits to repair some doggy toys that my pup had torn open. Getting organized can be a useful thing!
"Organizing a home takes a lot of time and effort, but not being organized can cost money."
How to Organize a Drawer
I've found these steps to be useful when organizing a drawer:
Empty the drawer. Empty the contents of the drawer into a box or plastic bag. I find that it's easier to start with an empty drawer to get the job done more easily.
Have a trash can ready.Throw out or recycle no longer needed items. For my bathroom drawers, I wound up throwing out a lot of stuff, like expired toothpaste samples (from the dentist) and old contact lens containers and solution. (Sadly, I can't wear contacts anymore.) I also recycled mini plastic hair clips my daughters wore as tots.
Relocate items that don't belong in the drawer. Take things out of the drawer that are best stored elsewhere and store them in their correct places.
Clean. Before returning items to the drawer, clean the inside of the drawer with a regular purpose cleaner or soap and water.
Sort like items together. Group similar items in your drawer.
Bathroom Drawer Organization
As I went through my bathroom's drawers, I discovered a lot of dental supplies — toothbrushes, toothpaste, mini bottles of mouthwash and dental floss. I grouped those items together in the top "dental" drawer.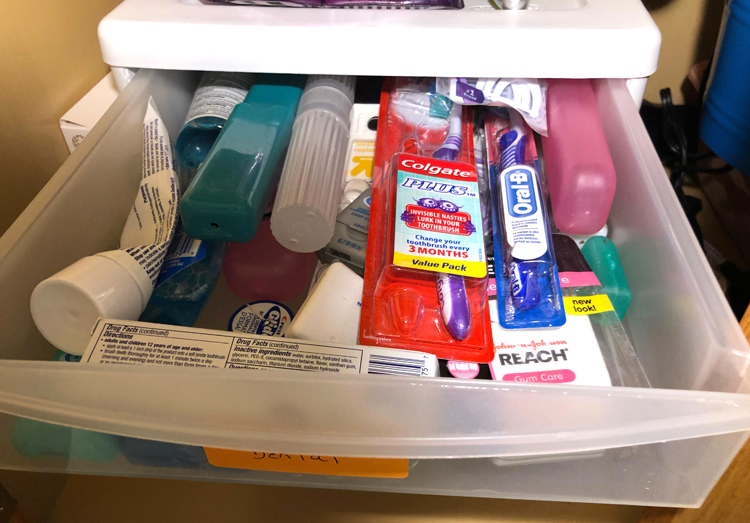 I also found a lot of bobby pins, plastic disposable razors (I might not need to buy any a while), nail files and the like. I grouped them in the middle drawer and designated that drawer as the "Hair, Nails and Razors" drawer.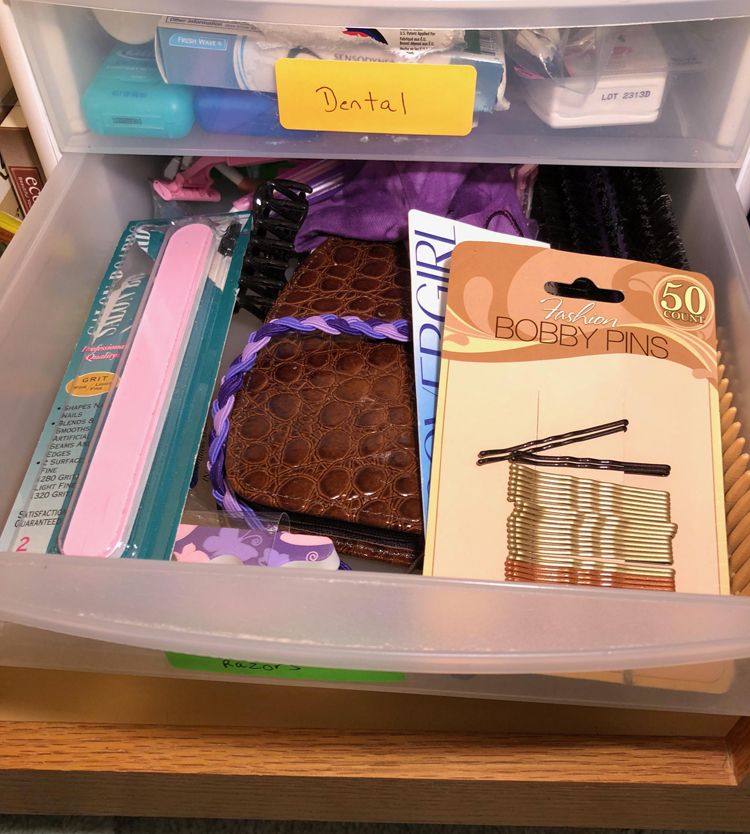 Finally, I grouped travel sized shampoos, conditioners, and all those mini sewing kits in one "Travel" drawer.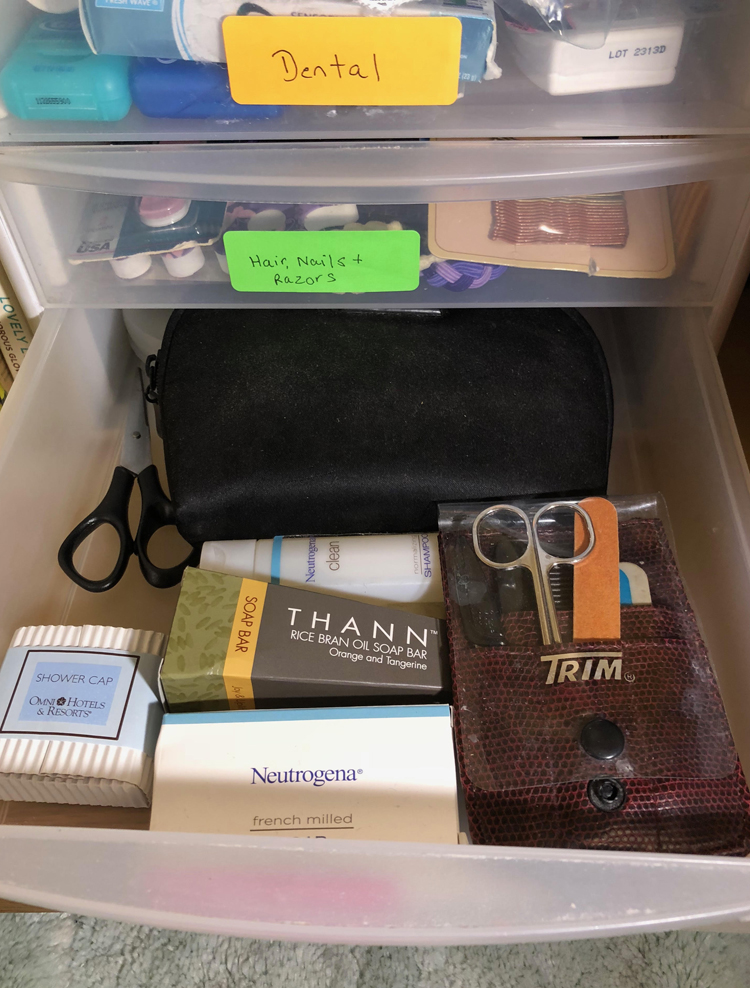 I made room for the stack of drawers under one of the bathroom sinks and placed it there. There is still a lot of organizing to be done in my home's master bathroom, but at least one little section of it is now organized! I am hoping to organize the linen closet within the next few weeks, and hope to be sharing the results of that soon.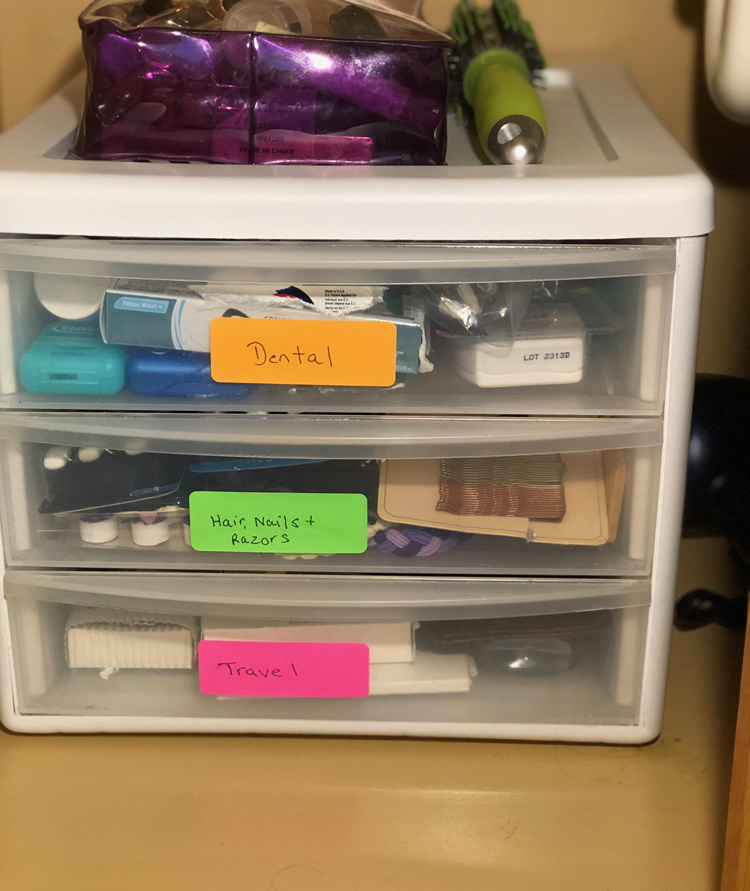 For more bathroom drawer organization ideas, visit the other host blogs below. Also check back next Wednesday to see how my blogging friends and I organized our bedroom drawers.