Welcome to the Drawer Organization Blog Hop! For the entire month of April, several bloggers and I have been sharing the process of cleaning and organizing drawers in our homes each week. This week — our final week — we're focusing on bedroom drawers! Be sure to visit my previous drawer organization posts: check out my organized kitchen junk drawer, home office/craft room drawer and bathroom drawers!
I can't wait to see how my blogger friends have organized their bedroom drawers! I've found that my blogging friends have amazing organizing talent! I've picked up great organizing tips from my blogging friends, and hope to keep organizing my house after this blog hop concludes! Be sure to check out my friends' bedroom drawer organizing posts:
My Pinterventures • Intelligent Domestications
DIY Adulation • Domestically Creative • Cookies Coffee and Crafts
Domestic Deadline • Across the Boulevard • Michelle James Designs
Mom Home Guide • Olives & Okra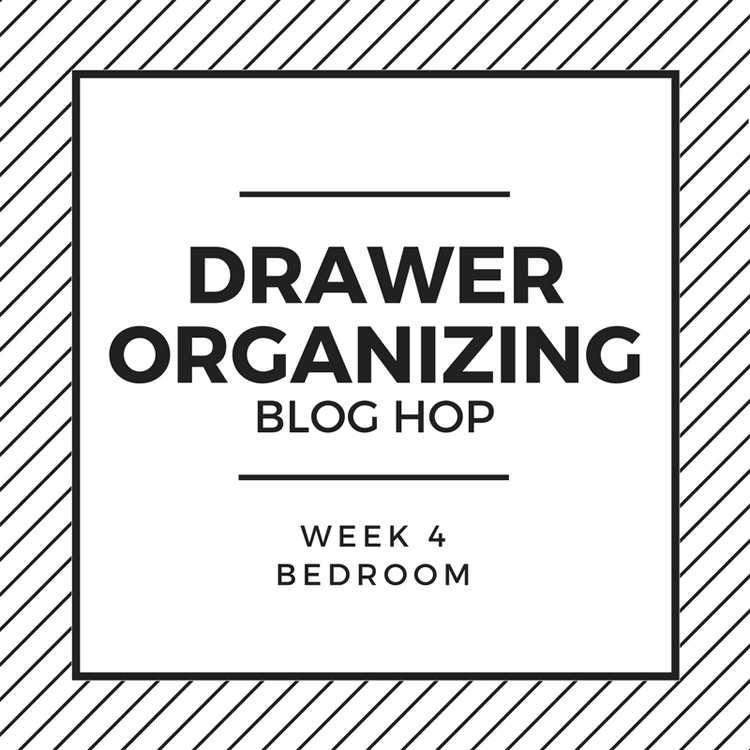 "I'm convinced there is a sock gremlin in my home."
I am convinced that there is a sock gremlin living in my home. Whenever I put a bunch of socks in the wash, we always wind up with at least a few unmatched socks after the cycle is done! It can be infuriating. So, for my own sock drawer, I've been stuffing it with socks — whether I had complete matches or not. After a while, I discovered that I had quite a collection of unmatched socks in my drawer! lol
Organizing a Sock Drawer
Empty and Clean – To organize my sock drawer, the first thing I did was remove everything from the drawer. I then used an all-purpose cleaner to wipe off the base of the drawer. I find it's best to start with a clean slate when organizing.
Determine What to Keep and What to Toss: To make my job of matching up my socks easier, I tossed socks that were in disrepair, ones that had holes or were saggy, and ones I no longer wanted to wear. There were also several pairs of tights and pantyhose in my sock drawer. As I don't much wear pantyhose anymore, I tossed the ones I've already worn and just kept a few brand-new ones that haven't been worn. I put everything I didn't want anymore in a trash bag. You might have noticed I have three pairs of "hospital socks" in my drawer. They are from my fairly recent wrist and bunion surgeries and my lumpectomy. The socks aren't the prettiest, but I kept them, since they are comfy socks to sleep in.
Relocate Items that Don't Belong: Over the years, my sock drawer has been a place where I stash mementos and odds and ends. It also was a location where I stashed baby teeth after the "tooth fairy" made a visit to my twins! I have a box in my closet where I keep mementos, so I relocated the cute notes from my kids and envelopes of baby teeth there. I also found a few usable items in the drawer I no longer want to keep, so I put them in a bag to donate to charity.
Organize Socks by Color and Type – To organize my drawer, I used some inexpensive plastic bins that I found at a local store. I then used the bins to put socks of similar type and color together.
There was some room left after I organized my sock drawer, so I used a small section of the drawer to store luggage tags and locks, as I will be traveling to the Haven blog conference in July and will be needing them soon (The luggage tags and locks were already stored in my sock drawer.)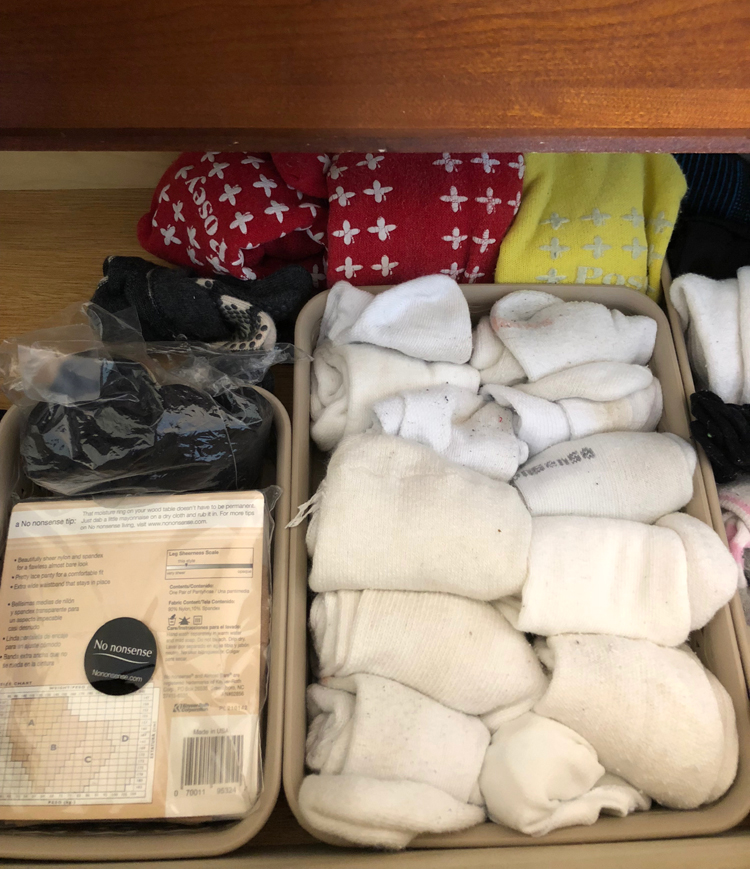 I still have some socks in laundry baskets to sort, so my drawer might fill up more in a bit. I hope to continue my new system of letting go of old "past their prime" socks, so my drawer can stay neat and organized. (I tend to hold on to stuff just "in case" I need it.) But, there is not use to having lots and lots of socks if they don't look good, are uncomfortable or are missing their mates. Having less can be more when it comes to having a manageable sock drawer!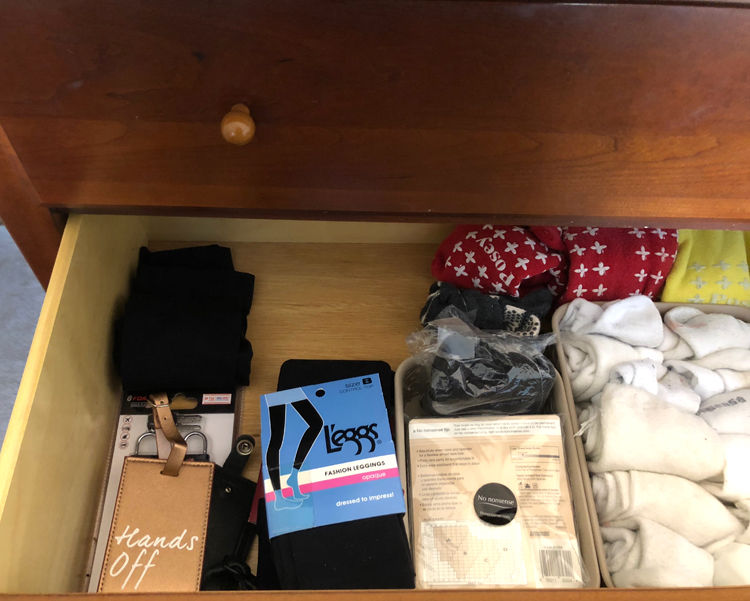 I am looking forward to seeing my blogging friends' drawer organization projects. I'm wondering how many other people tackled their sock drawers this week!