This shop has been compensated by Collective Bias, Inc. and its advertiser. All opinions are mine alone. #OrganizeWithZiplocSpaceBags #CollectiveBias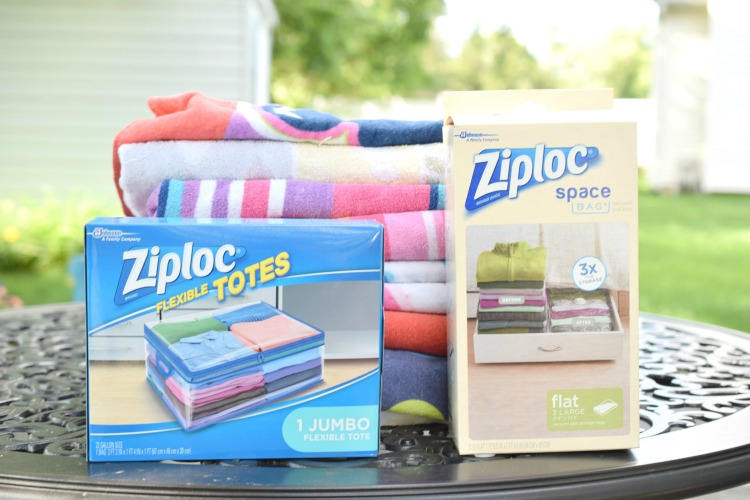 This summer is a big one for my family. My twin daughters will be going to high school in the fall. They are too old for the summer camp they used to attend, and will be home all summer. I'm looking forward to enjoying some family time. I don't want clutter problems in our home to ruin that. That's where my new Ziploc® Flexible Totes Jumbo and Ziploc® Space Bags® come into play.
Beach Towels Galore
My twin daughters' birthday falls around the Memorial Day holiday. Because their birthday is so close to summer, they've been gifted with many beach towels over the years. I've given a few away, but our stash of beach towels threatens to overrun our linen closet! Even if we didn't have so many beach towels, just a few beach towels could pose a storage problem. As a rule, beach towels are extra bulky. Just a few beach towels take up significant space on a shelf.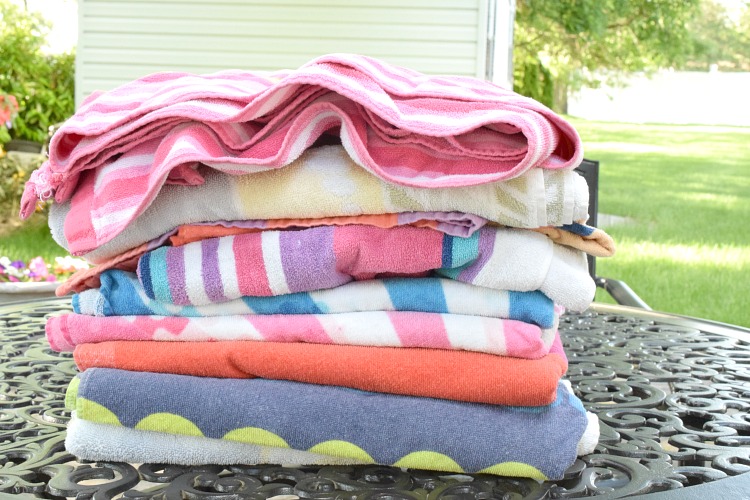 I would give more away, but this summer my family and I have a membership at the community pool. We are looking forward to spending lots of time there! I'm sure those beach towels will come in handy. I need to store those towels efficiently.
One weekend I decided to get my family's beach towels under control. I picked up a box of Ziploc® Space Bag® Jumbo Flat and one box of Ziploc® Flexible Totes Jumbo. The first box had three Ziploc® Space Bags® in it.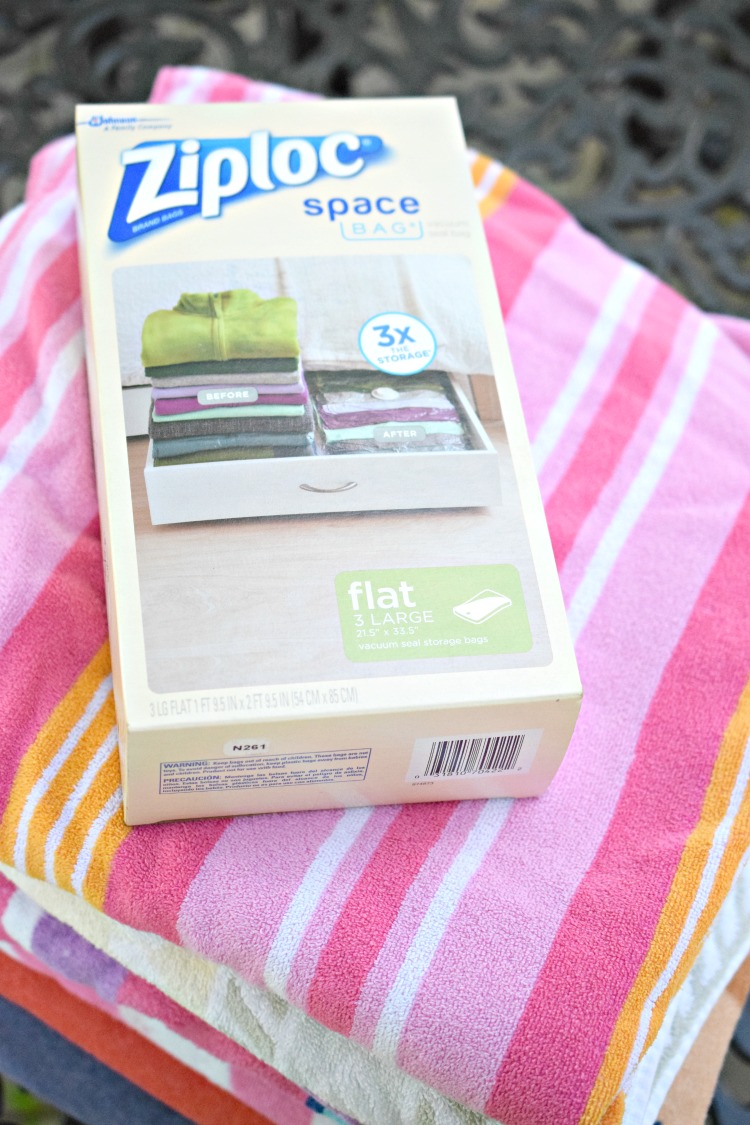 The other had one Ziploc® Flexible Tote Jumbo. I was excited to see what the bags could do for my jumbled and messy linen closet.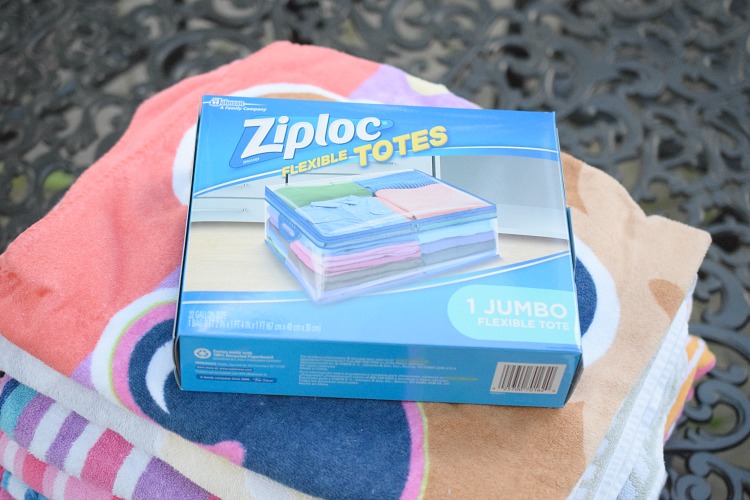 How to Use a Ziploc
®

Space Bag

®

I put my beach towels into two Ziploc® Space Bags®. (I was able to get five beach towels into one bag.) Then all I had to do was lift the plastic flap to the bag and use my vacuum's hose attachment to suck the air out. Once the air was removed, I closed the cap and slid the slider across the Double Zipper on the top of the bag shut. (The directions are printed right on the bag.)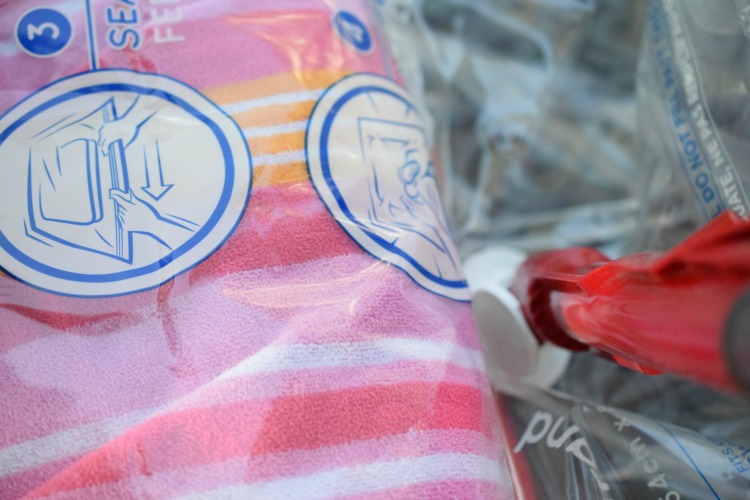 Vacuuming the air out of the bags really reduced the height and width of the bags and their contents. (Compared to the towels' uncompressed storage volume.)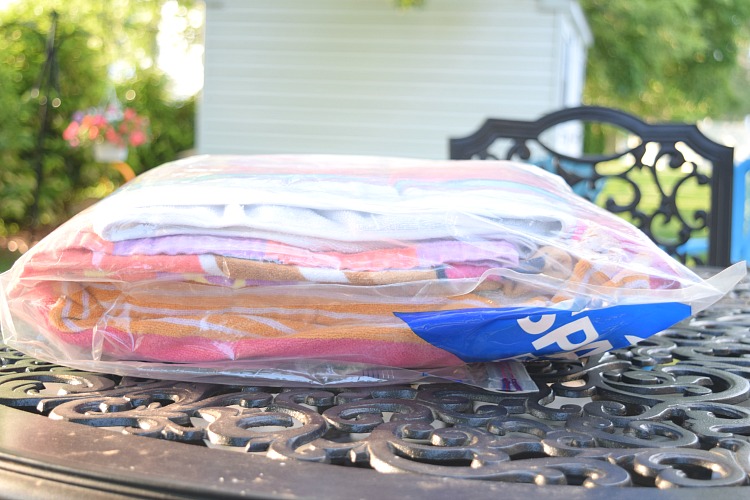 A plus to the Ziploc® Space Bags® is that they provide three times the storage as compared to uncompressed storage volume. With the bags, I can squeeze more beach towels into my linen closet! The bags protect against bugs, moths, dirt, mildew and odors, which make them ideal for storing seasonal items. The bags have a new film with shield technology that offers the toughest protection, too.
Organizing a Linen Closet
After I compacted the beach towels into a manageable size with the Ziploc® Space Bags®, I went to work on the linen closet. (Take a look at my "before" photo below.) Yikes!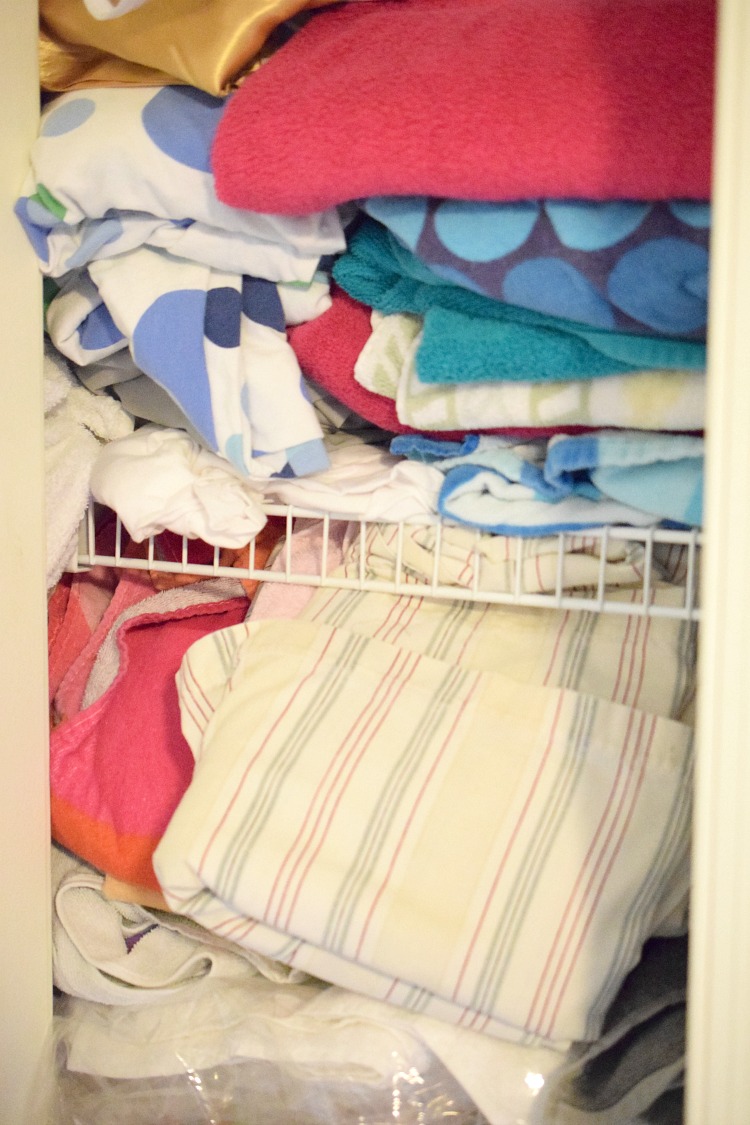 I used the extra Ziploc® Space Bag® and some older Ziploc® Space Bags® that I had on hand to organize my linen closet. (Ziploc® Space Bags® are reusable.) In the closet, I have my kids' old baby sheets and blankets that I'm saving for sentimental reasons. I also have some linens we don't use much for a bed in the guest room. I put all those items into Ziploc® Space Bags® and vacuumed out the air. I placed the bags on the very top shelf of the linen closet. With the extra space, I was able to store some holiday throw pillows that I have made, too.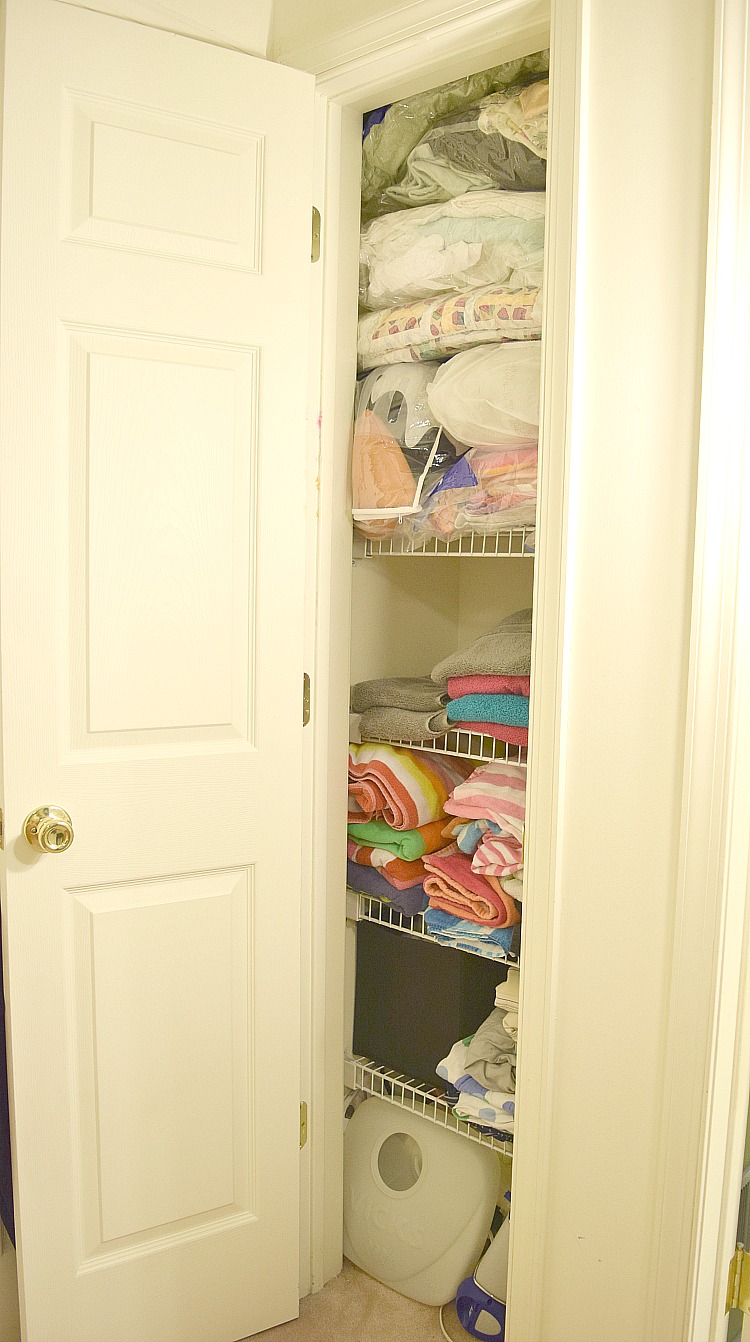 I put the beach-towel filled Ziploc® Space Bags® on one shelf of the closet. After that, I still had a free shelf for my daughters' bath towels, with some room to spare! So I put some beach towels from another closet in the linen closet. We have A LOT of beach towels!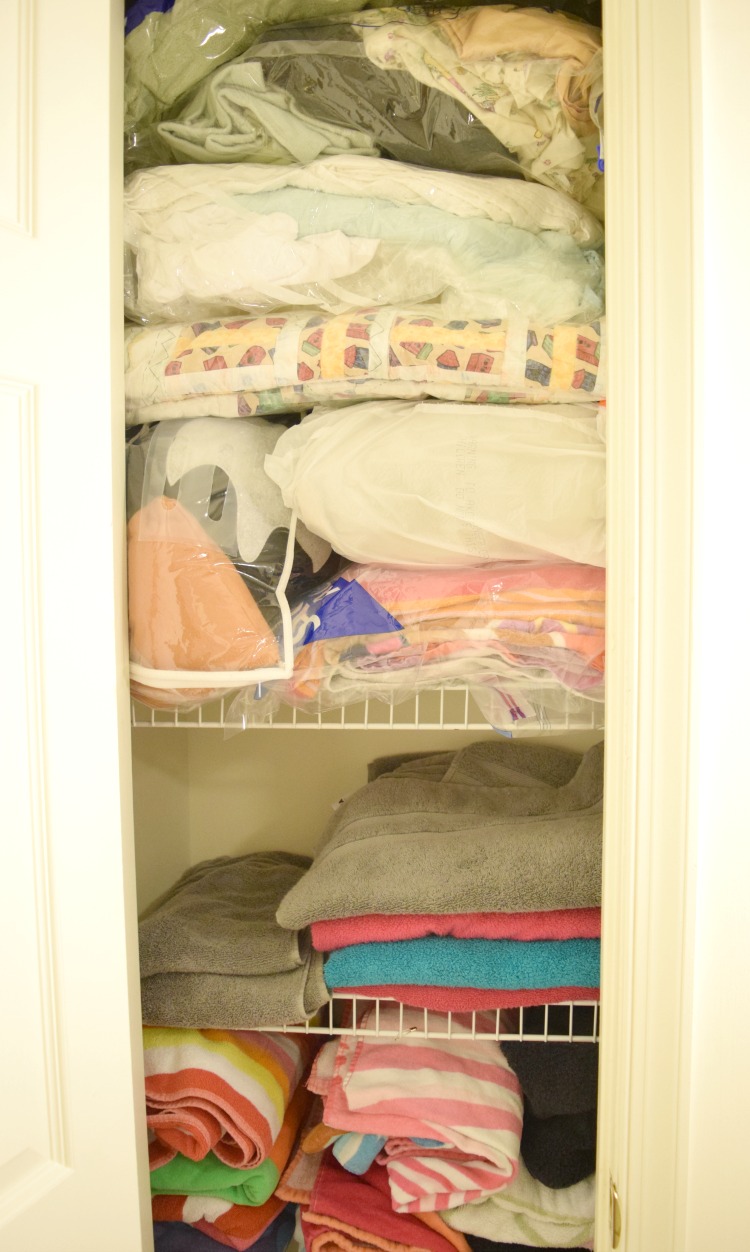 I even have extra beach towels stored on a shelf in my bedroom closet, so I stored those in my new Ziploc® Flexible Tote Jumbo. I can keep the tote in our backyard shed, and my family and I can grab a few towels if we still need to dry off when we return from the swim club.
I got my Ziploc® brand storage bags from my local Lowe's. I found the bags in the closet and storage section of the store.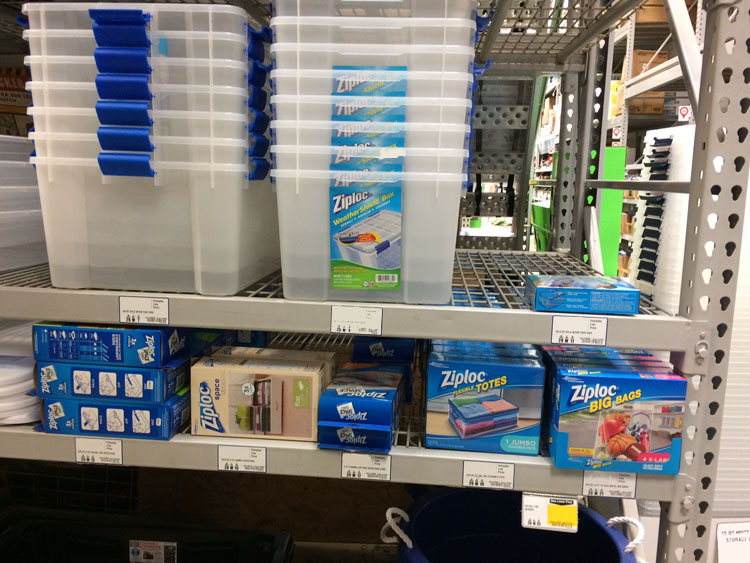 I hope to head back to Lowe's soon for some more Ziploc® brand storage solutions – I need to organize some more closets! (The bags would be perfect for storing away winter clothing.)
Have you used Ziploc® Space Bags® in your home? I'd love to hear about it!