* This post is sponsored by Kimberly-Clark and The Motherhood. #SpringClean16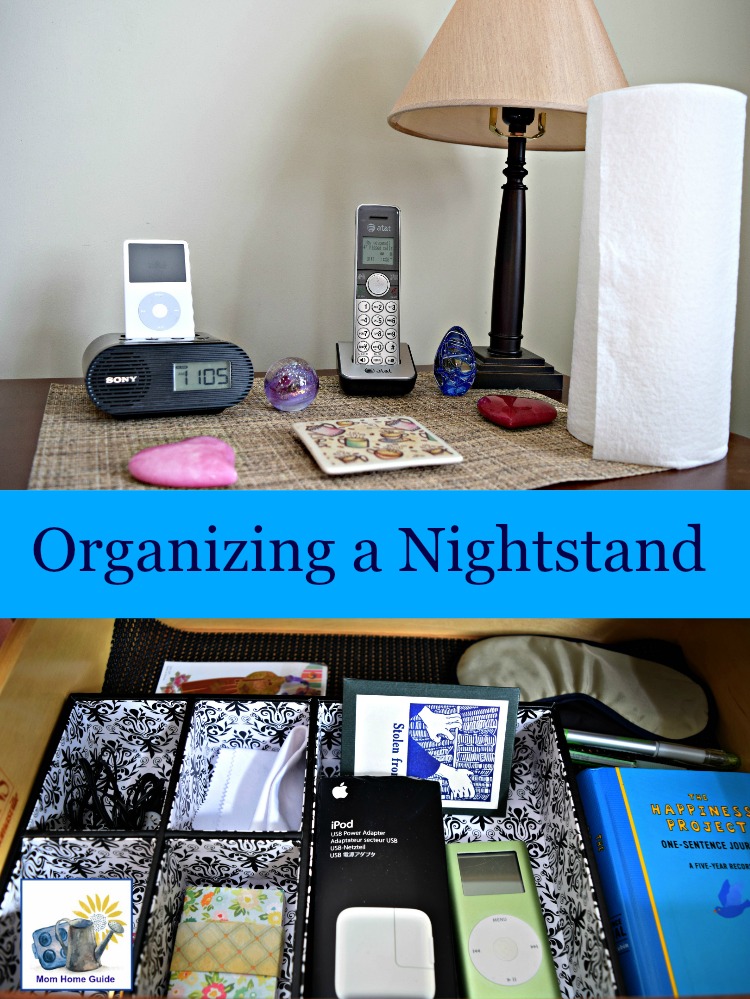 With spring around the corner, I've been cleaning and decorating my home to get my home spring ready! I re-decorated my home's living room for spring, and this week, I decided to do some much-needed cleaning and organizing in the master bedroom, particularly the nightstand by my side of the bed!
Declutter Nightstand
My nightstand tends to be a junk drawer — I toss things in there that I don't want to lose track of, or things that I need to tackle at some point. But eventually, things tend to get forgotten and linger in there forever!
Since a master bedroom should be a welcoming oasis, it doesn't make sense to have a stressful and messy junk drawer next to the bed! A nightstand drawer should be filled with necessities, or things to help you relax at the end of the day. I decided it was time to clean out that nightstand drawer. Boy, did it need cleaning! This is the before picture of my nightstand drawer. OMG!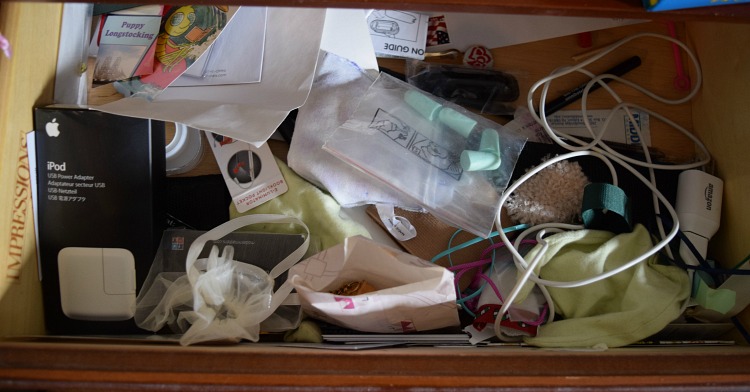 I went throught the nightstand and looked through all the junk. I relocated extra pens and pencils, no-longer needed chargers, etc., to my home office. I kept a plastic garage bag next to me for items I no longer need.
Dust with Viva®
I used a cleaning spray and a Viva® Big Roll Vantage towel to scrub the inside of my nightstand drawer, which has an unfinished wood interior. Viva® Vantage has a scrubby, cloth-like, strong texture that is good for scrubbing dust off the interior of the drawer.
Once the inside of the drawer was cleaned, I cut a piece of black drawer liner to size. The liner has a non-adhesive grip and can be machine or hand-washed, so it's perfect for protecting the inside of my drawer.
I then worked on decluttering and dusting the surface of my nightstand. I tend to pile books and magazines on my nightstand. So, I made a run to the library to drop off overdue books.
I then dusted the nightstand. My Viva® towel was quite helpful in getting the surface of my nightstand dust-free!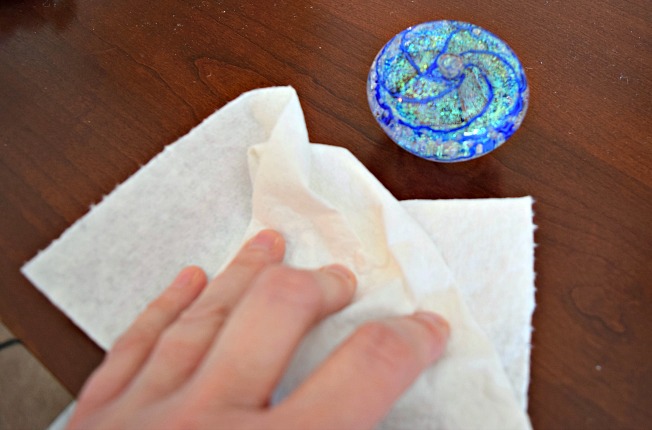 The paper towel has a soft, durable cloth-like and smooth texture, so I don't have to worry about it harming the polished surface of my night table.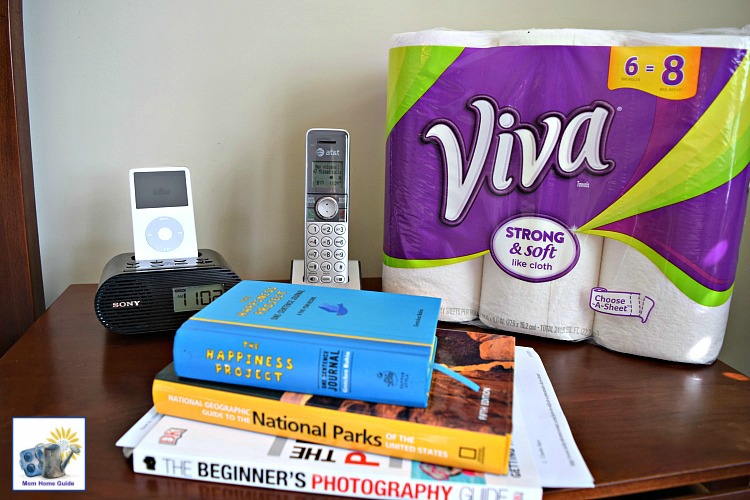 Once the surface of the my night table was cleared off and dusted, I added a grass-mat looking placemat to the top of the nightstand. The placemat looks nice, will protect the nightstand from dust, and will also help to protect the nightstand against spills, since I like to keep a glass of water on my bedside table at night.
Nightstand Essentials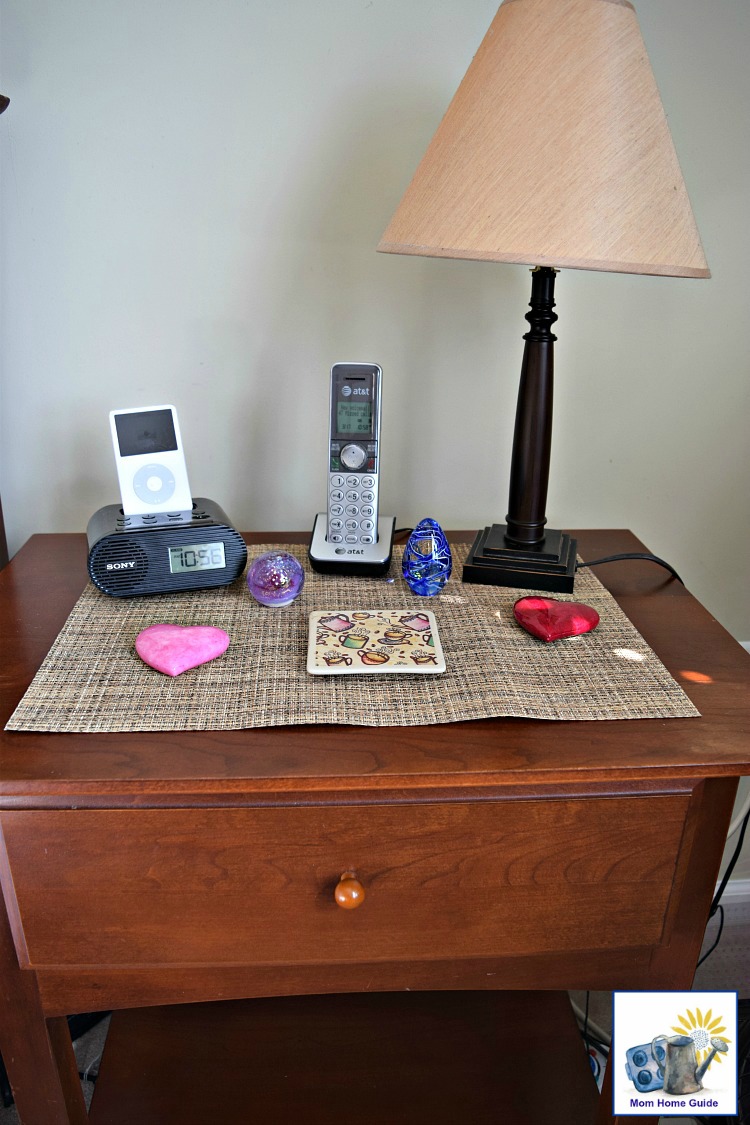 I then added just a few essential and decorative items to my nightstand. I added my alarm clock, landline phone, lamp and a coaster to hold a glass of water. I also set out some paperweights. My husband bought me a paperweight on our honeymoon, and has been gifting them to me ever since! The two heart paperweights are from my two daughters.
I then organized the inside of my drawer. I added a cute drawer organizer that I got for just $5.99 at a discount store. I added items I am likely to want bedside. In the drawer I placed The Happiness Project 5-Year Journal and two pens. I included my old Ipod and charger, earbuds for listening to music, mini notebooks, bookmarks, a microfiber cloth to clean my eyeglasses, and a sleep mask for nights when my husband stays up late reading!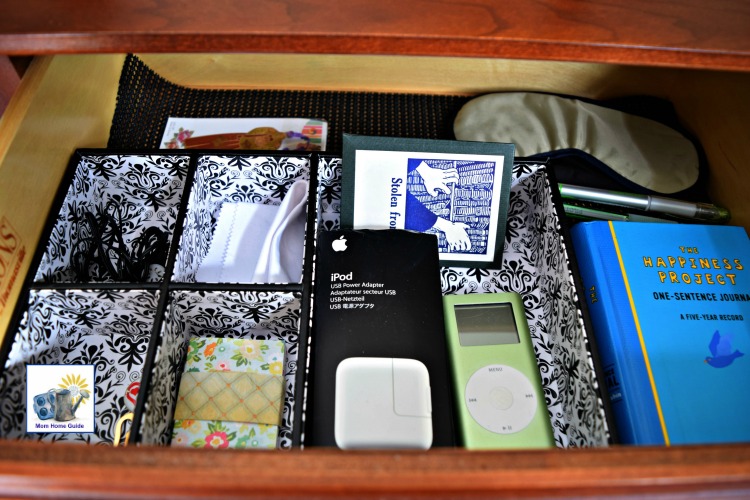 One-Stop Shopping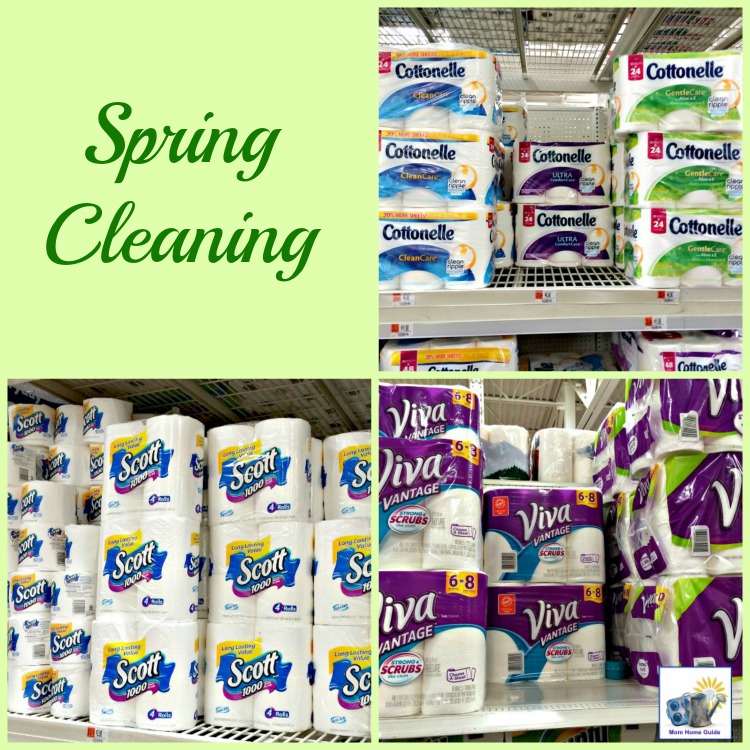 I purchased my Viva® Big Roll Towels and Viva® Big Roll Vantage towels at my local Walmart. While at Walmart, I also picked up some Cottonelle® Toilet Paper Double Rolls (Clean Care and Ultra Comfort Care) and Scott® 1000 Bathroom Tissue. I am going to work on stocking and organizing my master bathroom's linen closet next! I often find good deals on paper products at Walmart. I'll probably head back to Walmart for more cleaning supplies when I start organizing and cleaning my linen closet!
This project was shared at Home and Garden Thursday, The Pin Junkie Pin Party and the Creative Corner Link Up Party