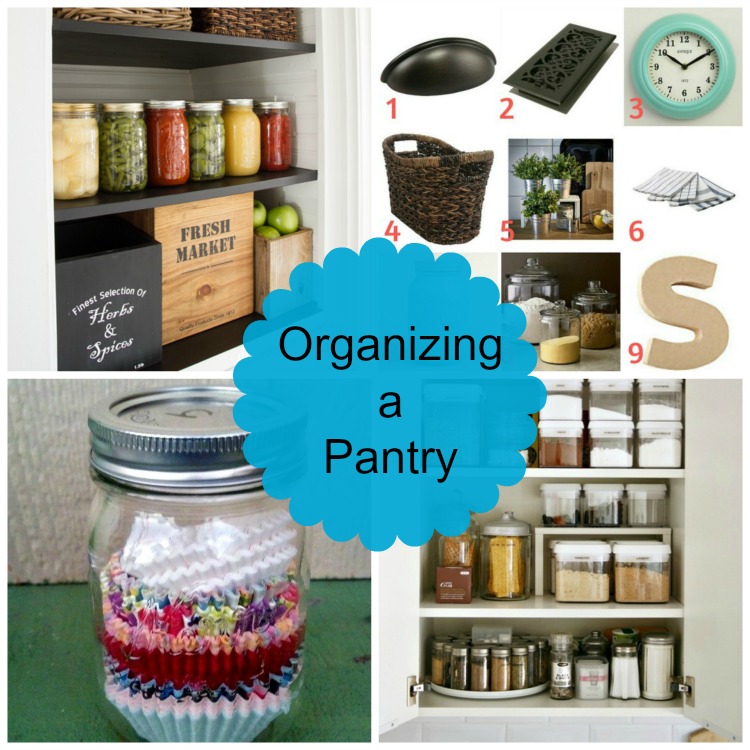 Last week, I joined my friend, Carrie of Curly Crafty Mom, in sharing my personal goals for April. One of those goals is to convert a rarely used cost closet off my home's kitchen to a pantry. My kitchen doesn't have a pantry and has limited storage space, so I have really been wanting extra space to store food items! I've been working hard this week to create a new pantry for my home. I am pleased with how it's coming along. You'll be interested to see how I've added pantry storage to my home's former coat closet — my new pantry might be a bit unconventional, but it's budget-savvy, pretty and terrific! Stop by here TOMORROW to see photos of my new pantry and my new pantry reveal! (I am so excited!)
How to Organize a Kitchen Pantry
I've been on the lookout for great ideas to use for my pantry! I co-host the Craft Frenzy Friday and the Motivation Monday parties, and at the most recent parties, some really wonderful ideas for pantry organization were shared! So I'd thought I'd share those ideas with you all!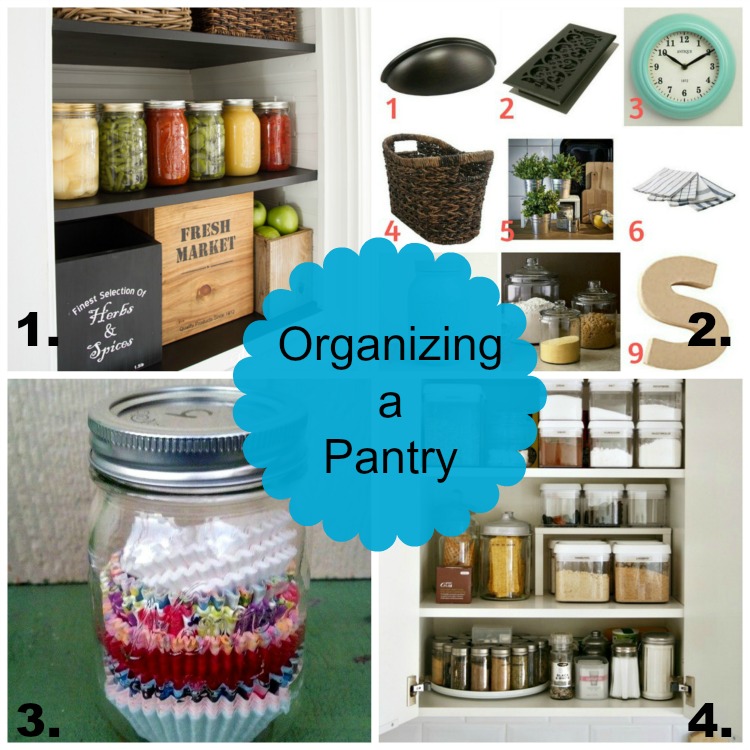 1) Organized Pantry by Not Just a Housewife
I love the clean and organized look of Stacy Risenmay's organized kitchen pantry. I think the contrast of the different textures — wood, the jars and baskets — all look great together! Stacy has a really terrific eye for design!
2) 9 Ways to Upgrade Your Kitchen for $25 or less by Metrocozy
Some of the elements Sarah of Metrocozy highlighted in her blog post would be great elements in my new pantry. I especially would like to use some beautiful glass canisters, a basket or two and some pops of color.
3) Organize Your Kitchen with Repurposed Jars
The idea that guest blogger Jenny at Just2Sisters.com has for reusing glass and plastic jars for storage throughout the kitchen is quite smart and thrifty! Repurposed class jars can be so pretty, and can be used for storing items like cupcake liners and spices. In fact, I use mason jars in my kitchen to store K-Cups for my kitchen's coffee and tea beverage station!
4) Ideas for Creating an Organized Kitchen
Emily of My Love for Words did a great job of rounding up ideas from across the Web for how to organize pantry items. Her roundup shows how various glass canisters, bins and baskets can be used to organize pantry necessities in a beautiful way. I especially love the way that Benita of Chez Larsson used gorgeous glass canisters of various sizes to store essentials like flours, grains and sugar. Those kind of products look much more beautiful when stored in glass canisters than in a paper box! Benita's pantry space is completely gorgeous!
This rounds up my picks of favorites from the most recent Craft Frenzy Friday and the Motivation Monday linky parties! Be sure to link up at the parties (which go live onThursday and Saturday evenings), and stop by here tomorrow to see my brand new pantry space!