I received a free PupBox in exchange for my review. All options expressed in this post are 100% my own.
If you have been following this blog, you know that my family recently adopted a puppy! His name is Mochi, and he is a sweet 4-month-old Shih Tzu. He is a really good fit for our family! I was thrilled when I was given the opportunity to review PupBox, a fun subscription box service geared especially for puppies!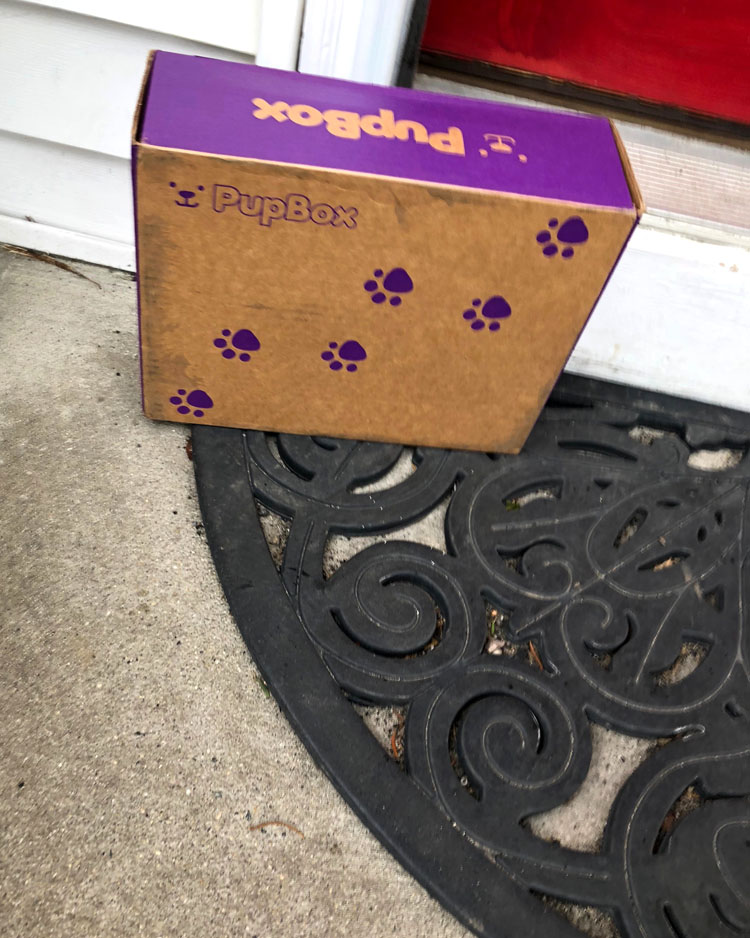 Subscription boxes are a lot of fun. I already subscribe to the quarterly FabFitFun box, where I receive a box full of fashion, beauty and lifestyle goodies on my doorstep 4 times a year. When I heard about PupBox, I was excited to try it!
The great thing about PupBox is that it's main focus is puppies! PupBox's main goal is to help dog owners, especially newbie ones, navigate all the joys of puppyhood. When you subscribe to PupBox, you fill out a profile about your puppy with details like the puppy's birthdate, sex, target adult weight and type of coat (e.g., my puppy has hypoallergenic hair). PupBox also encourages you to note little extras about your pet's personality, likes and dislikes, etc.
All dogs are "puppies" in PupBox's eyes, so you can even order a PupBox for your adult dog, and have the box tailored to him.
If you would like to try PupBox for your puppy, be sure to use Mom Home Guide's PupBox referral link to get 50% off the first PupBox for your puppy with the purchase of any multi-month subscription.
PupBox has 4 pricing plans. You can order a single month's box for $39, $34 a month for a three-month subscription, $32 a month for a six-month subscription and $29 a month for a yearly subscription. (Shipping within the U.S. is free.)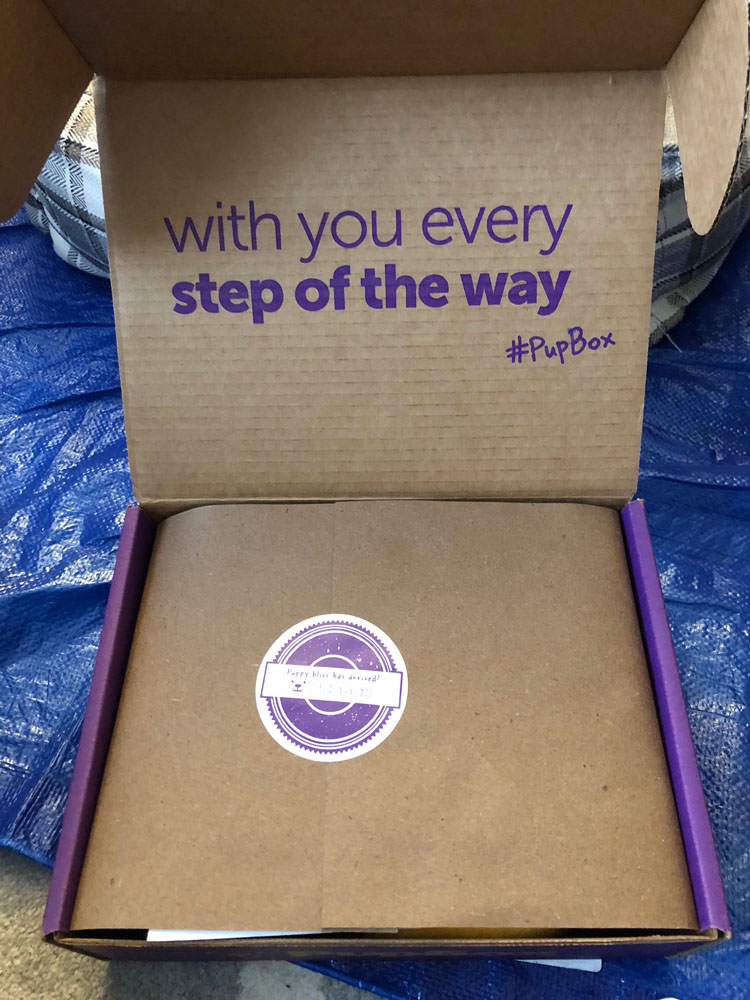 PupBox uses your dog's profile to tailor your puppy's PupBox to suit his developmental stage, size, etc. I have to say that PupBox did a fantastic job with Mochi's first box! As soon as I opened the box, my puppy was instantly in love with all the items inside. (He liked the toys so much that it was difficult for me to pry them away for him to get pictures.)
Info for New Dog Owners
My husband and I have never owned a dog before. So we are quite new to teaching a dog commands, house-training a puppy, etc. I love that PupBox included a laminated "Training and Development" card in Mochi's PupBox. The card goes over all sorts of things owners of a 4-month-old puppy will need to know. Like how big your pup might get, how to make your puppy feel safe, socializing your pup with other puppies and how to successfully transition out of your puppy's teething stage.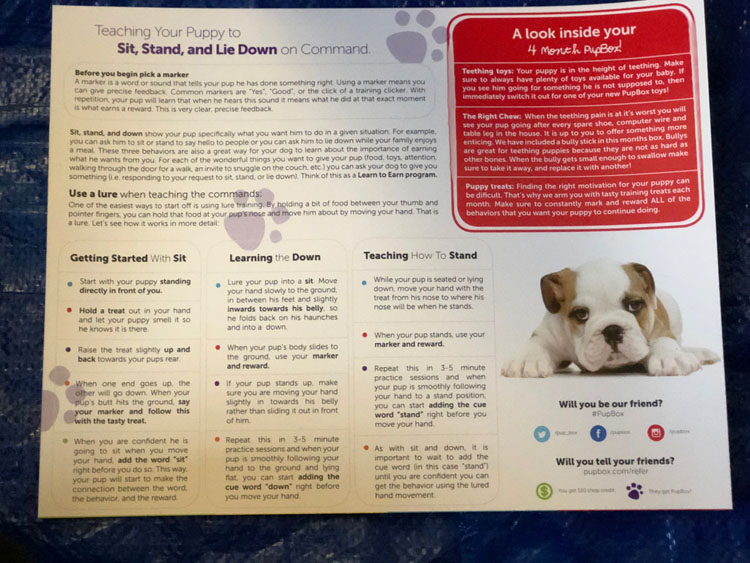 On the other side of the card my pup received is helpful information on how to teach a puppy the sit, stand and down commands. My puppy has mastered the "sit" command, but that's about it so far!
Puppy Chew Toys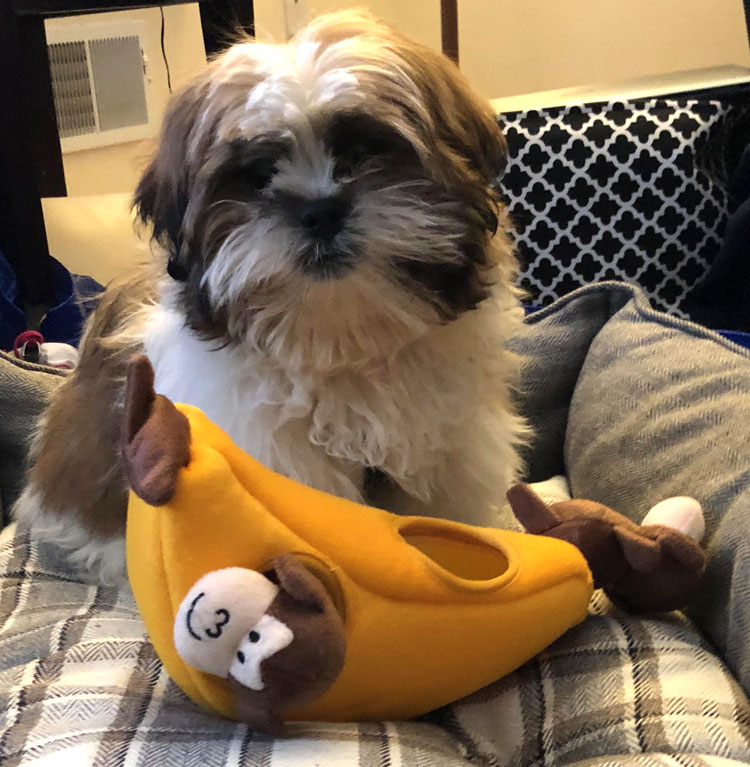 The first toy out of Mochi's PupBox was the Zippy Burrow Monkey 'n Banana toy. I was surprised at how quickly Mochi reacted to the the toy — I wasn't sure he'd know it was a puppy toy, but he did! This interactive, bright yellow toy includes 3 squeaky (and adorable) monkeys that puppy can try to pull out of the 2 round openings in the plush banana.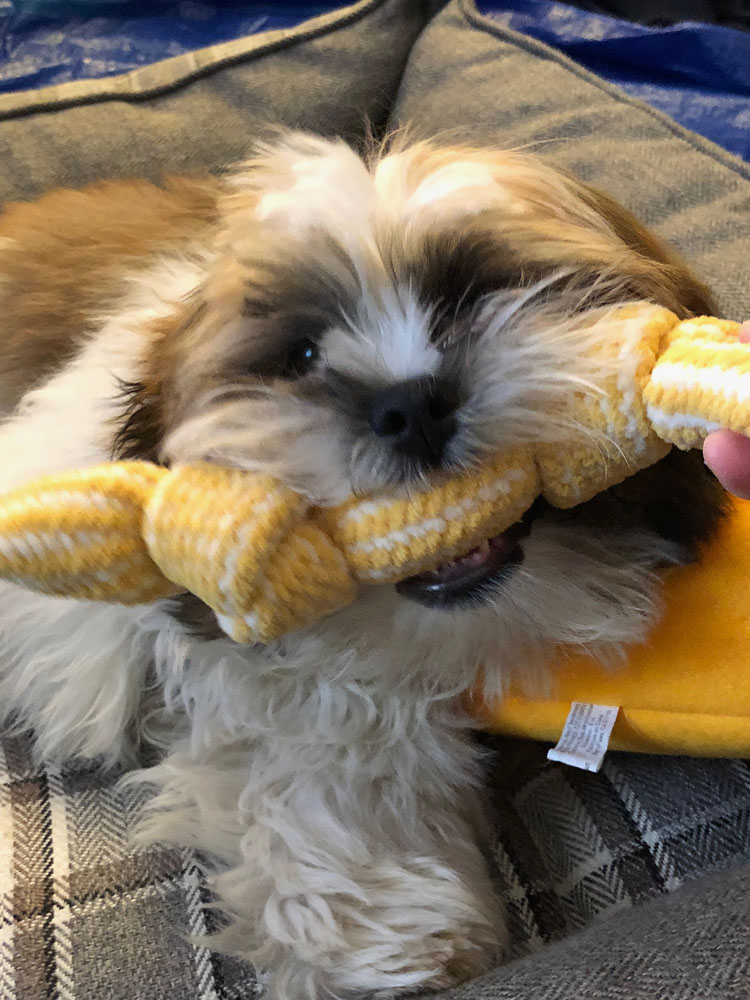 Mochi also loves the Leaps and Bounds Chenille Rope from the PupBox. The ultra soft rope is great for chewing for a puppy who's teething. My information sheet that came with my PubBox says I can add some water to the rope and freeze it to make the rope extra soothing for Mochi's gums.
Gnawsome Squeak Ball
Anyone with a puppy knows that it can be hard to keep a pup entertained! The Gnawsome Squeak Ball Mochi got in his PupBox is great for him. It squeaks, bounces and lights up, and the bumps are designed to feel good on his gums. It's also supposed to help clean his teeth!
Barkworthies Odor Free 6 Inch Bully Stick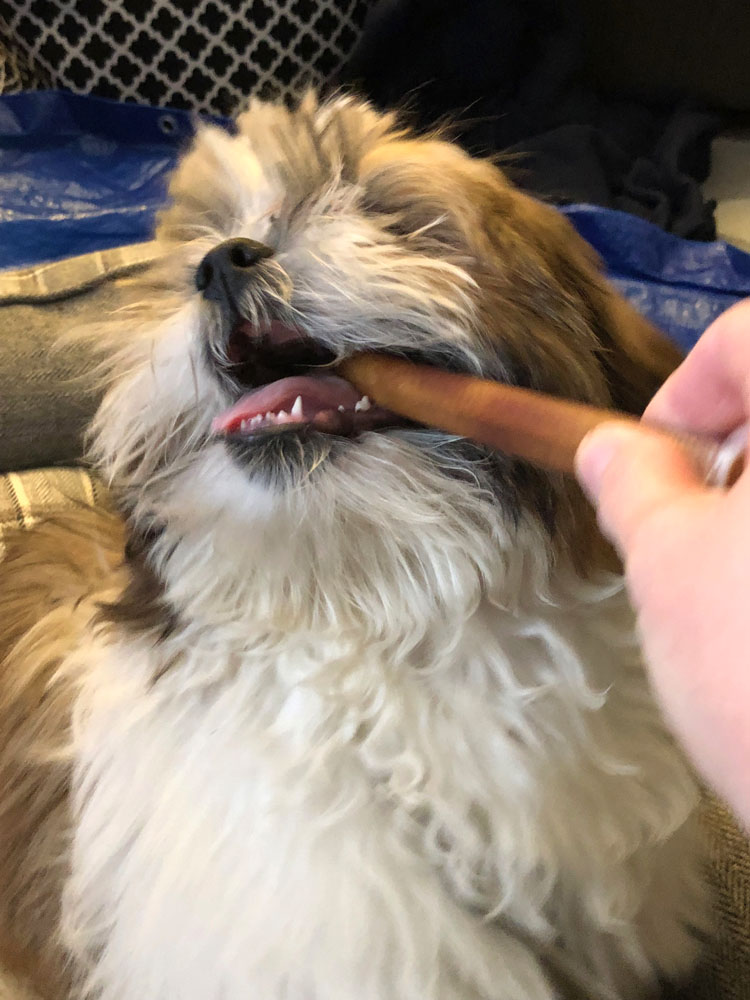 As soon as my puppy saw his Barkworthies Odor Free 6 Inch Bully Stick in the PupBox, he wanted it right away! He's been happily chewing on this all-natural chew ever since. It's quite long lasting and is great for keeping puppy busy when we want some quiet time to watch TV at night.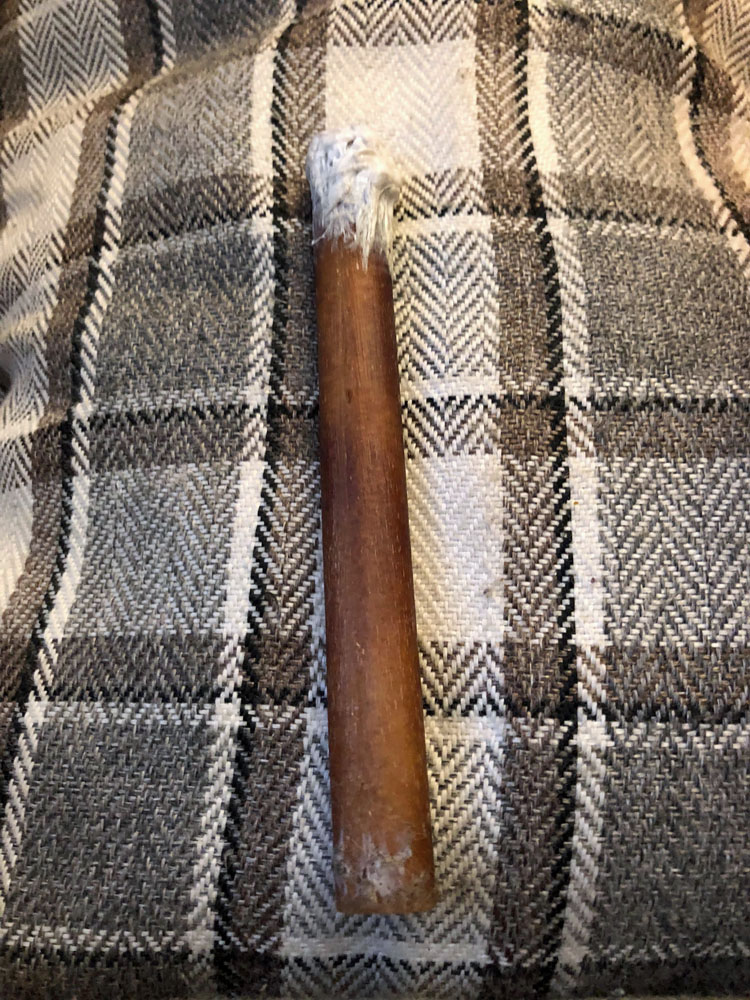 N-Bone Teething Rings
My puppy is always chewing on things, so the N-Bone Teething Rings that he received in his PupBox are perfect for him! These teething rings are fortified with added calcium for healthy teeth and bones. They also contain DHA Omega 3 Fatty acids to support his overall health.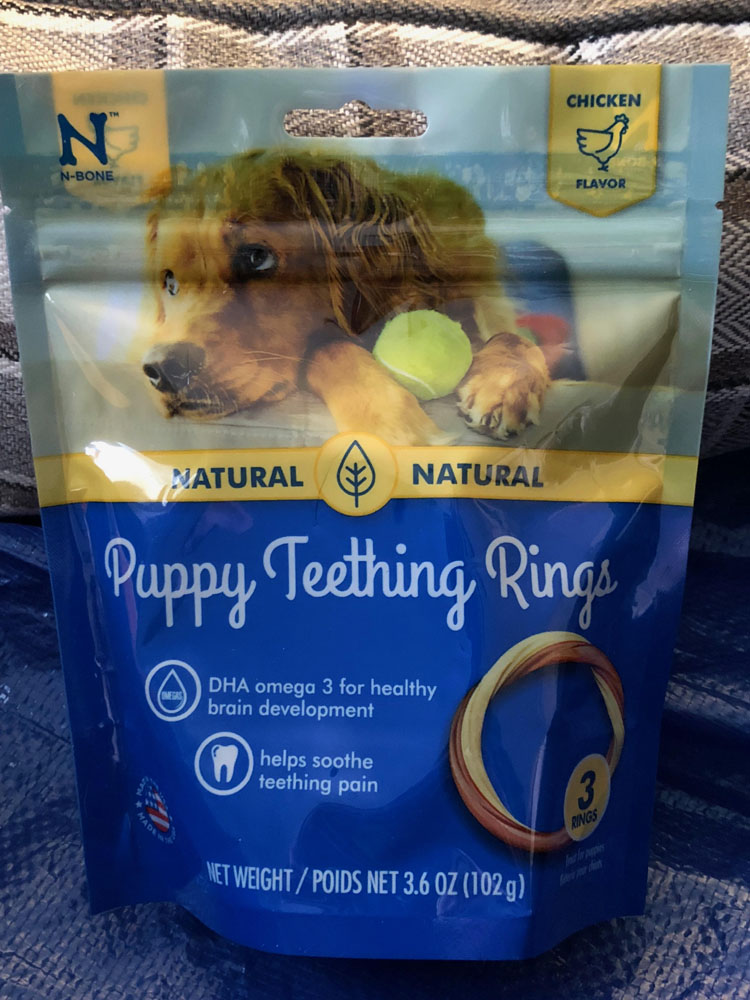 CORE Freeze-Dried Treats
As soon as I opened the CORE Freeze-Dried Treats, my puppy was begging for a treat! I reward Mochi with these 100% meat raw protein treats when he pees or poops outside on his walks. He adores these treats and they are the perfect size for rewarding puppy during training.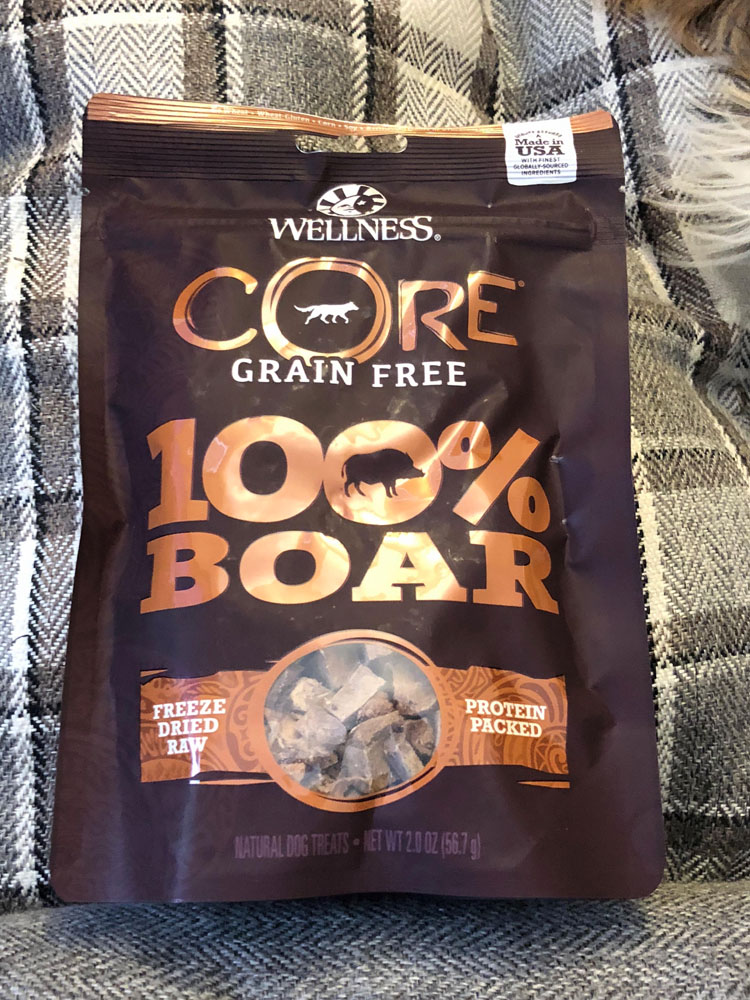 Mochi's PupBox came at a good time — just after his 4th-month birthday! This is turning out to be a good week for him! He loves all his new treats and toys! Thanks, PupBox!
Remember, if you would like to try PupBox for your puppy, be sure to use Mom Home Guide's PupBox referral link to get 50% off the first PupBox for your puppy with the purchase of any multi-month subscription.